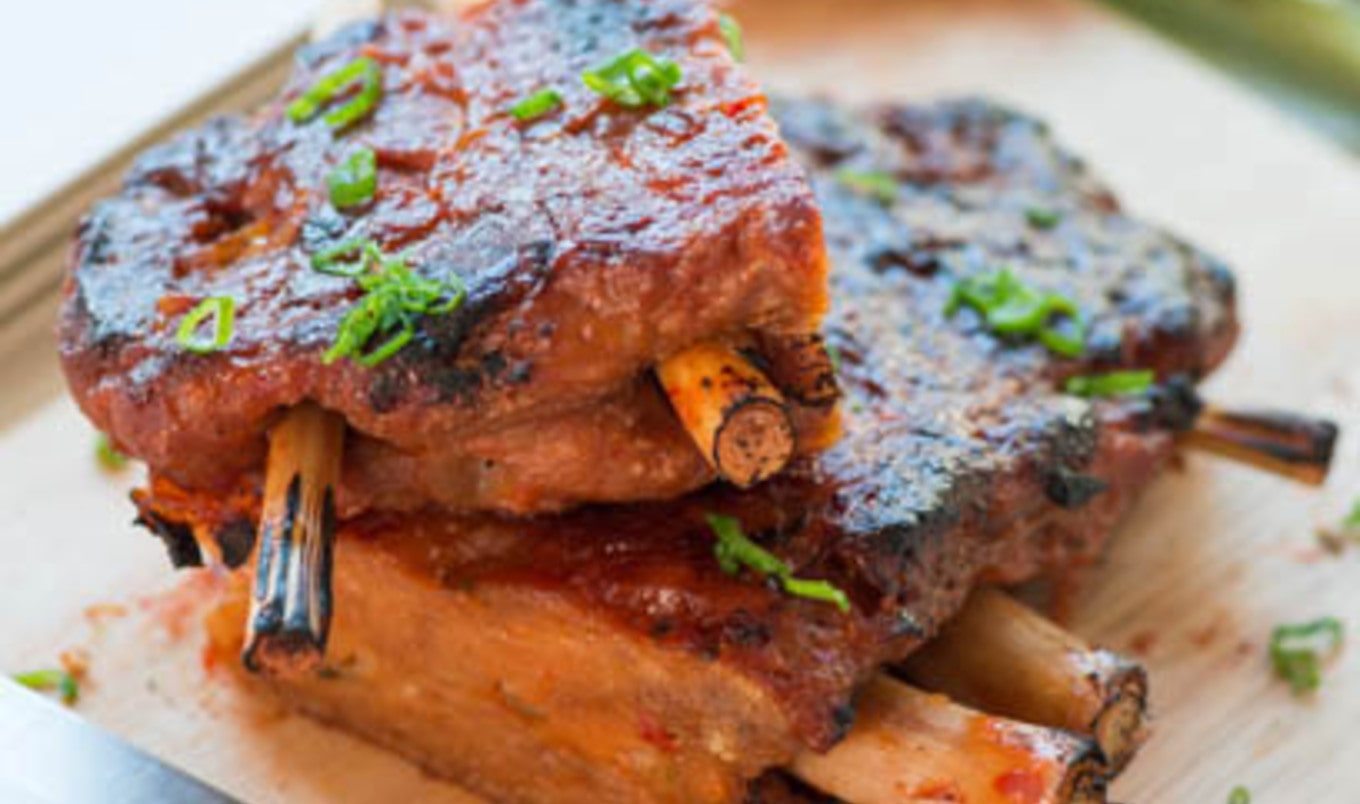 The lemongrass used for the "bones" gives a fresh, citrusy aroma to the seitan, while tangy vinegary sweet sauce adds a punch of flavor.
May 20, 2021
Sticky-sweet, tender, fall-off-the-lemongrass-bone seitan ribs from the Fusion Food in the Vegan Kitchen cookbook is a winner with veg-skeptics. Serve with garlicky mashed potatoes and oven roasted asparagus for a full classic meal.
What you need:
For the sweet and sour sauce:
2 cups pineapple juice
¼ cup ketchup
2 tablespoons soy sauce
2 tablespoons lemon juice
1 tablespoon rice wine vinegar
1 tablespoon Sriracha sauce
1 teaspoon red pepper flakes
¼ cup cornstarch mixed with ½ cup cold water

For the ribs:
3 cups vital wheat gluten flour
½ cup whole wheat pastry flour
¼ cup nutritional yeast
¼ teaspoon red pepper flakes
¼ teaspoon salt
1 cup diced yellow onion
½ cup diced green onion
1 tablespoon minced garlic
2 cups sweet and sour sauce, divided
1 cup water
¼ cup soy sauce
2 tablespoons olive oil
2 tablespoons ketchup
2 tablespoons sesame oil
1 tablespoon Dijon mustard
1 teaspoon Sriracha
½ teaspoon liquid smoke
5 stalks lemongrass
What you do:
For the sweet and sour sauce, in a pot, add all ingredients except cornstarch slurry mixture, stir, and bring to a boil. Reduce heat to a simmer and cook for 10 minutes. Stir in slurry and remove from heat. Stir to thicken. Keep warm until ready to use.
For the ribs, line a baking sheet with parchment paper. In a large bowl, combine vital wheat gluten flour, whole wheat pastry flour, nutritional yeast, red pepper flakes, salt, yellow onion, green onion, and garlic.
In a separate bowl whisk 1 cup of sweet and sour sauce, water, soy sauce, olive oil, ketchup, sesame oil, hot mustard, Sriracha, and liquid smoke. Add wet mixture to dry and combine. Knead until an elastic dough is formed. Some onions will fall out—set aside. Let dough rest for 20 minutes.
Divide dough into 4 equal pieces. Flatten pieces into a rectangular shape (the dough will still be very elastic, making this a bit difficult, but this is normal) and place on baking sheet. Allow to rest for an additional 20 minutes.
Remove outer layers from lemongrass and cut stalks into 4 equal pieces for a total of 20 "bones."
Preheat oven to 350 degrees. Reform any dough that has expanded back into rectangles. Push 5 stalks of lemongrass through each piece of dough, about 1 inch apart. Repeat until all 4 ribs each have 5 "bones." Brush each rib generously with remaining 1 cup sweet and sour sauce on both sides. Sprinkle reserved onions on top of ribs.
Cover pan loosely with foil to create a steam tent. Bake for 1 hour. After 1 hour, remove from oven, flip, brush on another generous layer of sauce, and return to oven for 30 more minutes, uncovered.
Remove from oven and brush on a final layer of sauce before serving.
Photo credit: Wade Hammond