For some, it's all about the sides on Thanksgiving. They're a natural go-to for vegans who want to avoid the meaty mains, but many vegetable-based side dishes are typically laced with cream, bacon, and turkey drippings. Growing up on these foods, these animal ingredients become tradition, and the thought of omitting the cream of mushroom soup from the green bean casserole or making gravy without animal fat doesn't even cross our minds, but it's time to step outside the box. Follow this guide to keep the Thanksgiving flavors you love without relying on any animal ingredients.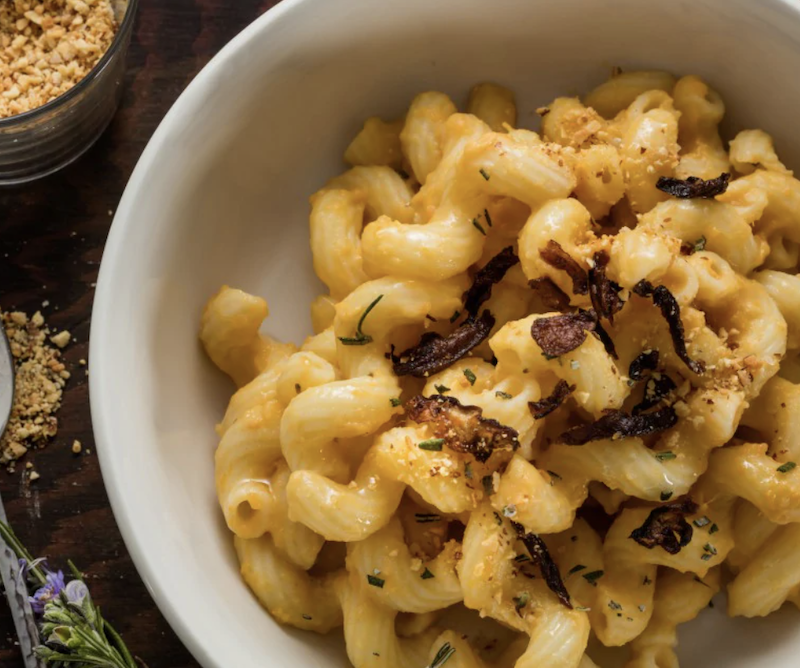 Mac and cheese
The vegan variations of mac and cheese are nearly as plentiful as the range of Thanksgiving side dishes. Whether you go gooey stovetop or baked with a mountain of breadcrumbs, there is a vegan recipe for your family's favorite cheesy pasta. Rather than simply swapping store-bought vegan cheese for dairy cheese, our favorite recipes include a quick but homemade sauce made with cashews and nutritional yeast or a blend of carrots and potatoes. As with all recipes you make for guests, do a test run before the big day to ensure the recipe you choose is to your liking.
Try this recipe: Vegan Sweet Potato Mac and Cheese with Shiitake Bacon by Chef Chloe Coscarelli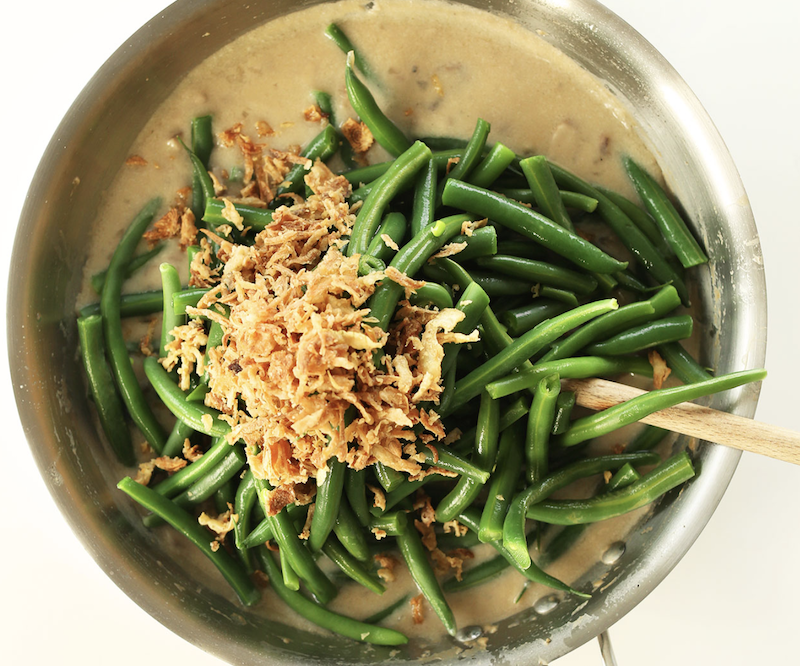 Green bean casserole
Fun fact: this Thanksgiving staple was invented by the Campbell Soup Company to sell more cream of mushroom soup (shoutout to Dorcas Reilly, the woman who developed the recipe on the company's behalf). Actually, quite a few Thanksgiving sides were invented as a way to propel product sales (yes, sweet potato casserole!). To replicate this creamy, fried-onion-topped dish, blitz up a decadent dairy-free cream sauce with a handful of cashews, mushrooms, shallots, and garlic, then salt and pepper to taste. Smother your cooked beans with this umami sauce and bake until bubbly.
Try this recipe: Vegan Green Bean Casserole by Minimalist Baker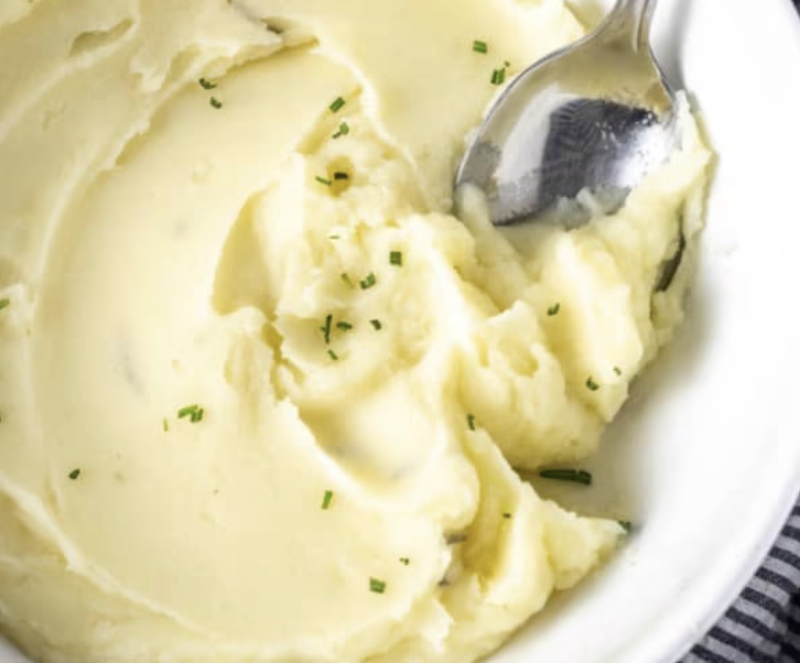 Mashed potatoes
As benign as they sound, there could be a number of unexpected dairy products lurking in these fluffy spuds. Whether your family recipe relies on milk, butter, sour cream, parmesan cheese, or a combination, there is a one-for-one vegan swap for all of these animal-based ingredients. Use your favorite plant milk, non-dairy butter (see here for a list of our favorites), Follow Your Heart sour cream, and/or grated vegan parm. Pro tip: start your potatoes in cold water, then bring them to a boil. Do this, and you'll have perfectly-cooked potatoes every time.
Try this recipe: Garlic Rosemary Mashed Potatoes by Healthier Steps


Sweet potato casserole
Who was the first to think of topping sweet potatoes with marshmallows and not call it dessert? The Angelus Marshmallows company. The recipe was included in a 1917 booklet to assert marshmallows as an everyday ingredient. While we're not sure a marshmallow a day is the best idea health-wise, they're easy to replicate thanks to products such as Dandies and Trader Joe's' accidentally vegan marshmallows. For a plant-based casserole, mash up roasted sweet potatoes with maple syrup, brown sugar, and swap the dairy butter and milk for a plant-based alternative. Top with Dandies mini marshmallows and broil until golden.
Try this recipe: Vegan Sweet Potato Casserole by Chocolate Covered Katie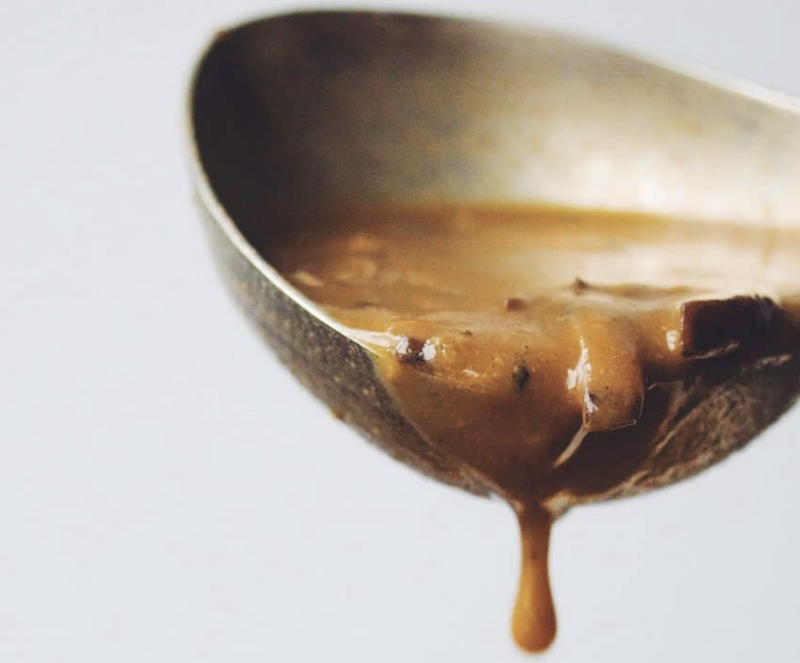 Gravy
You need fat to make gravy, and unfortunately, the gravy most of us grew up with contains animal fat in the form of butter and turkey drippings. A one-for-one swap doesn't work with this saucy side, but solid vegan gravy recipes abound. Our favorite plant-based gravy uses a vegan butter and flour roux made "meaty" by mushrooms. Look for a recipe with these ingredients, and make a double batch, because there is no such thing as too much gravy.
Try this recipe: Vegan Gravy by Hot for Food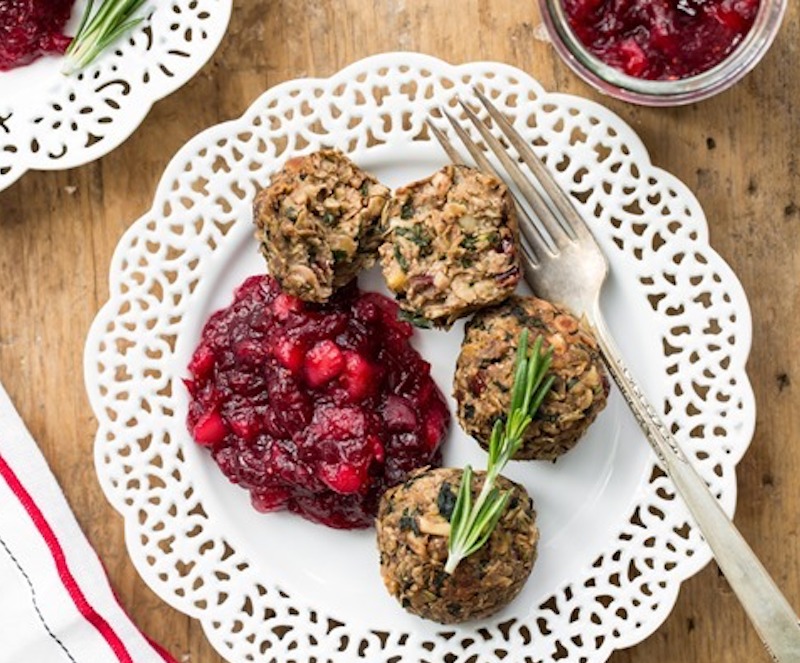 Cranberry sauce
If done well, cranberry sauce can stand alone. The tart, jelly-like sauce is inherently vegan, but there are ways to improve upon the canned variety. Quickly make your own cranberry sauce by boiling cranberries, water, a bit of maple syrup, and orange zest in a pot until thickened. You can also add very finely diced pear or apples to play with taste and textural variety.
Try this recipe: Cranberry Pear Sauce by Oh She Glows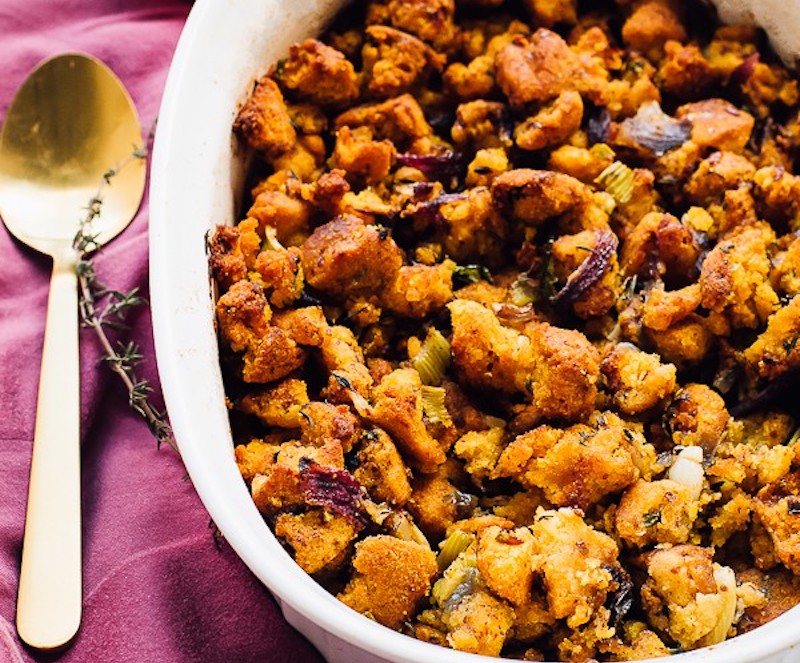 Cornbread
The controversy over cornbread doesn't lie in vegan or animal-based origins, but in the battle over sweetness. Some swear by adding sugar while others are repulsed by anything other than a strictly savory bread. Fortunately, both options can be veganized. The main culprit in cornbread is egg which can be easily replicated by swapping in a flax egg (one tablespoon ground flax + 3 tablespoons water = 1 egg) or silken tofu (¼ cup = 1 egg). If your cornbread recipe uses honey, maple syrup can be substituted in a one-to-one ratio. Pro tip: add a bit of orange zest to the batter for a pleasant citrus kick that pairs exceptionally well with cranberry sauce.
Try this recipe: Vegan Cornbread Stuffing by Jessica in the Kitchen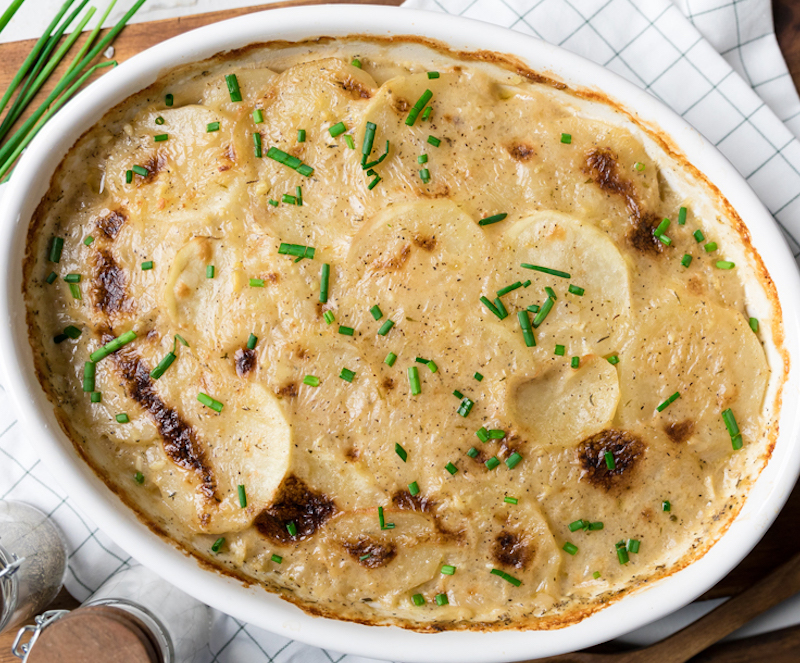 Scalloped Potatoes
We haven't done the math on this, but we have a strong feeling there may be more cream and cheese in scalloped potatoes than actual potatoes. And yet, this luxurious side is still veganizable. Replicate a cream sauce by blending soaked (and drained) cashews with a splash of plant milk, garlic, salt, and pepper. Swap the dairy-based cheese for vegan cheese, and start layering. Pro tip: add a bit of freshly grated nutmeg to the cream sauce to add a depth of flavor to this otherwise one-note dish.
Try this recipe: Vegan Scalloped Potatoes by Make It Dairy-Free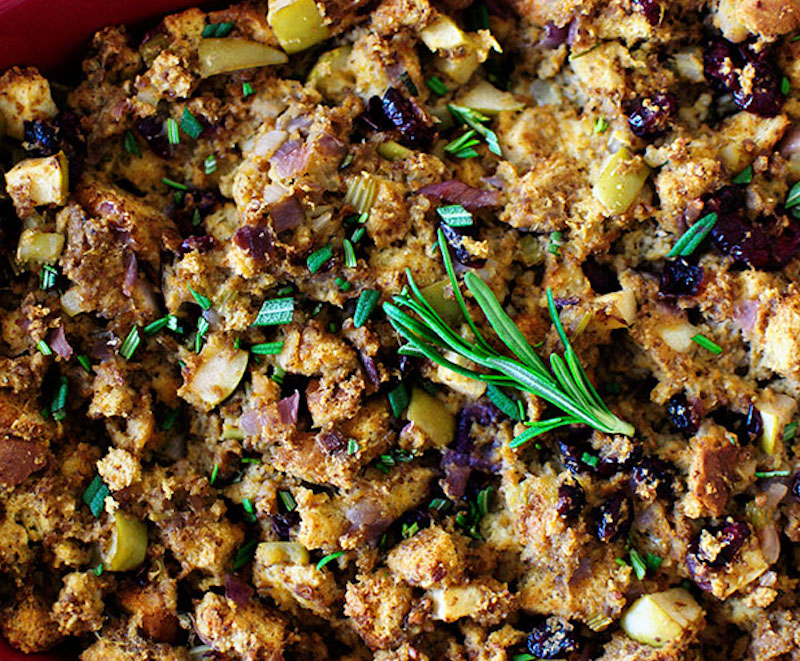 Stuffing (or dressing)
The difference between stuffing and dressing is solely based on where you live. If you're from the South or Midwest, it's likely dressing to you. However, say "dressing" to someone from either coast, and they'll think you're referring to the liquid poured on salad. Let's just all agree to call it one thing: delicious. To veganize your favorite stuffing recipe, swap in vegetable broth for meat-based broth and use store-bought vegan milk, butter, and meat. JUST liquid egg is our favorite alternative for the beaten eggs—it provides just the right binding and fluffiness. Instead of cooking your stuffing inside a carcass, get creative and bake it in a hollowed-out sugar pie pumpkin or acorn squash. We love edible bakeware!
Try this recipe: Cranberry Sausage Stuffing by I Can You Can Vegan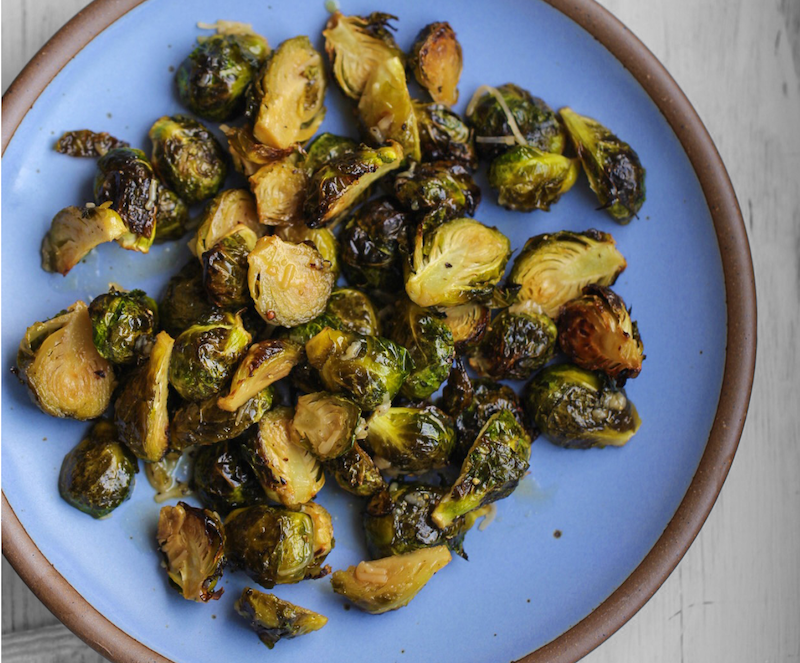 Brussels sprouts
Omnivores have gotten into an annoying habit of pairing brussels sprouts with bacon. Prove once and for all that Brussels sprouts can be delicious without bacon by giving them a good sear and coating them with a sticky-sweet maple dijon glaze. You can even top the pile with a bit of coconut or mushroom bacon. Sit back and watch the carnivores pop these tiny cabbage heads like candy.
Try this recipe: Maple Roasted Brussels Sprouts by Happy Healthy Life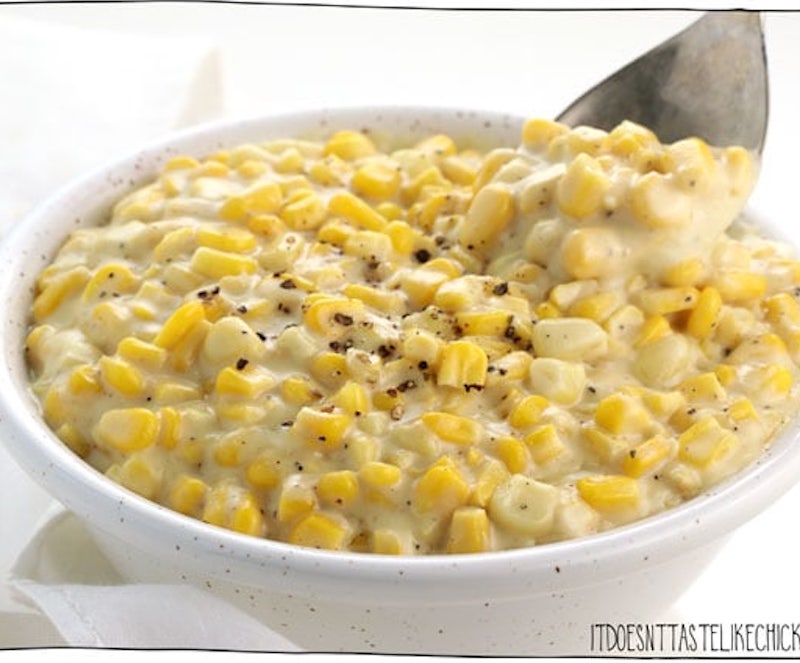 Creamed corn
There are many ways to replicate the creaminess of this dairy-heavy dish, but our favorite combination is coconut milk and vegan butter. And surprisingly, it doesn't taste like coconut. Follow the recipe below to discover the secret!
Try this recipe: 5 Minute Vegan Creamed Corn by It Doesn't Taste Like Chicken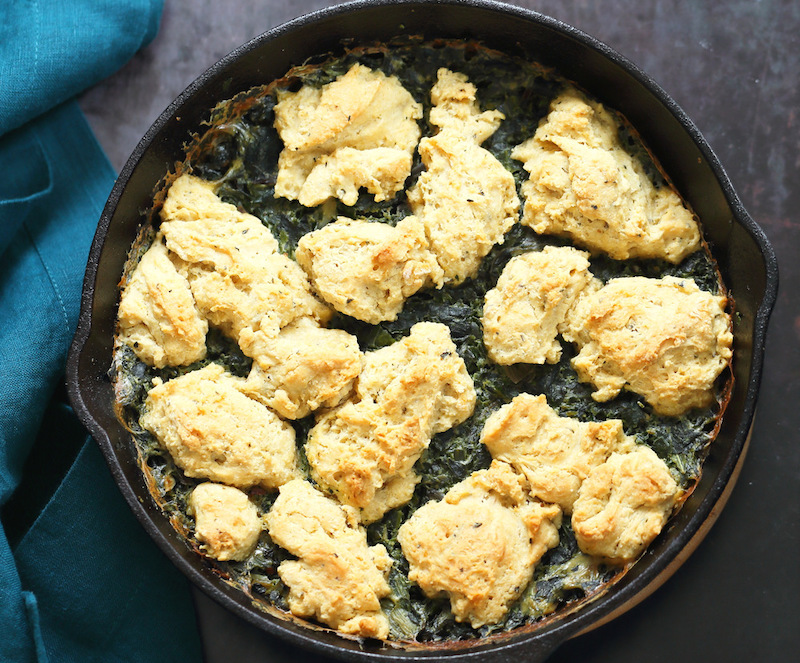 Creamed spinach
Here we have another beloved vegetable doused in cream. Create the same silky texture without the cholesterol or cruelty by using homemade cashew cream (recipe below), silken tofu, or coconut cream. Like scalloped potatoes, a hint of freshly grated nutmeg elevates this dish to restaurant-quality.
Try this recipe: Vegan Creamed Spinach with Biscuit Topping by Vegan Richa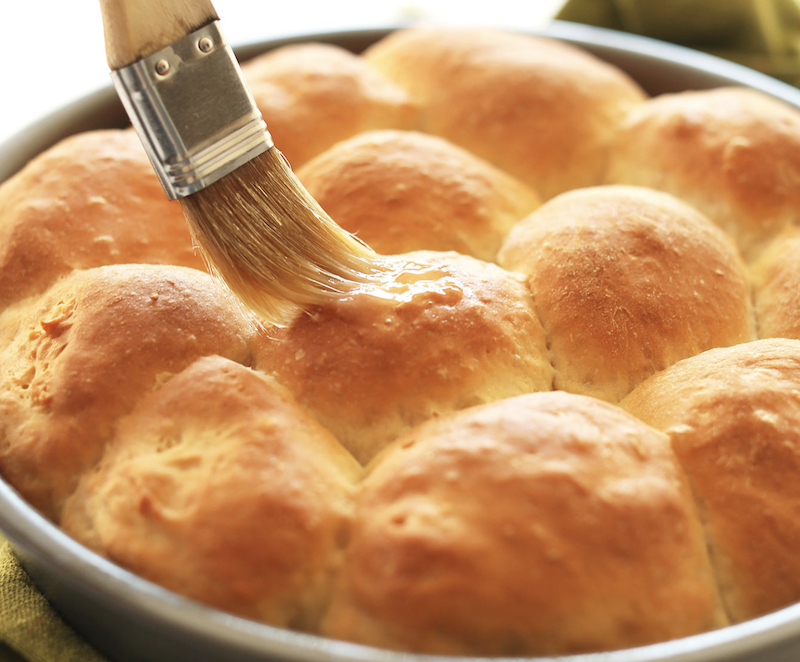 Dinner rolls
Unless your family makes brioche or slathers the rolls with dairy butter during baking, the traditional white dinner roll is accidentally vegan. For the butter-slathering crowd, use vegan butter (Miyoko's European-Style Cultured Vegan Butter with a hint of sea salt is excellent in this application) and your family will be none the wiser. Serve piping hot with more butter.
Try this recipe: Simple Vegan Dinner Rolls by Minimalist Baker
Tanya Flink is a Digital Editor at VegNews as well as a writer and fitness enthusiast living in Orange County, CA.