From sophisticated date nights paired with wine and high heels, to movie nights complete with beer and a baggy t-shirt, pizza has been with us through it all. And now, with a plethora of dairy-free cheeses on the market, there's never been a better time for vegans to truly enjoy this versatile, Italian perfection. With a variety of plant-based pizzerias popping up across the country and various multi-chain grocery stores stocking up on flavorful frozen options, vegan pizza is a delicious reality that we can enjoy any day of the week. Read on to learn where we're getting our pizza fix these days.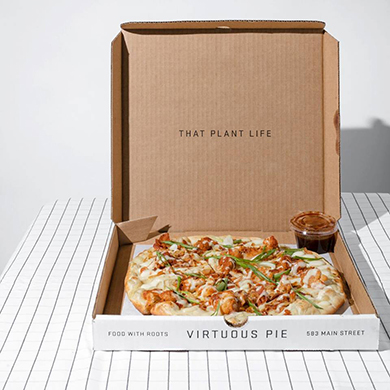 Virtuous Visit
Virtuous Pie wasn't chosen as the 2017 Veggie Awards Company of the Year for nothing. This two-story Portland establishment is our go-to destination for all things vegan pizza. With a focus on health and sustainability, this fast-casual restaurant makes its artisanal nut cheese and dough in-house. With each pie boasting a whimsical name (such as Superfunghi and Stranger Wings), the atmosphere is modern-chic and inviting. We're loving the Ultraviolet pie with walnut and arugula pesto pizza topped with caramelized onion, oven-dried tomatoes, pine nuts, and flowering kale. To top off your visit, ask for a scoop of the creamy bourbon sour cherry and chocolate ice cream on a crunchy, house-made waffle cone. Delish!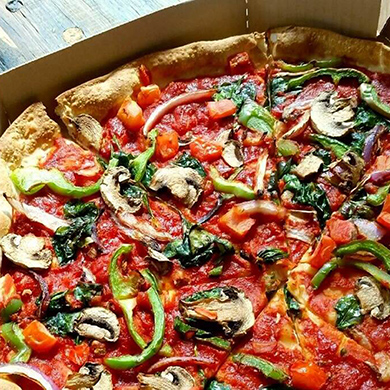 Pizza is Calling
Already have your comfiest sweats on, but want a warm, cheesy pizza on hand (and in your stomach)? Just pick up the phone and dial Pizza Hut or Domino's—both popular international chains with vegan-friendly crusts and toppings. Pizza Hut is testing out Violife cheese at select locations in England, so while we patiently wait for dairy-free cheese to be available at Pizza Hut locations on this side of the Pond, we're opting for a cheeseless pie loaded with all the fresh vegetables we can swallow on either the Thin 'N Crispy, Hand-Tossed, or Salted Pretzel vegan crusts. Craving something sweet and equally doughy? The pizza chain's tempting cinnamon sticks and icing dip are accidentally vegan. And if you prefer Domino's—the restaurant chain recently committed to adding vegan cheese to its menu in Australia next year—order the Thin Crust with no cheese, original pizza sauce, and spinach, tomatoes, and jalapeños. To take your pies to new heights, grab a vegan dipping sauce such as garlic, Italian, or BBQ.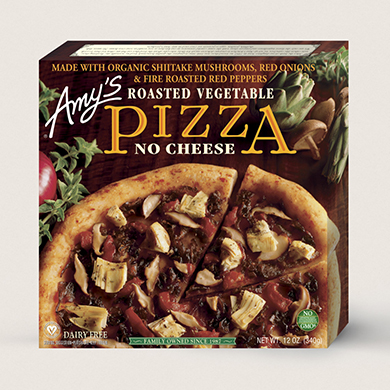 Grocery List
Head to the frozen section of your grocery store and pick up Amy's Roasted Vegetable Pizza for a quick and easy pizza fix. All you need is an oven and twenty minutes before biting into the perfect combination of toppings like marinated shiitake mushrooms, roasted red peppers, carmelized sweet onions, and sweet balsamic vinegar. For a cheesy version, Amy's Dairy-Free Cheeze Pizza with soy-based mozzarella will satisfy your cravings.
On the 'Gram
Fill up your Instagram dash with daily images of ooey gooey slices of unique pies from Brooklyn's first all-vegan pizzeria. Screamer's Pizzeria's social media is filled with envy-inducing posts of all things New York style pizza. With palate-pleasing pies such as Mac 'n' Cheeze and basically healthy Fancy Kale (what? It has kale!)—both made with Violife's mozzarella cheese—we're heading to the Big Apple to try everything on the distinctive menu.

Knead to Make
When you're done drooling over the mouth-watering photos of pizza galore on your phone, get off the couch and put on your best apron. This delectable recipe, featuring vegan parmesan cheese and sautéed vegetables from The Minimalist Baker, will surely tingle your tastebuds. It takes less than an hour to make (that's a pizza cake!), so you can go back to binge-watching Stranger Things (added incentive: the actress who plays Mad Max is a passionate vegan) with a warm slice of homemade heaven in no time.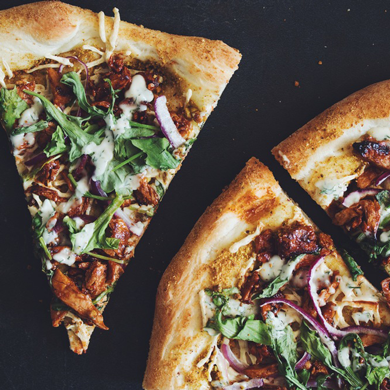 Hot for Pizza
For the chefs-to-be, take inspiration from vegan YouTube sensation hot for food's Lauren and John as they face off in The Vegan Pizza Challenge. With quippy banter and friendly competition, the entertaining video comes with recipes for the two ridiculously delicious looking pizzas. Try your hand at Lauren's BBQ "chicken" pizza with ranch sauce or John's margherita pizza with cashew mozzarella cheese. After watching, invite a friend over for an epic vegan pizza battle.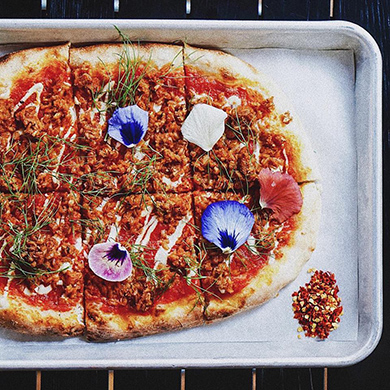 Take a Pic
Want to impress your date and boost your Instagram followers? Bring your appetite and your camera to New York's Double Zero, the brainchild of plant-based restaurateur Matthew Kenney. Before taking instant like-worthy snapshots of beautifully crafted pizzas, enjoy a glass of organic and sustainable wine from the extensive menu. Try the Farro-Fennel Sausage or Creamy Artichoke pizza which comes topped with an array of edible flowers, an added elegant floral flourish to your shot.
Aruka Sanchir is an assistant editor at VegNews, where she is currently dreaming of all-things pizza from her desk.