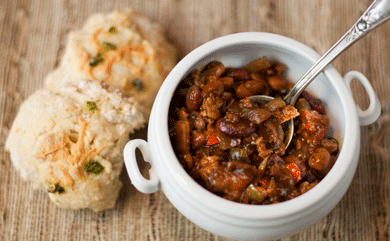 Habanero and jalapeño peppers pack a one-two punch in this hearty, flavorful chili.
January 29, 2012
Perfect for game-day parties or a cold winter's night, this pot of chili combines peppers and spices with navy, black, and kidney beans to amp up the flavor of more traditional variations.
Serves 8
What you need:
1/2 cup safflower or vegetable oil
1 pound tofu, frozen, thawed, and crumbled
1 small onion, diced
4 cloves garlic, minced
1 bell pepper, diced small
2 tablespoons dry sage
1 tablespoon dry basil leaf
1/2 teaspoon habanero peppers, minced
2 jalapeño peppers, minced
1/4 cup soy sauce
1 15-ounce can navy beans
1 15-ounce can black beans
1 15-ounce can kidney beans
1 28-ounce can diced tomatoes
1/2 cup chili powder
1/4 cup ground cumin
salt, to taste
What you do:
In a large pot over medium-high heat, heat oil until hot. Add tofu and brown on all sides, stirring periodically for 7 to 10 minutes. Tofu should be crispy but not burned.
Reduce heat to medium and add onion, garlic, bell pepper, sage, basil, habanero peppers, jalapeño peppers, and soy sauce. Sauté until the onions become translucent. Add navy beans, black beans, kidney beans, tomatoes, chili powder, cumin, and salt. Reduce heat and simmer for about 20 minutes, adding more chili or salt as needed.