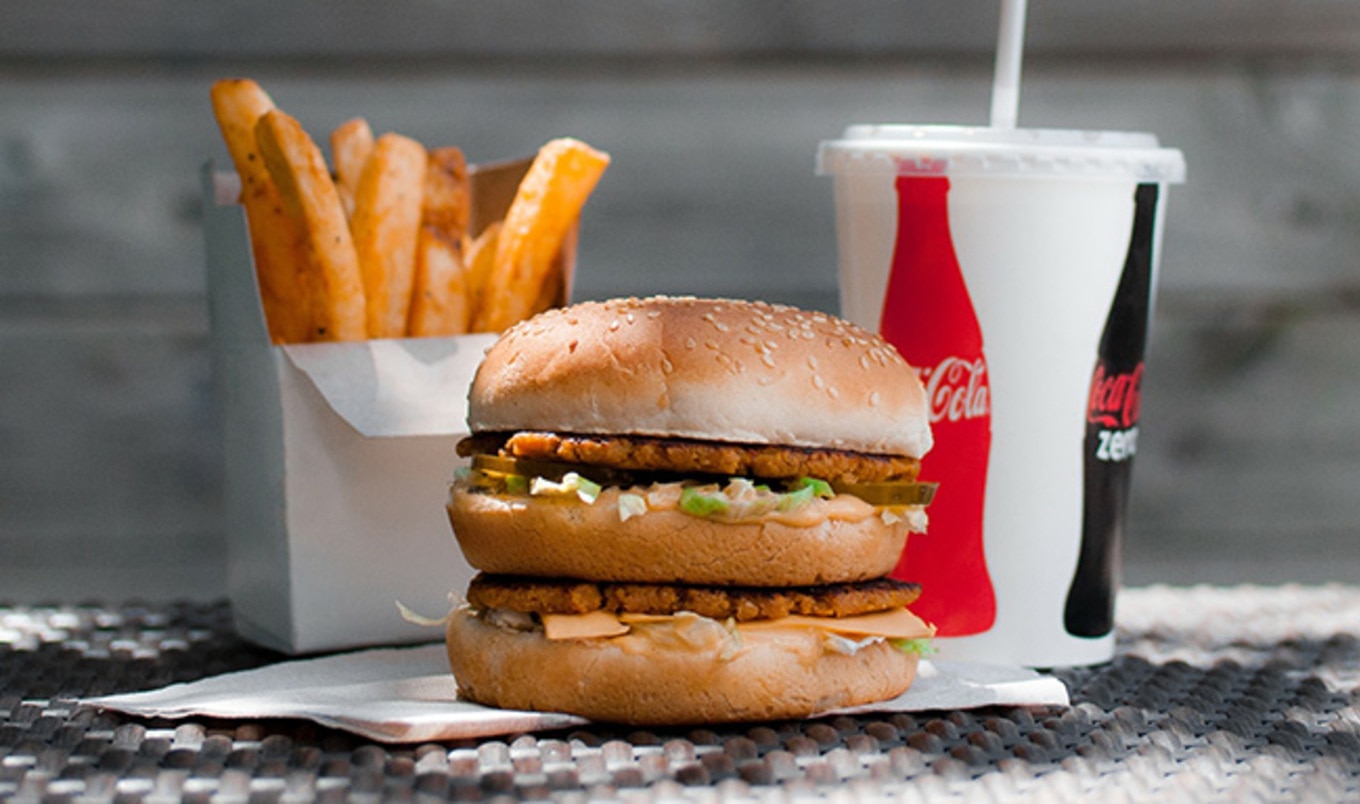 Canada's Globally Local offers vegan fast food at any time of the day.
July 18, 2017
---
Globally Local—the new fast-food joint that has secured bragging rights as the world's first 24-hour vegan drive-thru—officially opens its take-out window and accompanying sit-in restaurant this month. Located in London, Ontario, Canada, the restaurant offers an impressive menu covering breakfast options such as BLTs and French toast, fast-food classics like veganized Whoppers and crispy "chickun" sandwiches, and familiar vegan eats a la macaroni and cheeze. The drive-thru can satisfy our food cravings at any time of the day, which is amazing for vegans, as Tim Hortons—Canada's famous coffee shop franchise—is the only other option in the area after midnight, and they don't offer non-dairy milk. With so much excitement, we tried to contain ourselves, but, sadly, we failed. After eating seemingly everything on Globally Local's menu, however, we are now proud experts on the eatery, which is why we're bringing you our top five menu selections.

1. Famous Burger
Owner James McInnes debuted his veganized take on McDonald's iconic Big Mac last year through the take-out window of his McVegans food truck. The burger quickly became a best-seller and is now a feature menu item at Globally Local. This double-decker burger is piled high with two thin, hand-pressed and grilled chickpea patties, McInnes's famous sauce—a super-thick and creamy, grapeseed-oil-based mayonniase that will have you second-guessing its vegan authenticity—plus diced onion, lettuce, pickles, and Tofutti cheese slices, all between sesame-seed-topped buns. Unlike McD's, you get the choice between white or whole wheat buns. Make it a meal with a large fountain soda and house-made fries.

2. Pulled Jack
Jackfruit—the cruelty-free identical twin to pulled pork and one of the biggest food trends of 2017—is the star of the show in this classic sandwich. The jackfruit is pan fried, shredded, and then slow-cooked in a secret spice blend and rich, smoky barbecue sauce, then topped with a creamy slaw and served on a toasted ciabatta bun. We promise your omnivore cousins won't miss the meat, even at 2am. Not only does this sandwich look like the real thing but it tastes like it, too.

3. ChickUN Caesar
Served in a wrap (your choice of white or whole wheat), this lunchtime favorite features crisp romaine lettuce tossed in a cashew-based Caesar dressing and sprinkled with vegan bacon bits, crunchy seasoned croutons, and parmesan. The highlight hidden in the middle are the house-made seasoned and grilled chicken strips made from a combination of plant proteins such as wheat gluten and chickpeas. McInnes uses a special cooking process to get the texture just right—and it is spot-on, right down to the chewy bite and perfect grill marks.

4. Mac & Cheeze
If you think fast food means unhealthy, think again. Globally Local offers a Mac & Cheeze bowl featuring brown rice pasta smothered in house-made cheese sauce—made from potatoes, carrots, onions, and cashews—and topped with a sprinkling of buttered bread crumbs and scallions. If you're in for a full-on food fest, you can also "supreme" your Mac & Cheeze for a couple extra bucks. Going "supreme" means the bowl is topped with vegan taco meat, house-made cashew sour cream, fresh tomatoes, and scallions. Ask to substitute the taco meat with tempeh bacon to make it gluten-free.

5. Maple Bacon Crunch
You've got an entire breakfast menu from which to choose, but start your very early morning right with this bonkers breakfast sandwich. The Maple Bacon Crunch begins with a toasted white or whole wheat English muffin that is buttered and drizzled with pure maple syrup, then layered with Tofutti cheese slices, tempeh bacon that's sliced and marinated in-house with a secret sauce, and grilled tofu "egg," and topped with an authentic crispy hash brown. The sweetness of the syrup and smokiness of the bacon in this breakfast beast are balanced with the saltiness of the cheese and egg. The result is a magical vegan sandwich between a simple English muffin.

Nicole Axworthy is a Canadian who got her fast-food fix thanks to this article.