Ignore those home makeover TV shows that suggest your dream kitchen will cost thirty-thousand dollars (that you don't have). By adding a few inexpensive but innovative tools to your collection, you'll achieve plant-based cooking heaven. Struggling to find the right technique for a restaurant-quality chopped salad? Frustrated that your avocado presentation is not Instagram-worthy? These gadgets will have you producing your favorite vegan dishes with finesse, and posting the picture-perfect results in no time.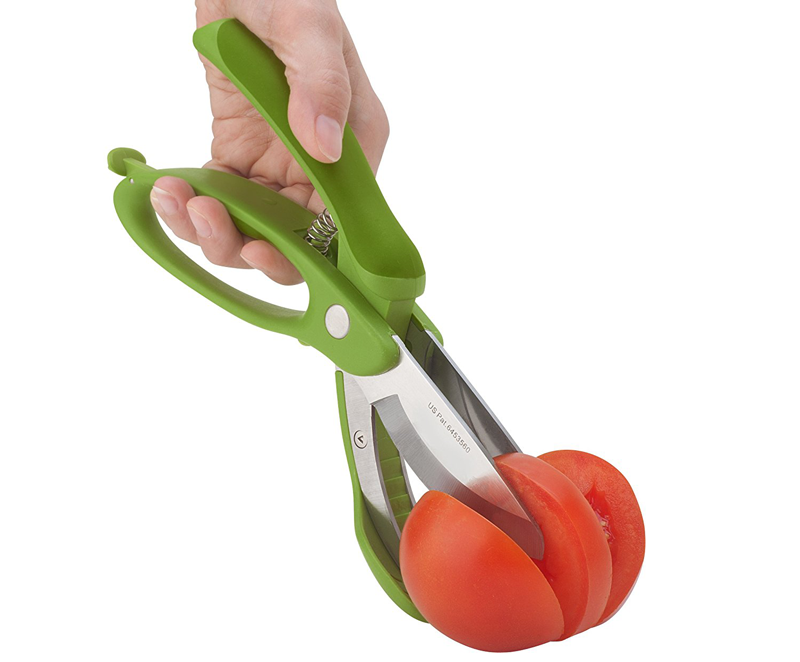 1. Toss and Chop Salad Tongs
Somehow, a chopped salad makes everything better. In takeout restaurants that feature these plant-based assemblages, cooks tackle overflowing bowls of lettuce and vegetables with large cutting tools that they somehow handle with ease. The result is a salad combining myriad flavors, evenly coated in a favorite dressing, and cut into perfectly bite-sized pieces. Try though we may, for the novice, it has been nearly impossible to achieve the mysterious magic of the professionally-produced chopped salad at home. However, with the Trudeau Toss and Chop Salad Tongs, suddenly the challenge of chopping salad is no more. Simply take your tongs to the salad and cut into the colorful mix as if you were handling scissors. Before you know it, you'll have that perfect bowl of healthy, colorful, fresh vegetables, without the expense of a restaurant meal.
Cost: $13.99 on Amazon.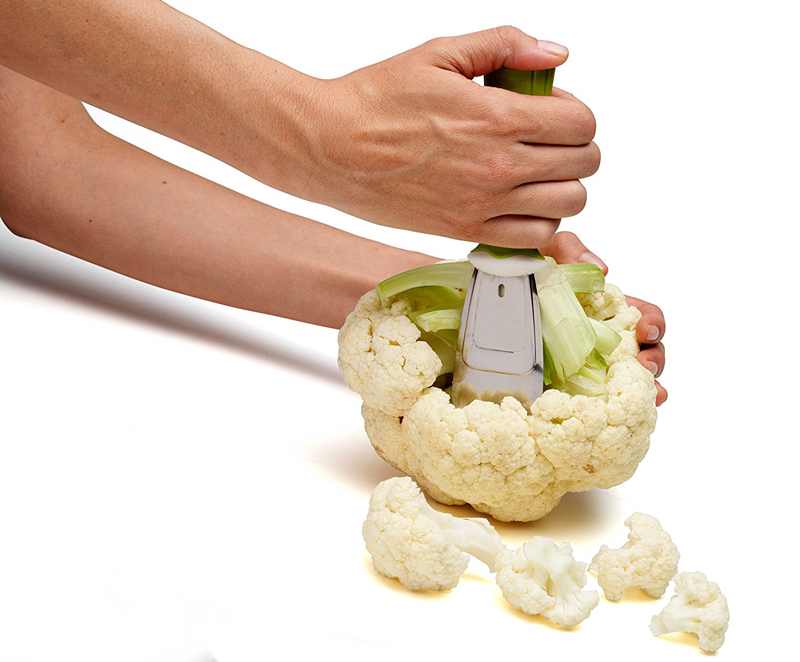 2. Cauliflower Prep Tool
It seems simple enough: A recipe asks us to cut our head of cauliflower into florets. It should be easy-peasy. But taking a knife to a large head of cauliflower typically results in frustration, an awkward dance between your hand and the knife, and a big mess. Say hello to the miraculous Chef'n Stalk Chop Cauliflower Prep Tool. Perhaps no one thought of this sooner because they were embarrassed to admit the struggle with cauliflower is real. With this handy-dandy petite gadget, florets slide off the stalk with practically zero effort. Whether you're stirring up cauliflower soup, preparing those savory buffalo cauliflower snacks, or making your favorite creamy sauce, this small tool will radically reduce the required effort. Instead of dreading the task at hand, you can enjoy your time cooking your favorite dish.
Cost: $7.99 on Amazon.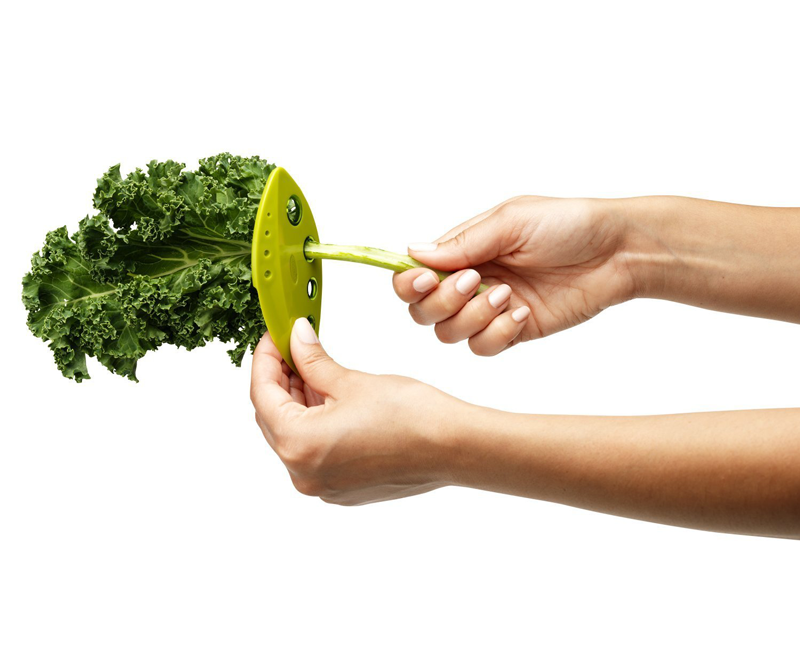 3. Kale, Chard, Collard Greens and Herb Stripper
There's no denying that kale is one of the greatest gifts to the vegan world, but preparing it can bring stress to the most zen-like plant-based kitchen. How many of us have wished for an easier way while standing over the cutting board, attempting to remove those curly leaves from the tough stem? Well, here is the answer to your prayers. This gadget does the tough job for you, restoring peace to your prep area. The Chef'n LooseLeaf stripper takes on kale, tackles thyme, and makes working with vegan favorites including rosemary, collard greens, and other leafy greens and herbs exponentially easier.
Cost: $7.99 on Amazon.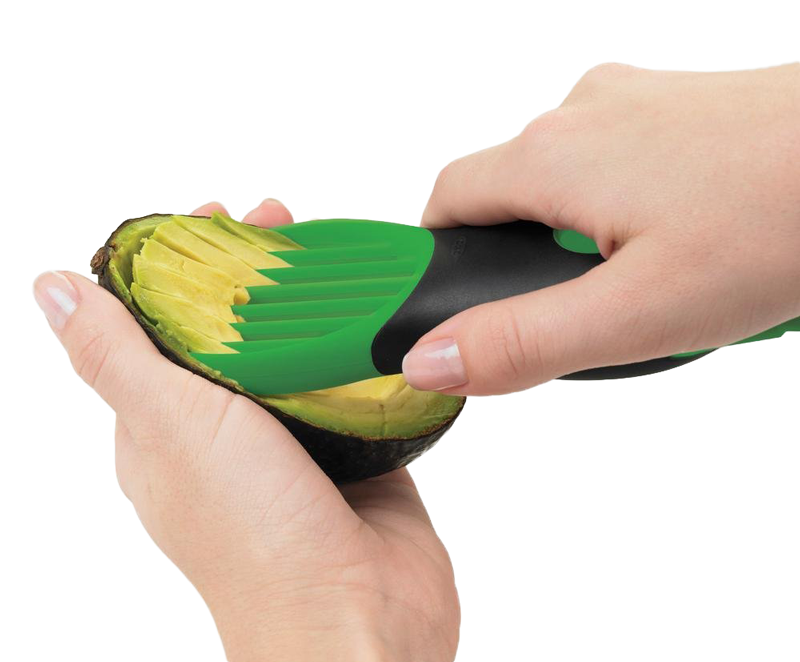 4. 3-in-1 Avocado Slicer
We've all seen those gorgeous avocado dishes on Instagram, such as the avocado toast boasting tens of thousands of likes from drooling avo fans. How come those dishes look so gorgeous on camera while the ones we produce in our own kitchen are not nearly as follower-friendly? The very simple answer can be found in a tool that costs less than $10 and will have us biting into delicious avocado dishes at home that we'd expect to see in a restaurant. The OXO Good Grips 3-in-1 Avocado slicer takes on the challenges of preparing avocado and will make you wonder how you lived without if for so long. With this tool that splits, pits, and smoothly slices avocadoes, you'll be posting photos as good as any professional plant-based chef.
Cost: $9.99 on Amazon.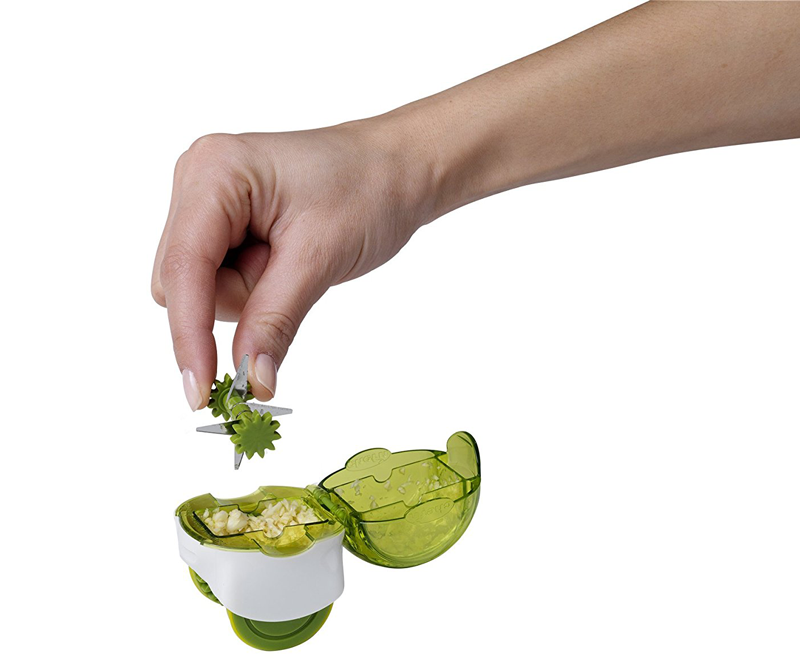 5. Garlic Chopper
Discovering that a recipe calls for chopping garlic can quickly turn excitement about cooking into a dread of those small and slippery cloves. When we're tired, and trying to keep dinner simple, it can seem as though every recipe calls for this dreaded task. That's where the Chef'n GarlicZoom Garlic Chopper comes in. Whether you require a fine or a coarse mince, this little guy has you covered. All you need to do is drop the garlic in and roll the green gadget back and forth. Then you're done. For under ten dollars, you've just taken the most difficult task out of your dinner prep, and can simply enjoy your evening at home.
Cost: $12.99 on Amazon.
Maya Gottfried is the author of Our Farm: By the Animals of Farm Sanctuary and Vegan Love: Dating and Partnering for the Cruelty-Free Gal.