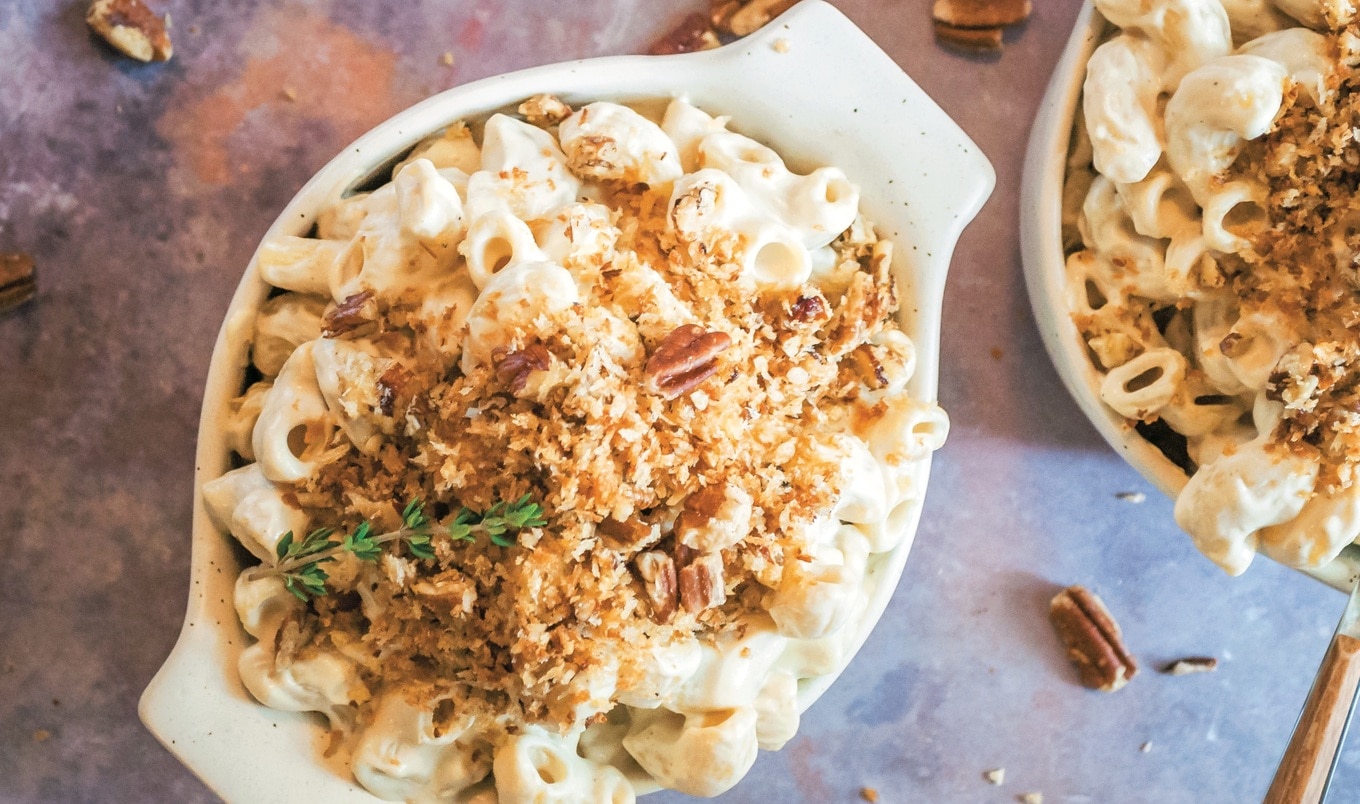 This inventive and gourmet spin on traditional mac and cheese is topped with a generous layer of crispy breadcrumbs made even crunchier with toasty, roasted pecans.
December 30, 2022
A rich, velvety cashew cheese sauce and golden-baked crunchy topping make this mac and cheese from the Southern Vegan cookbook completely irresistible. Serve with sautéed greens and fried tofu for the ultimate soul food meal.
What you need:
4½ cups elbow macaroni
1 cup raw cashews, soaked and drained
1 cup vegan milk
1 (15-ounce) block firm tofu, pressed
¼ cup nutritional yeast
1 teaspoon Dijon mustard
1 teaspoon tahini
1 teaspoon lemon juice
½ teaspoon garlic powder
¼ teaspoon ground nutmeg
1 teaspoon salt
½ teaspoon black pepper
1 cup finely chopped roasted pecans
1 cup panko breadcrumbs
2 tablespoons olive oil
What you do:
Preheat oven to 375 degrees. Cook macaroni according to package directions.
Into a blender, add cashews, milk, and tofu, and blend. Add nutritional yeast, mustard, tahini, lemon juice, garlic powder, nutmeg, salt, and black pepper, and blend on high for 3 minutes, scraping down sides of blender as needed, until sauce is totally smooth. Set sauce aside.
When macaroni is done, drain and return to pot. Add sauce and stir to combine. Pour macaroni and cheese into a 13 x 9-inch baking dish and smooth out evenly.
In a small bowl, combine pecans, breadcrumbs, and oil, and toss to coat. Top macaroni and cheese with pecans and breadcrumbs. Bake for 10 to 15 minutes, or until topping is crispy and brown.