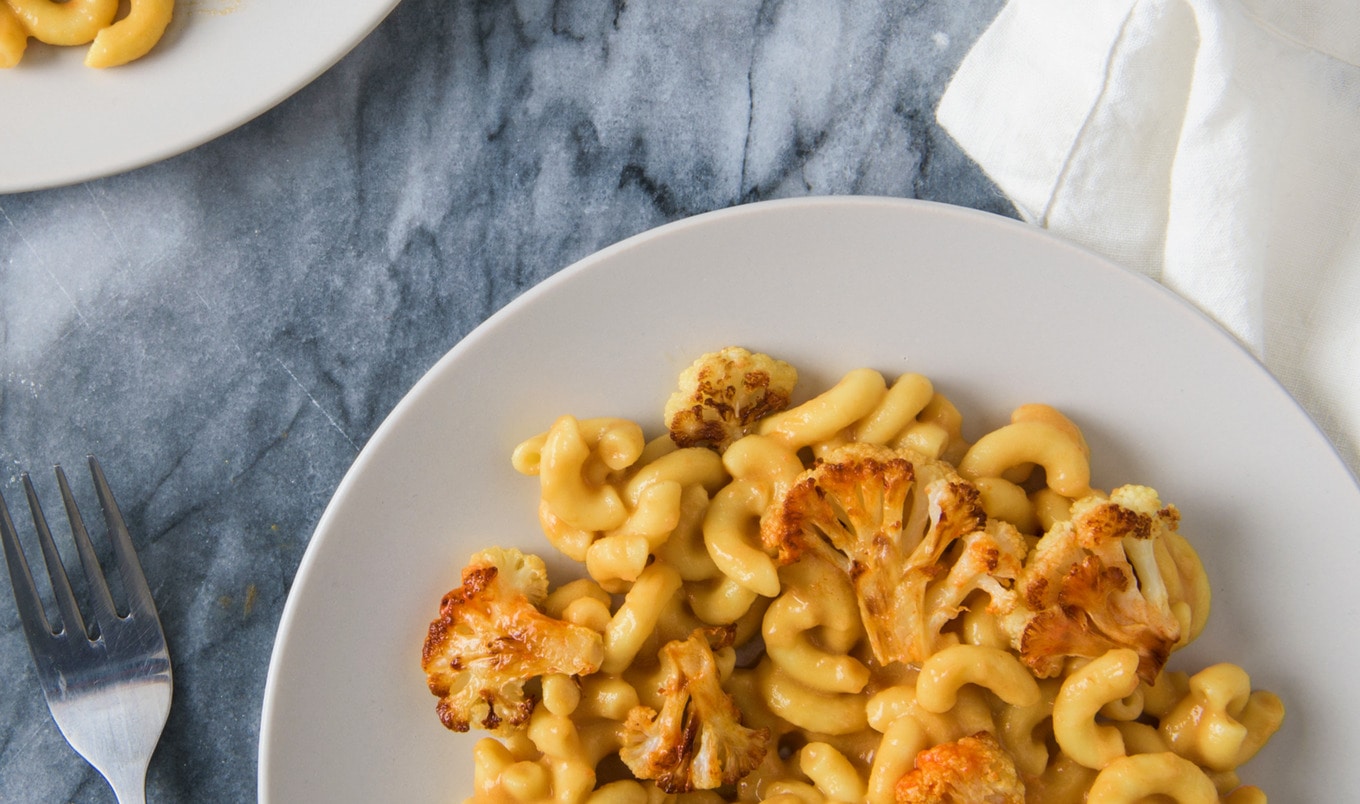 Mac and cheese is already pretty perfect. But it can be improved upon with a little heat.
September 7, 2023
Fiery-hot, roasted cauliflower adds the perfect amount of spice and excitement to this classically cheesy mac and cheese from veteran cookbook author Robin Robertson's cookbook, Vegan Mac and Cheese.
What you need:
For the sauce:
1 large Russet potato, cut into 1-inch chunks
1 large carrot, cut into 1-inch chunks
2½ cups vegetable broth
⅔ cup nutritional yeast
2 tablespoons tamari
½ teaspoon onion powder
½ teaspoon garlic powder
¼ teaspoon salt
For the cauliflower:
1 head cauliflower, cored and cut into bite-size pieces
Olive oil cooking spray
1 teaspoon garlic powder
¼ teaspoon salt
⅓ cup hot pepper sauce
4 tablespoons vegan butter, melted
1 tablespoon apple cider vinegar
1 teaspoon paprika
For the pasta:
1 pound cooked elbow macaroni
What you do:
For the sauce, in a medium pot over medium high heat, add potato, carrot, and vegetable broth. Bring to a boil and cook for 15 minutes, or until vegetables are fork-tender. Carefully transfer mixture to a blender, and add nutritional yeast, tamari, onion powder, garlic powder, and salt. Blend until smooth. Set aside.
For the cauliflower, preheat oven to 400 degrees and line a baking sheet with parchment paper. Arrange cauliflower in a single layer on prepared sheet, spray with cooking spray, and sprinkle with garlic powder and salt. Roast for 20 minutes, transfer to a large bowl, and add hot sauce, butter, vinegar, and paprika. Stir well to coat. Return cauliflower to baking sheet and arrange it in a single layer. Bake for 10 more minutes, then remove from oven.
In a large pot over low heat, add cooked macaroni and sauce. Warm for 5 minutes, or until heated through. Add buffalo cauliflower, stir to combine, and serve hot.
For more recipes like this, check out: