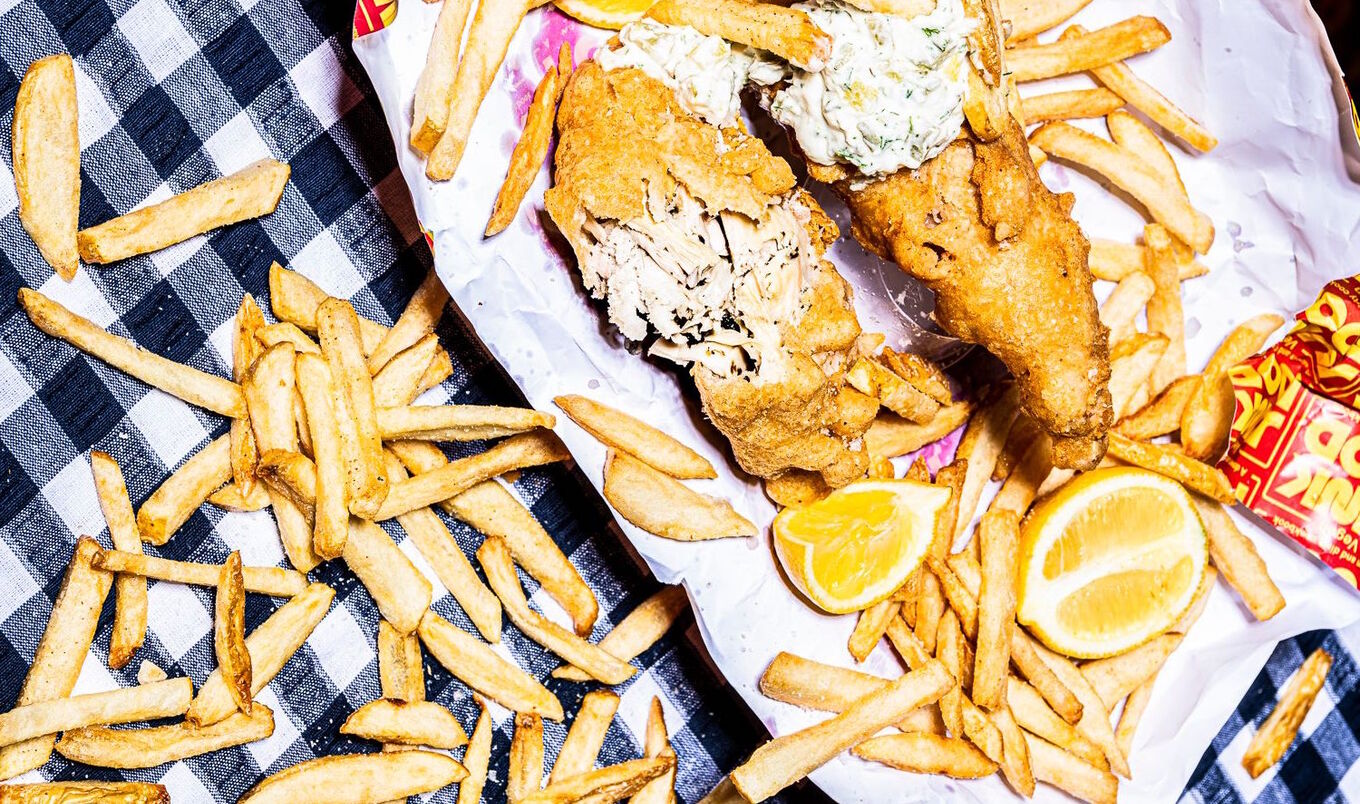 A crispy, light breading and perfectly seasoned banana blossoms craft the ultimate vegan fried fish filet.
April 27, 2022
Seaweed, white wine, and ginger lend fishy flavors, while canned banana blossoms bring all the texture required to make a plant-based version of fish and chips in this recipe from the Vegan Junk Food cookbook.
What you need:
For the fish filets:
2 cans banana blossoms in brine, drained
Canola oil, for deep-frying
Lemon wedges, for serving

For the marinade:
2 scallions, finely chopped
½ teaspoon salt
2 nori sheets, finely chopped
¾-inch knob of ginger, peeled and minced
2 garlic cloves, minced
⅓ cup white wine

For the batter:
1 cup self-raising flour
½ teaspoon salt
¼ teaspoon black pepper
1 cup cold beer or soda water

For the tartar sauce:
½ cup finely chopped dill pickles
2 tablespoons finely chopped dill
1 cup vegan mayonnaise
2 teaspoons lemon juice
1 teaspoon Dijon mustard
1 teaspoon caper brine
What you do:
Under running water, rinse banana blossoms, squeezing out as much brine as possible. Place in a bowl, rinse under running water again, and squeeze out any remaining brine. Place in a dry bowl.
For the marinade, into a medium bowl, combine all ingredients. Add marinade to banana blossoms and massage through, separating the banana blossom pieces. Cover with cold water, then cover in plastic wrap and marinate for 2 to 24 hours in the refrigerator, tossing occasionally.
For the batter, in a medium bowl, combine flour, salt, and pepper. Place in freezer.
Remove marinated banana blossoms from refrigerator and scoop out ¼ of mixture. Squeeze and wring out majority of liquid, keeping a small amount of moisture. Remove flour mixture from freezer and toss with banana blossom to coat. Repeat with remaining banana blossoms to make four filets. Set aside on a plate.
In a large heavy saucepan over medium-high heat, warm oil. Test if oil is ready by inserting a wooden skewer into oil; if it begins to bubble quickly, it's ready.
Into flour mixture, slowly pour cold beer or soda water, stopping intermittently to fully incorporate liquid before adding more, until batter just comes together. Use immediately while cold and beer or soda water is still bubbly.
Dip each fillet into batter. Add two battered fillets into saucepan with hot oil and cook for 2 to 4 minutes or until crisp and golden. Drain on a plate lined with paper towels and repeat with remaining fillets.
For the tartar sauce, into a small bowl, combine all ingredients. Serve banana blossom fish with tartar sauce, lemon wedges, and French fries.