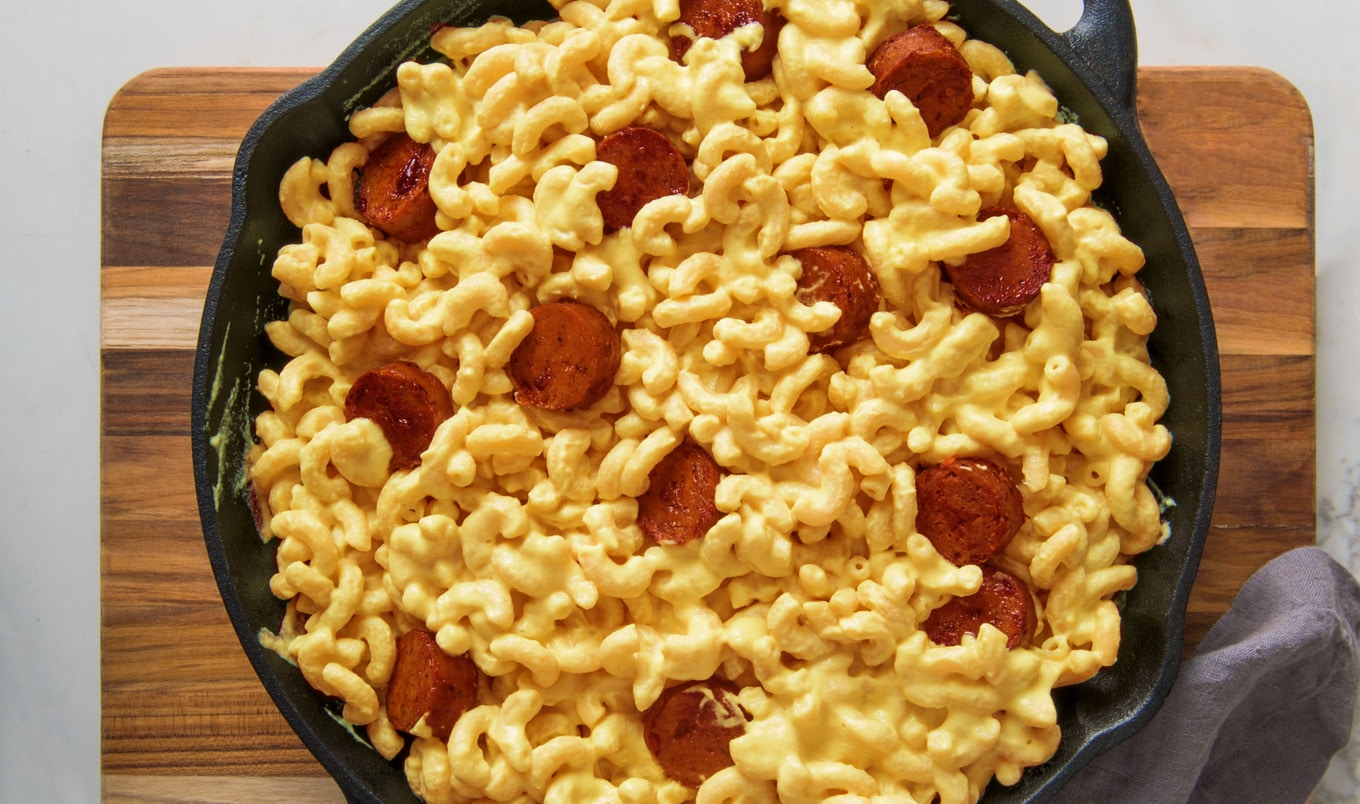 This warm, hearty recipe is packed with meaty vegan brats—a perfect upgrade to traditional mac and cheese for chilly weather.
October 10, 2019
Switch up your mac game with this carb-loaded comfort dish from veteran cookbook author Robin Robertson and her newest cookbook, Vegan Mac and Cheese. Serve with a glass of vegan beer (check out the VegNews Vegan Guide to Beer) and dinner is served.
What you need:
16 ounces elbow macaroni
2 tablespoons olive oil, divided, plus more for preparing baking dish
1 cup unsalted raw cashews, soaked in boiling water for 30 minutes, and drained
1½ cups plain unsweetened vegan milk
1¼ cups vegetable broth
3 tablespoons nutritional yeast
1 tablespoon fresh lemon juice
½ teaspoon ground turmeric
⅛ teaspoon salt
⅛ teaspoon black pepper
1 small onion, chopped
3 garlic cloves, minced
2 cups sauerkraut, well-drained
2 vegan bratwursts, sliced
⅛ teaspoon smoked paprika
What you do:
In a large pot, cook pasta according to package directions until al dente. Drain and return to pot.
Preheat oven to 350 degrees. Lightly coat a 9 × 13-inch baking dish with olive oil. Set aside.
In a high-speed blender, combine drained cashews, milk, vegetable broth, nutritional yeast, lemon juice, turmeric, salt, and pepper. Blend until smooth, stopping to scrape down sides as needed. Set aside.
In a large skillet over medium heat, warm 1 tablespoon olive oil. Add onion and garlic, and cook until soft, about 5 minutes. Stir in sauerkraut, transfer to blender with cashew mixture, and blend until smooth.
Return skillet to medium heat and warm remaining 1 tablespoon of olive oil. Add bratwurst slices and cook until browned on both sides, flipping once. Add bratwurst slices and sauce to reserved pasta, stirring well to coat with sauce.
Transfer to prepared baking dish, spreading evenly. Sprinkle with smoked paprika, cover baking dish with aluminum foil, and bake for 20 minutes. Serve hot.
Photo credit: Robin Robertson