We love a good buffalo cauliflower, but since it's gone mainstream, seeing the same dish on nearly every pub menu is a little "been there, done that." It's time to switch it up. Don't worry, we're keeping that buttery, spicy buffalo flavor, but we're swapping out common cauliflower for a few curveball ingredients. Safe to say, we're a bit buffalo obsessed. From spicy mac and cheese to buffaloed pizza, here's how to add a punch of buffalo sauce to your favorite vegan foods.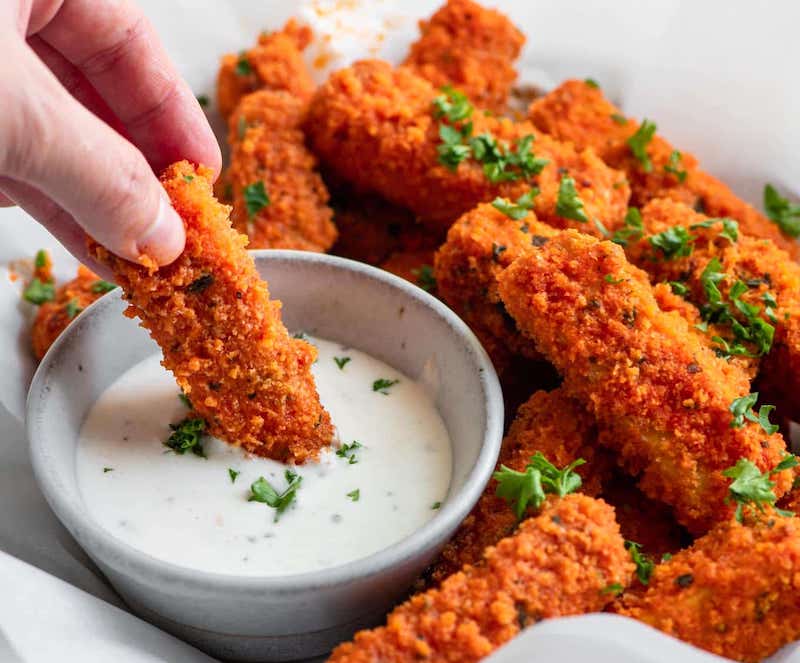 Recreate your favorite buffalo vegan chicken tenders at home—without the oil! These simply baked tofu strips are super crunchy, a little spicy, and completely versatile. Serve as an appetizer with vegan blue cheese or add flavor and protein to a bed of romaine.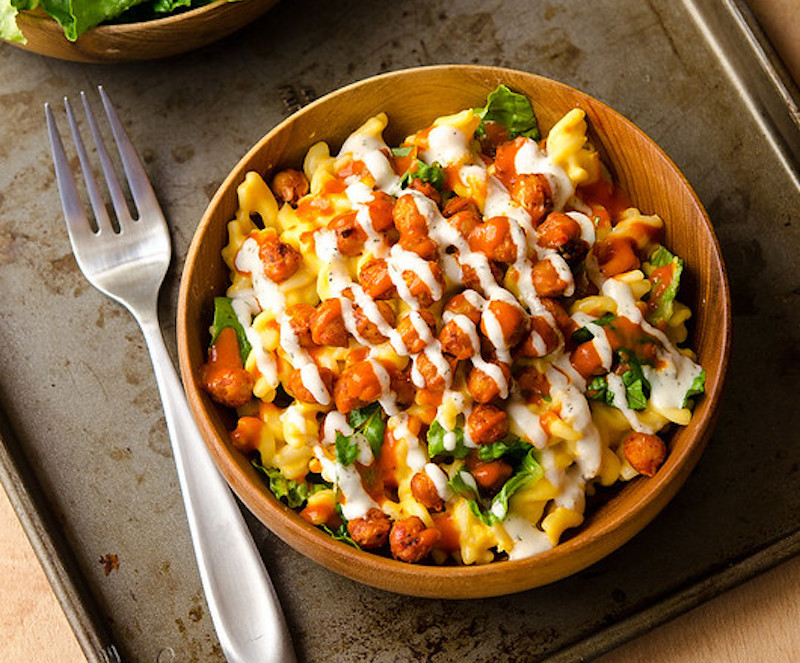 More is more as far as this cheesy dish is concerned. A deep bowl is layered with a base of stove-top vegan mac, crunchy-cool romaine lettuce, buffalo-roasted chickpeas, and a dual drizzle of buffalo sauce and dairy-free ranch. It's the kind of meal you place on your belly while lounging on the couch after an impossibly long day.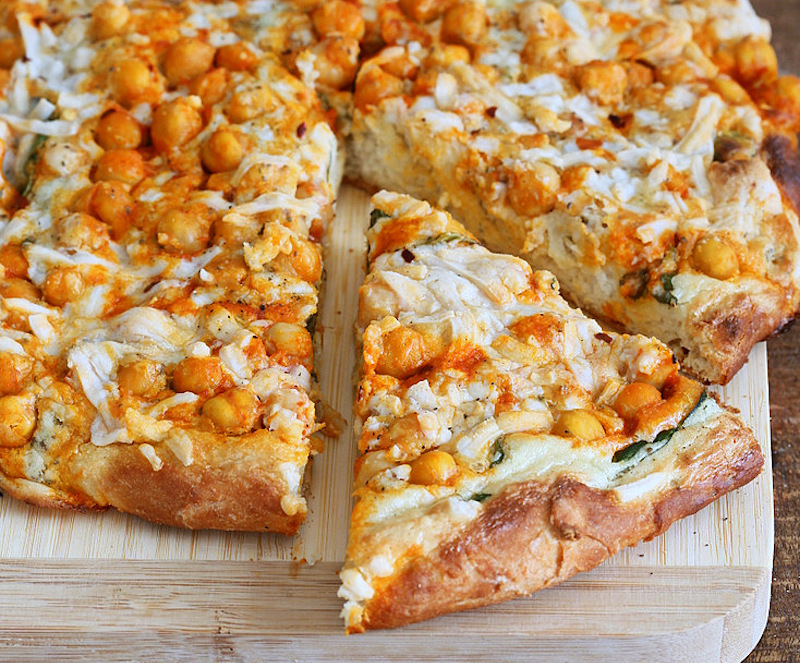 Red pepper flakes aren't the only spice option for pizza. Expand your horizons and go buffalo. We can guarantee you'll never find this vegan masterpiece at your typical slice joint.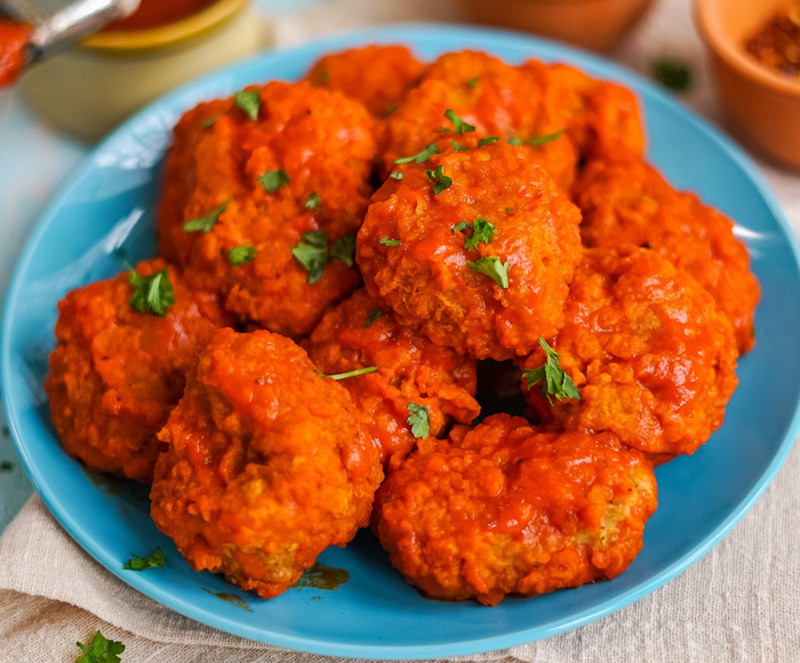 It's a classic, but this recipe doesn't involve cauliflower. These decadently meaty hot wings are made with seitan then battered and deep-fried for the ultimate buffalo wing experience.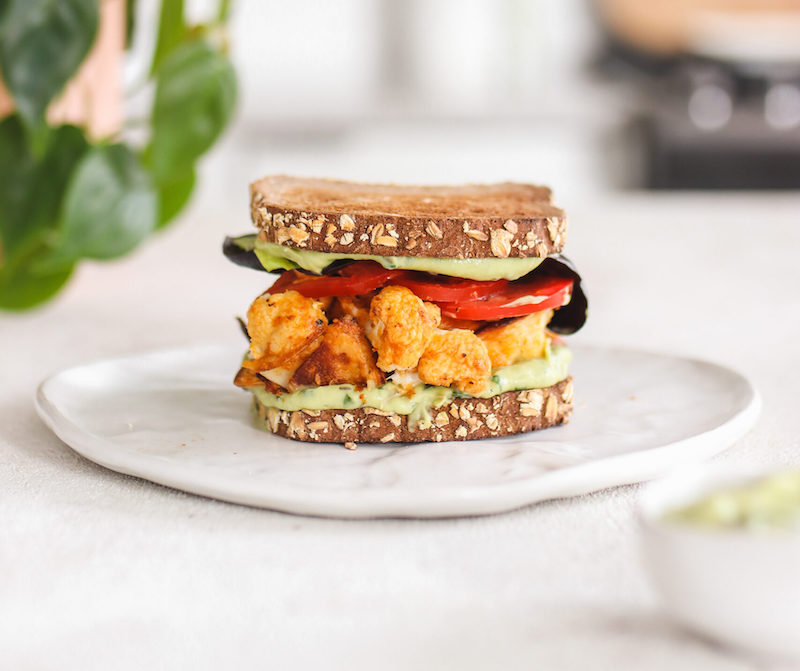 Buffalo-style foods tend to be placed in the not-so-healthy category, but this handhold proves you can enjoy the taste of buffalo without compromising how you feel. This recipe layers baked buffalo cauliflower with lettuce, tomato, and creamy avocado ranch-slathered gluten-free bread. Turns out that healthy compromise is delicious.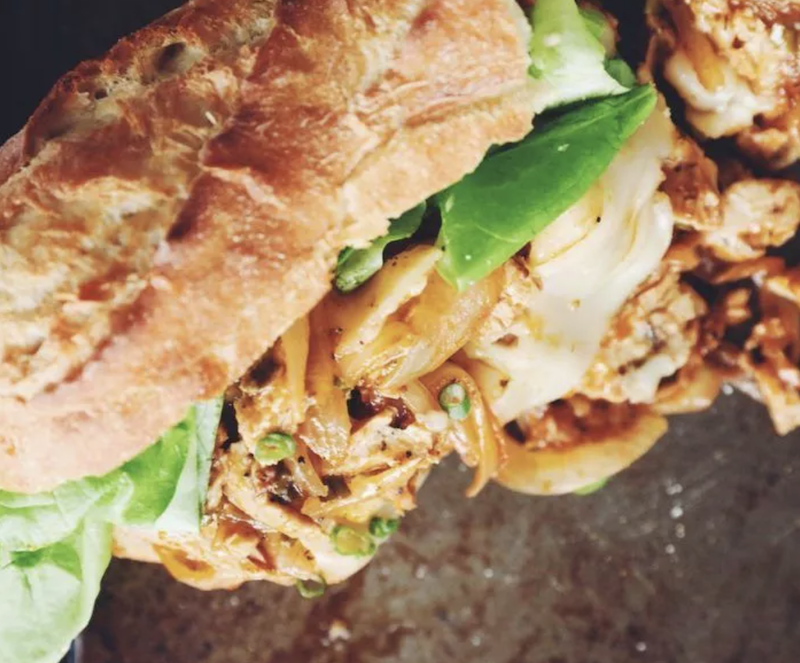 This is a cheese-pull kind of sandwich that must be sliced in half. That gooey vegan mozzarella, thick-cut pieces of buffalo chicken, and toasted baguette must be documented on your socials. It truly is a thing of beauty.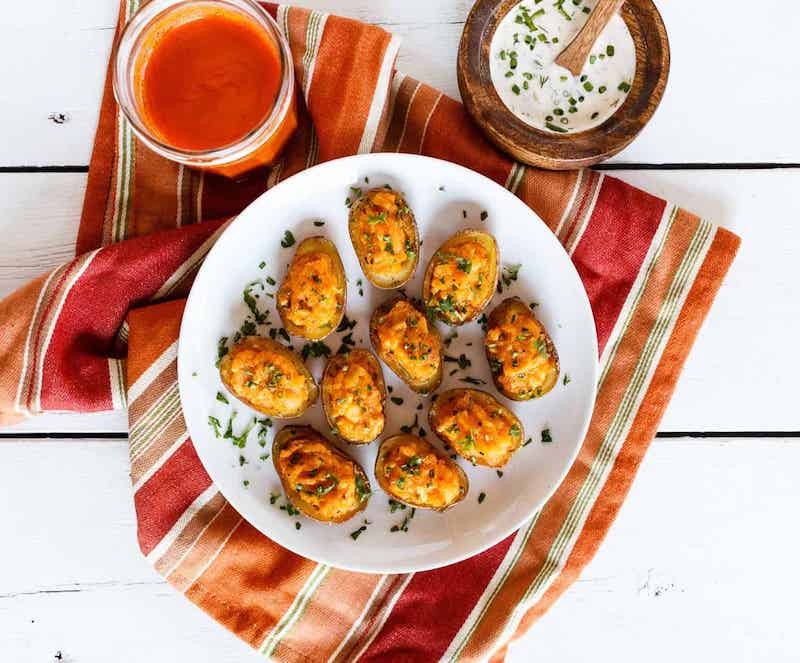 Deviled eggs have nothing on these spiced-up spuds. They look just like the eggy appetizer (the recipe uses tiny creamer potatoes), but contain so much more flavor thanks to the mixed-in buffalo sauce and melty vegan cheese. They're meant to be starters, but they can easily turn into a meal with a few celery and carrot sticks on the side.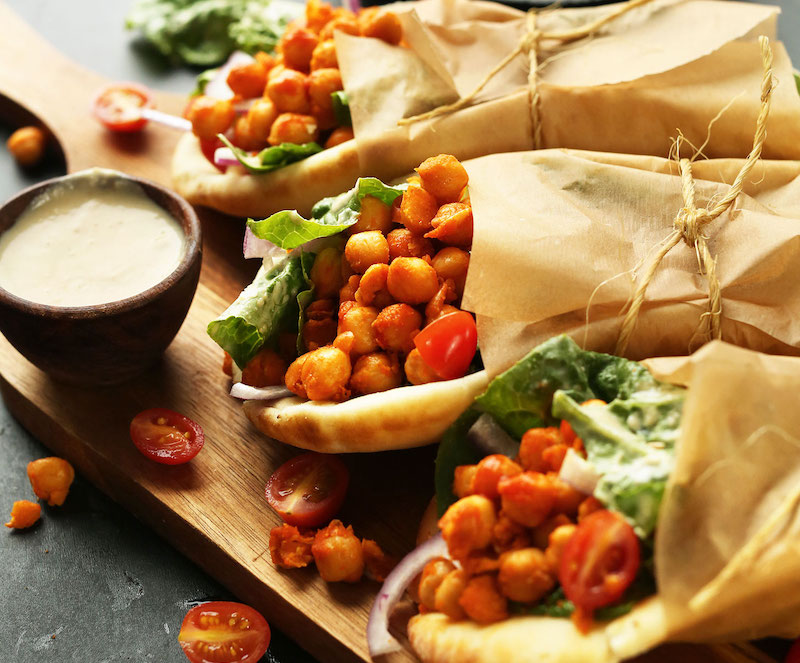 We can't speak for everyone, but in our minds, the word "wrap" connotes some sad, flavorless lunch we ordered and ate at our desk pre-pandemic. This innovative recipe has resparked our interest in the wrap. In lieu of a nearly-stale tortilla, a pillowy soft pita serves as the vessel for a colorful hummus-dressed salad and crunchy-roasted buffalo chickpeas. The wrap has been redeemed.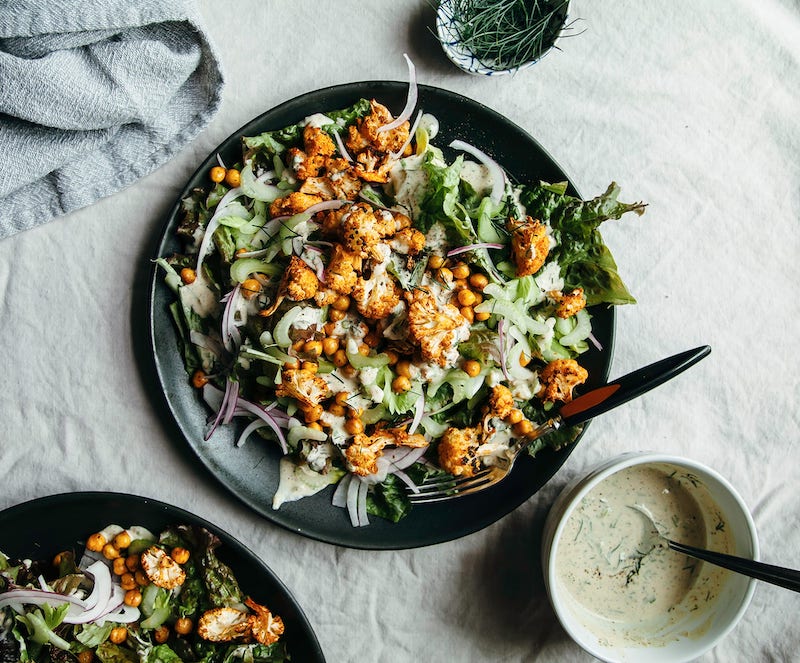 Sure, we're back to the trusty buffalo cauliflower, but instead of serving it with ranch and limp veggie sticks, this blogger makes a seriously good salad. Even the vegetable-averse will eat their weight in lettuce if it's generously topped with tender, charred buffalo cauliflower and a wonderfully nutty ranch dressing.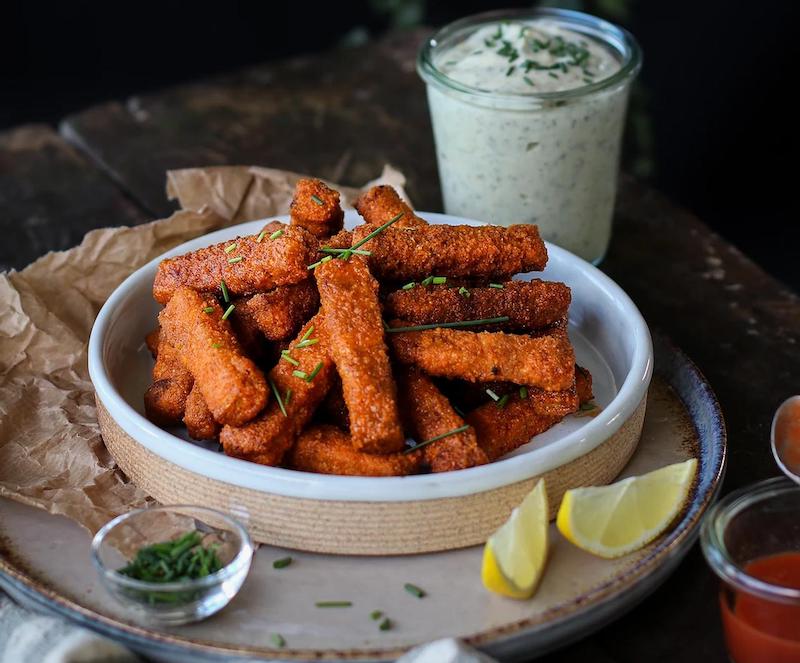 If you're familiar with Veggie Grill, these look just like that vegan fast-food chain's buffalo tenders. While the taste is equally as satisfying, this recipe is a bit healthier as there's no frying involved. Enjoy with the accompanying vegan ranch recipe or stuff them into sandwiches, salads, and yes, even wraps.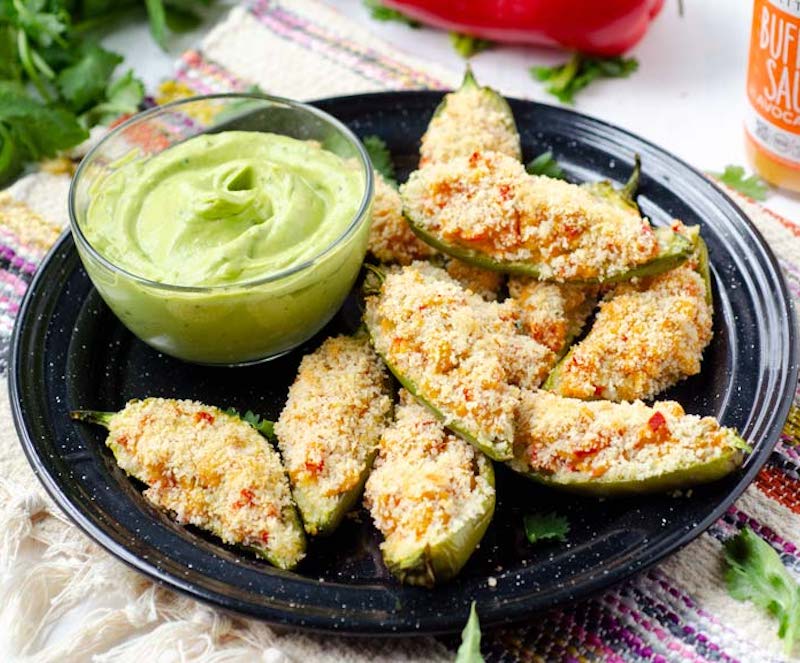 If jalapeño poppers aren't hot enough for you, these will do the trick. Each pepper is stuffed with a seasoned chickpea-buffalo mash then coated in breadcrumbs and baked until crispy. Keep a side of vegan sour cream handy if you can't take the heat.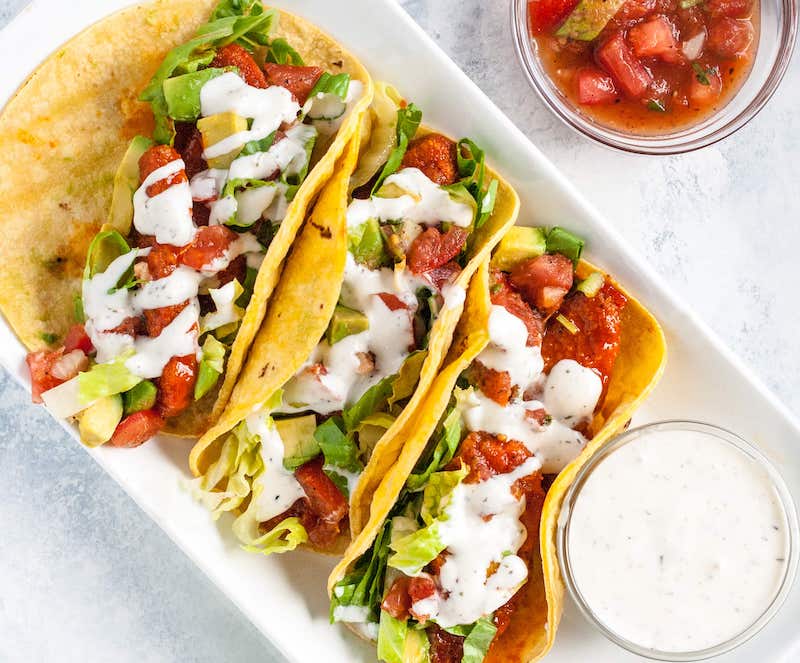 Thanks to the use of a few key store-bought ingredients, these tacos come together in less than 30 minutes, which is ideal when the taco craving calls. To make it go even faster, buy your own vegan ranch instead of making it. Fill your corn tortilla with buffalo-doused Gardein crispy chicken, avocado slices, shredded romaine, pico de gallo, and top it all off with a heavy pour of ranch.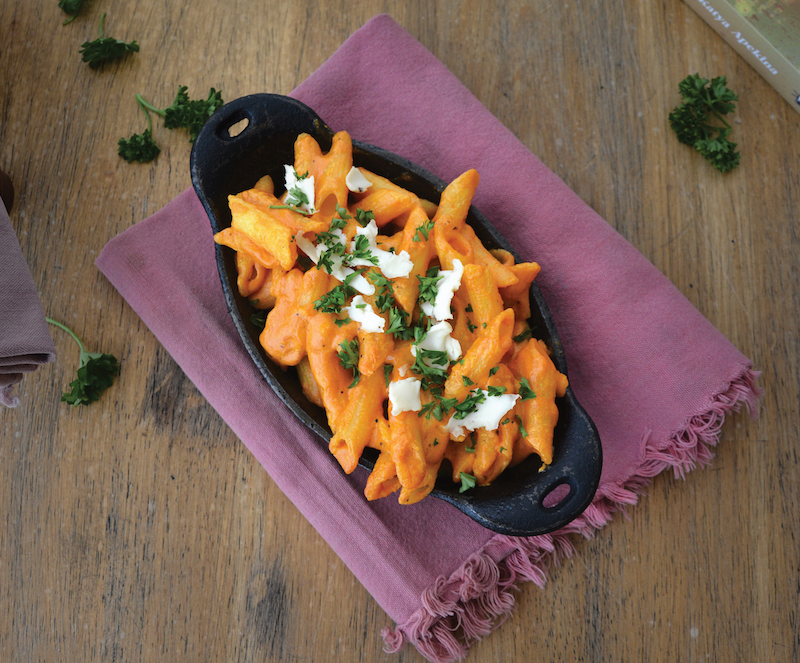 The folks at this Cleveland, OH café and publishing house were generous enough to share this finger-licking good recipe from their kitchen's cookbook. It's extremely versatile and complements a host of dishes—from traditional nachos to penne pasta. It's truly liquid gold, with a kick!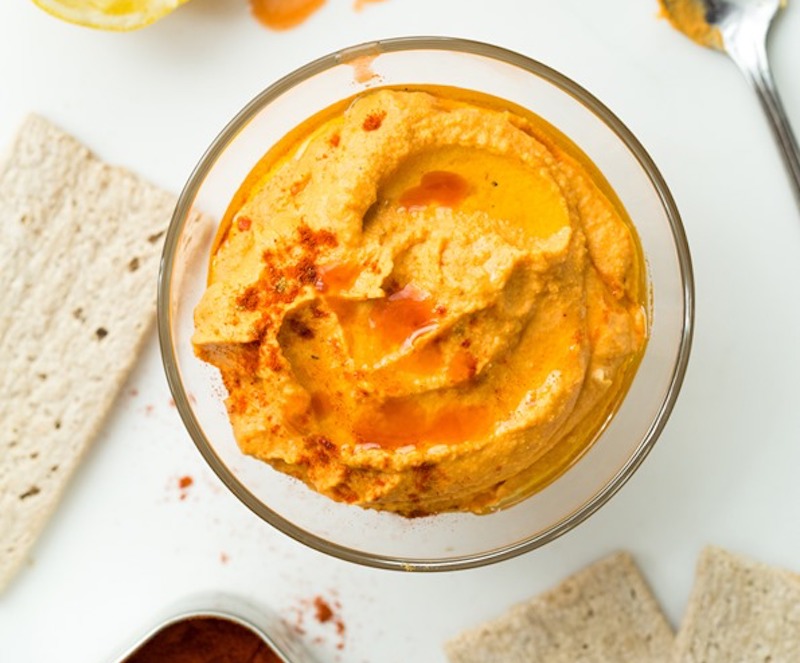 Considering there seems to be every flavor of hummus on the market—from pickle to chocolate—it's no surprise buffaloed hummus is a thing. Go the obvious dip route or get more creative and dollop this stuff on pizza, quesadillas, or salads. Buffalo surprisingly goes well on almost everything—except maybe pickles, but who's to judge?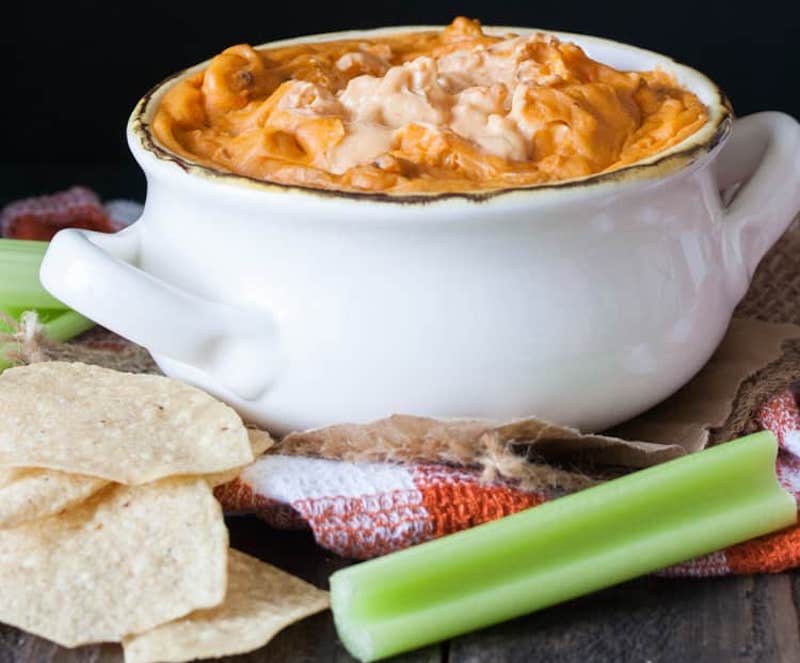 We fell hard when first introduced to veganized artichoke spinach dip, but this buffalo chicken appetizer makes us weak at the knees with every single hot, melty bite. From the tender buffalo cauliflower pieces to the luxurious buffalo-spiked cheese sauce, this dish has it all.
Tanya Flink is a Digital Editor at VegNews as well as a writer and fitness enthusiast living in Orange County, CA.