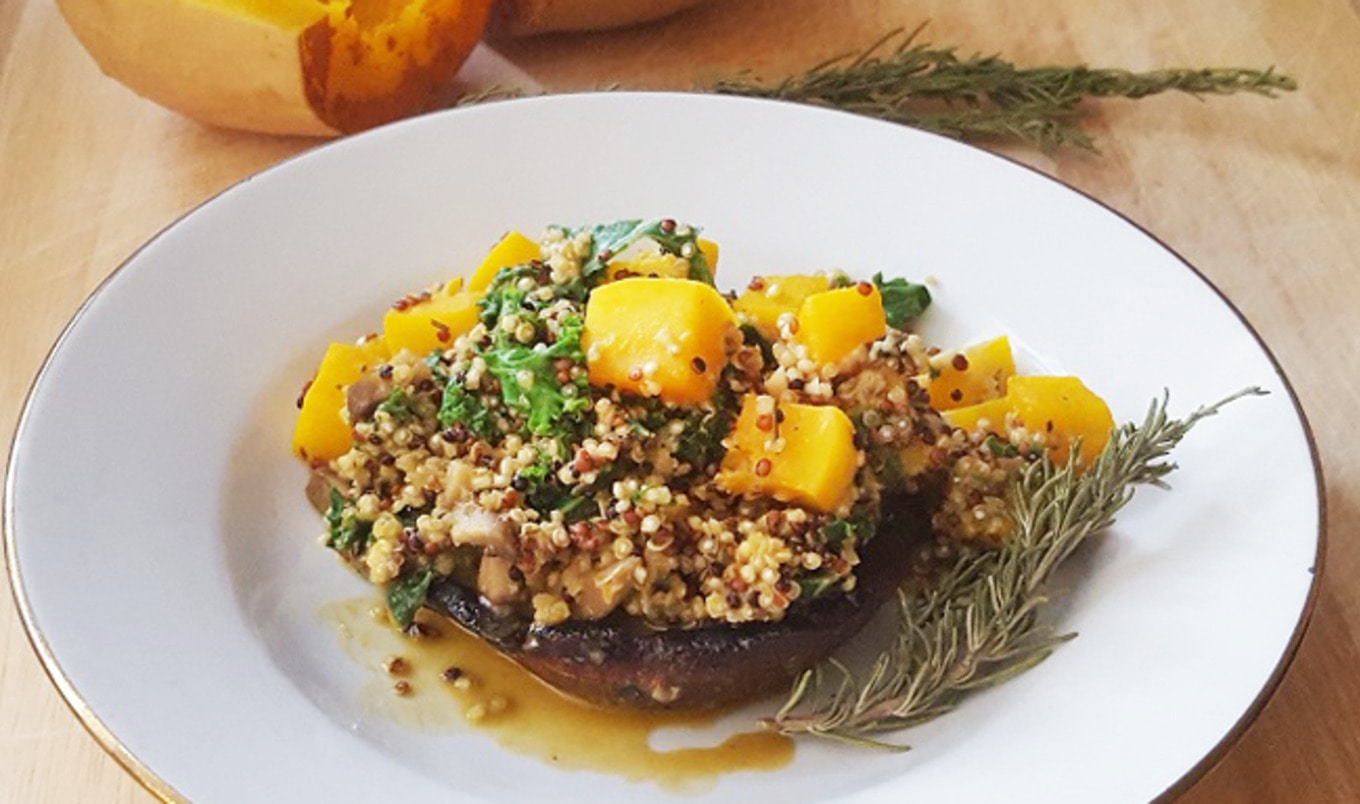 Impress a guest with this elegant meal that requires less work than it appears!
July 26, 2017
Risotto may sound time consuming and challenging, but using quinoa allows you to prepare this traditional dish in half the time (and with less stress). Our sweet butternut squash pairs nicely with quinoa's nuttiness and the earthy tones from the fresh rosemary, while the portabello mushrooms make the perfect vessel for this creamy mixture—and also leave you satiated.
Serves 2
What you need:
For the portobellos:
2 large portabello mushrooms, stems removed and gills scraped out
2 tablespoons balsamic vinegar
2 tablespoons vegetable broth
1 tablespoon olive or avocado oil
¼ teaspoon sea salt
⅛ teaspoon black pepper
For the risotto:
1 small butternut squash, peeled, seeds removed, and diced into ½-inch pieces
2 teaspoons olive or avocado oil
2 cloves garlic, minced
1 teaspoon finely chopped fresh rosemary
½ cup rainbow quinoa (uncooked)
2½ cups vegetable broth, divided
1 cup kale, chopped
3 tablespoons nutritional yeast
¼ teaspoon sea salt
⅛ teaspoon black pepper
What you do:
1. For the portabellos, into a rectangular dish, stir the vinegar, broth, oil, salt, and pepper together. Place mushrooms in and coat both sides. Set aside.
2. For the risotto, steam squash for approximately 20 minutes, or until fork tender. Set 1 cup aside.
3. Into a sauté pan, heat oil. Add garlic, rosemary, and quinoa, and sauté for approximately 3 minutes. Stir in 1½ cups broth, and cook for approximately 6 minutes, or until liquid is nearly absorbed, stirring occasionally. Add remaining broth, ½ cup at a time, until liquid is almost absorbed before adding more (approximately 15 minutes).
4. While the risotto is cooking, heat a grill pan, and add mushrooms. Grill for approximately 5 minutes on each side.
5. Once most of the broth is absorbed into the risotto, mix in squash, kale, nutritional yeast, salt, and pepper, and heat through.
6. To serve, place each mushroom cap stem side up on a plate. Divide the risotto mixture between the two mushroom caps.