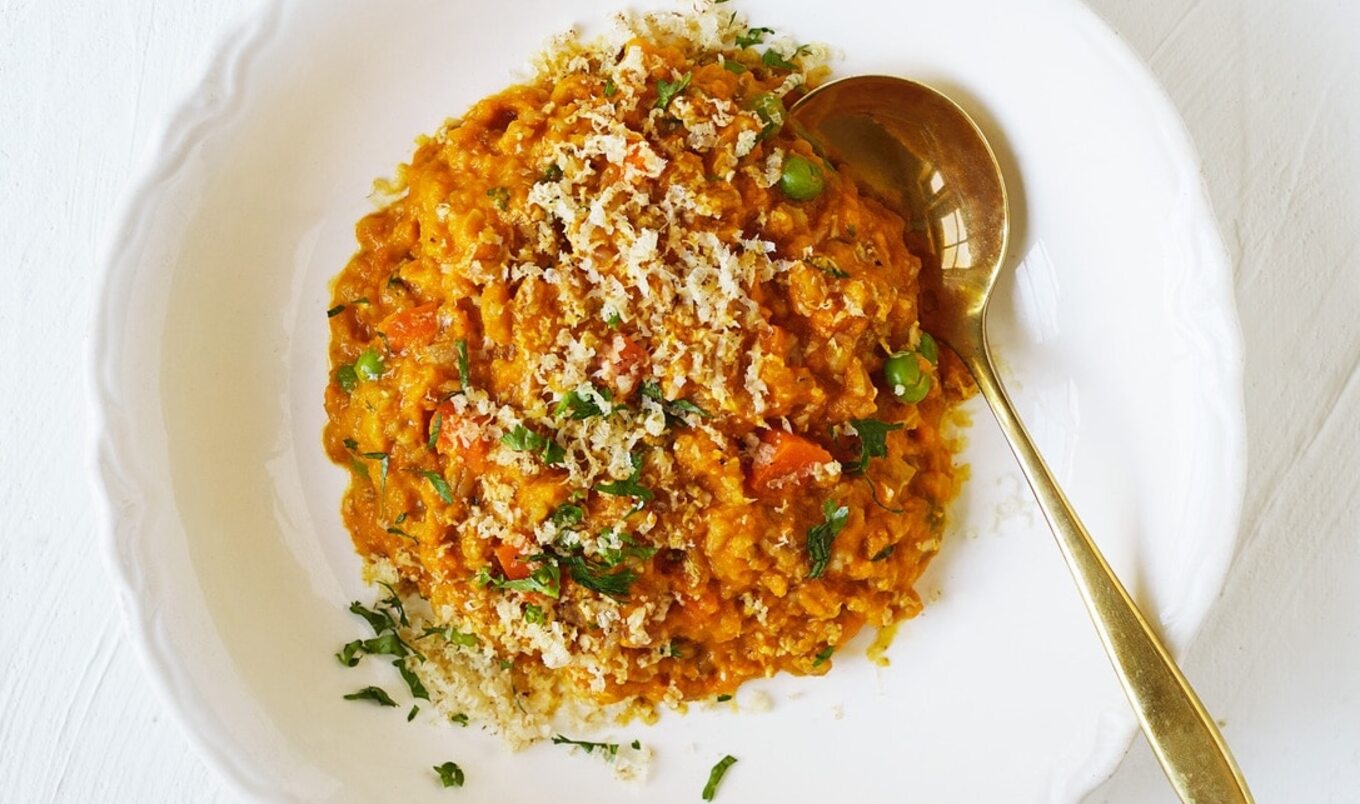 Slowly simmering nutrient-rich farro results in a super thick and creamy rice-like dish.
June 12, 2023
Serve this Italian-inspired dish from the Smart Plants cookbook with a crisp, green salad and consider doubling the recipe for another day, as—unlike traditional risotto recipes—this dish reheats well for an almost instant ready-made dinner.
What you need:
1 pound carrots, peeled and trimmed
5 tablespoons olive oil, divided
¾ teaspoon salt, divided
½ cup shallots, finely diced
2 tablespoons apple cider vinegar
6 cups vegetable broth, divided
2 teaspoons yellow miso paste
1 tablespoon nutritional yeast
1 cup farro, rinsed
2 tablespoons minced fresh parsley, divided
⅔ cup frozen peas
¼ cup raw walnut halves
What you do:
Dice 1 medium carrot into 1/4-inch cubes. In a small bowl, add diced carrot and 1 tablespoon of oil and toss. Add ¼ teaspoon salt and set aside. Slice remaining carrots into ¼-inch rounds.
In a medium saucepan over medium-low heat, warm 2 tablespoons of oil. Add sliced carrot rounds, shallots, and ¼ teaspoon salt and cook for 6 minutes, until shallots are translucent. Stir apple cider vinegar and 2 cups of broth into pan. Set heat to high, bring to a boil, and then reduce heat to medium-low. Simmer for 25 minutes, or until liquid is reduced by half. Remove from heat and let cool slightly before transferring to a blender.
Into a blender with carrot mixture, add miso and nutritional yeast, and process until smooth. Add ¼ cup broth, if needed, to create a thick, smooth purée. Cover and set aside.
In a large saucepan over high heat, place farro and 3 cups of broth. Bring to a boil, and then reduce heat to medium-low and let simmer for 30 minutes, or until farro is very tender—liquid should be mostly evaporated, although a little should remain in pan to keep farro from burning. Stir carrot mixture, 1 tablespoon of oil, and ½ teaspoon of salt into farro. If consistency is too thick, add a little more broth, and if too thin, simply cook over low heat for two minutes longer. Fold 1 tablespoon of minced parsley into farro, and cover to keep warm.
In a medium saucepan over medium heat, warm remaining tablespoon oil. Add diced carrots, and cook for 4 minutes, or until almost tender. Add peas and cook for 3 minutes more, or until warmed through and bright green. Mix carrots and peas into farro mixture.
Into 4 serving bowls, ladle risotto and use a fine grater to shave walnuts on top of each bowl. Garnish with remaining parsley.
For more recipes like this, check out: