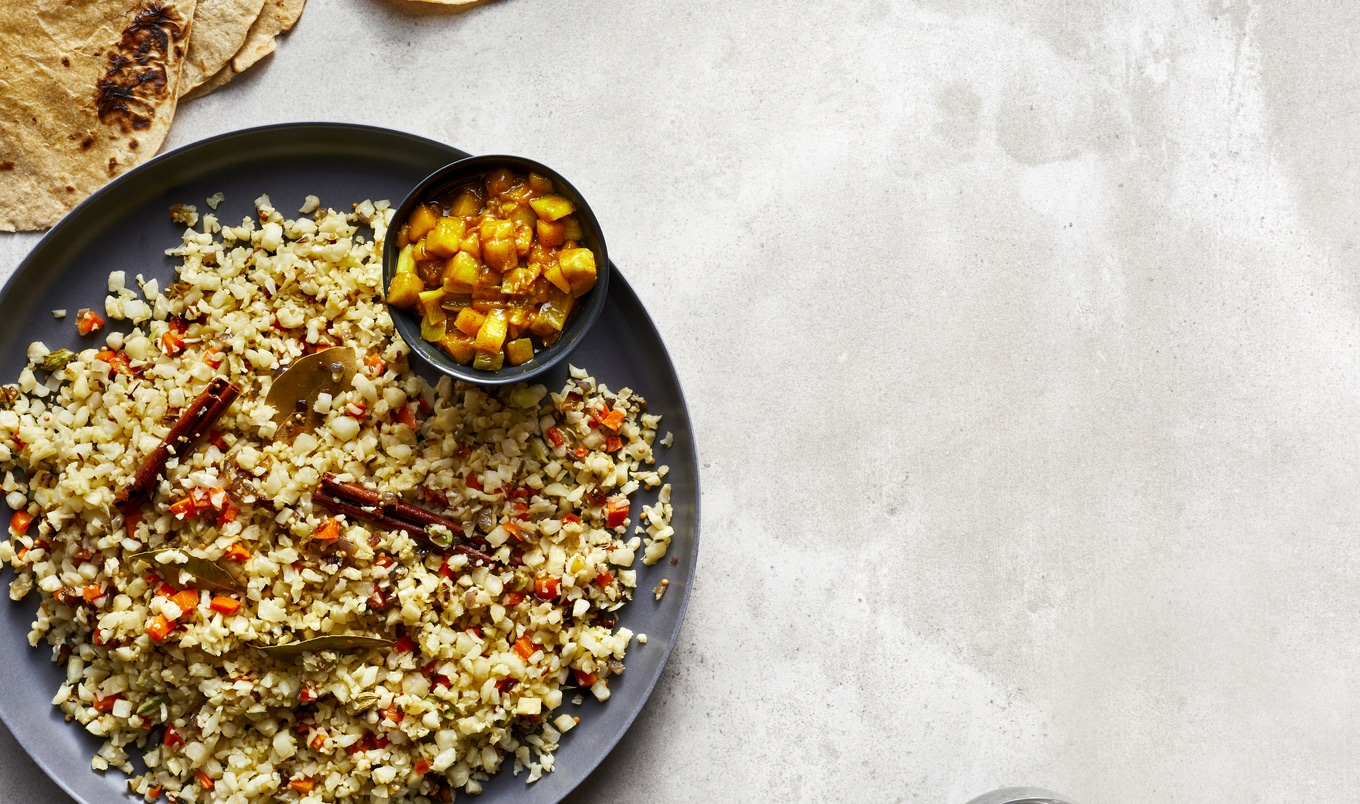 A sweet-sour-salty green mango chutney adds the perfect compliment to this spiced cauliflower rice dish.
August 24, 2023
Biryani is a traditional baked rice dish from Northern India that typically features layers of rice and lamb. This vegan version from the Good For You cookbook incorporates all the traditional spices, swaps coconut oil for ghee, and pairs perfectly with a vegan meat of your choice.
What you need:
For the mango chutney:
½ teaspoon salt, plus more for blanching
½ small fennel bulb, diced
½ large, green (slightly unripe) mango, peeled and diced
2 tablespoons olive oil
1½ teaspoon ground coriander
½ teaspoon ground fennel seeds
¼ teaspoon cayenne
¼ teaspoon ground turmeric
1½ teaspoon agave

For the cauliflower rice biryani:
1 large cauliflower head
1 tablespoon plus 1 teaspoon salt, divided, plus more for seasoning
1 tablespoon coconut oil
2 medium carrots, peeled and diced
1 small red onion, diced
12 whole cloves, toasted
12 cardamom pods, toasted
4 small cinnamon sticks, toasted
½ tablespoon mustard seeds, toasted
½ tablespoon cumin seeds, toasted
2 bay leaves
What you do:
For the mango chutney, bring a small pot of water to a boil and add enough salt so it is generously seasoned (1 to 2 Tbsp). Prepare a large bowl filled with water and ice. Add the fennel to the pot and blanch until just tender, about 2 minutes. Drain the fennel and place it in the ice bath. Spread the fennel out on a paper towel and pat it dry.
To a medium bowl, add fennel and mango and set aside.
In a small pan over low heat, warm oil. Add coriander, fennel seeds, cayenne, and turmeric and stir mixture continuously until aromatic, 2 to 3 minutes. Add oil and spices to bowl of fennel and mango. Add agave and salt and stir well. Leave to marinate for 30 minutes to 1 hour.
For the cauliflower rice biryani, preheat oven to 300 degrees. Trim green leaves from cauliflower and cut into large pieces, including stem. Into food processor, add a handful of cauliflower at a time along with enough water to cover half of cauliflower . Process cauliflower until finely chopped (like rice) and drain water. Remove any large pieces and process again in next batch. Repeat until whole cauliflower is riced. Wrap cauliflower rice in a kitchen towel or cheesecloth and squeeze well to drain any remaining liquid. Into a large bowl, pour cauliflower rice and sprinkle with 1 tablespoon of salt. Let sit for 20 minutes to release excess moisture.
Meanwhile, in a large skillet over medium heat, warm coconut oil. Add carrots, onion, and remaining 1 teaspoon salt. Cook for 10 minutes, until vegetables are soft. Add toasted spices and bay leaves and remove from heat.
Wrap cauliflower in cheesecloth or a kitchen towel again and squeeze out as much liquid as possible. Add cauliflower rice to pot of vegetables and spices and stir to combine. Cover with a lid and bake until warmed through, 10 to 12 minutes.
Serve on a large platter, with chutney.
For more recipes like this, check out:
Here at VegNews, we live and breathe the vegan lifestyle, and only recommend products we feel make our lives amazing. Occasionally, articles may include shopping links where we might earn a small commission. In no way does this effect the editorial integrity of VegNews.