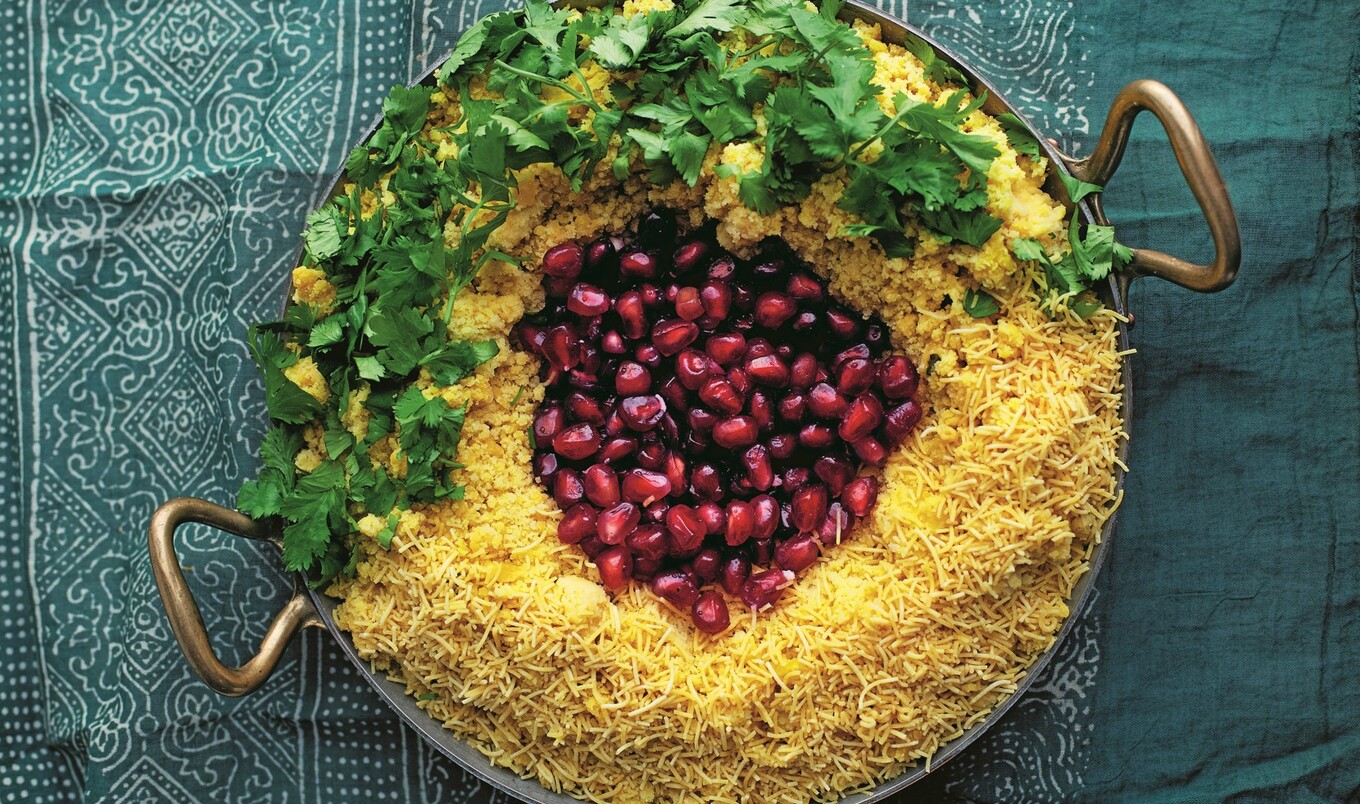 Juicy pops of pomegranate, herby cilantro, and zesty lime add depth and beautiful color to this chickpea-forward dish.
January 25, 2023
Surti Sev Khamani is a popular savory street food from India that is made up of crushed chana dal, cooked with lots of ginger and garlic, and green chilies and is served with a topping of sev (crunchy chickpea noodles). This traditional dish from the From Gujarat with Love: 100 Authentic Indian Recipes cookbook is an eye-catcher with ruby red pomegranate and bright cilantro.
What you need:
For the green garlic chutney:
3 cups chopped cilantro
3 garlic cloves
2 green chilies, stems removed
¼ teaspoon salt
For the dal:
3-inch piece fresh ginger, peeled and chopped
3 green chilies, stems removed
1 cup dried split chickpeas, soaked in 1½ cups water for two hours
3 garlic cloves
¼ teaspoon baking soda
¼ teaspoon salt
For the seasoning:
4 tablespoons oil
1½ teaspoons mustard seeds
¼ teaspoons asafoetida
5 dried red chilies
2 tablespoons sugar
¾ teaspoon ground turmeric
To serve:
1 cup nylon thin sev (crunchy noodles)
⅓ cup chopped cilantro
¾ cup pomegranate seeds
Green Garlic Chutney
1½ limes, cut into wedges
What you do:
For the green garlic chutney, into a blender, add all ingredients and blend into a smooth paste. Add 2 tablespoons water if needed to reach desired consistency. Store in an airtight container in refrigerator until ready to use.
Into a blender, add ginger, chilies, and garlic and blend for 40 seconds. Add soaked chickpeas with soaking water, baking soda, salt, and 6 tablespoons of fresh water. Blend for 15 seconds, stopping to scrape down sides until a coarse consistency is achieved. Set aside.
Place a heatproof 11-inch plate into a steamer and pour in mixture. Cover and steam for 15 minutes. Remove plate from steamer and allow mixture to cool. Crumble with hands then set aside.
For the seasoning, in a frying pan over medium heat, warm oil and add mustard seeds. Once beginning to crackle, add asafoetida and chilies. Add sugar and ½ cup water and cook for 2 minutes. Add in dal mixture and turmeric and stir well. Add another ¾ cup water and cover pan, cooking over a low heat for 4 minutes, stirring occasionally. Add another 2 tablespoons of water if mixture looks a little dry.
Transfer to a serving bowl. Garnish with thin sev, chopped cilantro, and pomegranate seeds and serve warm with green garlic chutney and lime wedges.
Here at VegNews, we live and breathe the vegan lifestyle, and only recommend products we feel make our lives amazing. Occasionally, articles may include shopping links where we might earn a small commission. In no way does this effect the editorial integrity of VegNews.