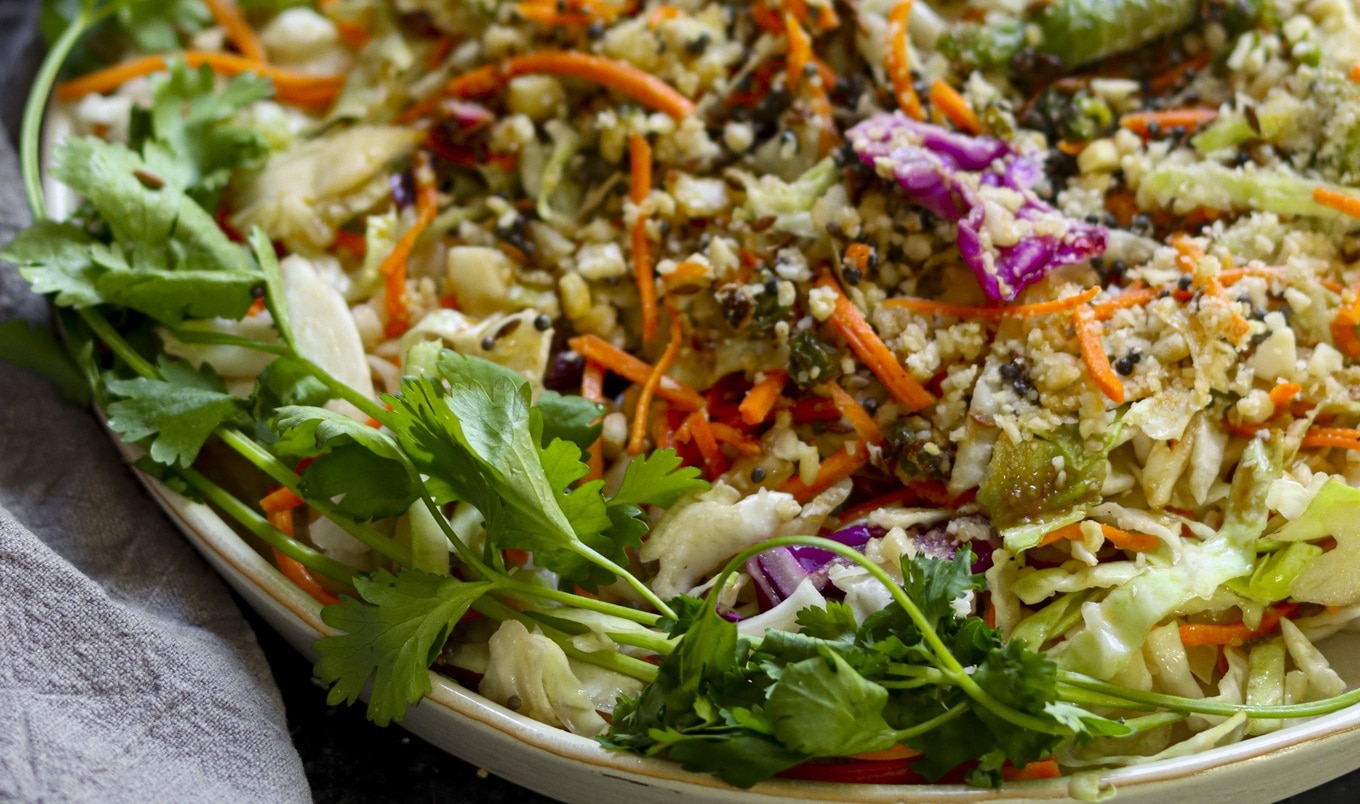 This tangy, sweet, Indian-style salad made from raw vegetables is tangy, light, and packs a little heat.
February 18, 2022
Koshimbir is a refreshing accompaniment to savory summer meals (think of it as the Indian equivalent to slaw enjoyed during barbecues), but with a fiery twist. This simple, foolproof recipe from the Mindful Indian Meals cookbook comes together in less than 20 minutes.
What you need:
2½ cups shredded cabbage
¼ cup plus 1 tablespoon roasted cashews, coarsely chopped
2 teaspoons coconut sugar
2 teaspoons lemon juice
½ teaspoon salt
1½ tablespoons coconut oil
½ teaspoon mustard seeds
1 medium serrano pepper, seeded and finely chopped
½ teaspoon cumin seeds
⅛ teaspoon asafoetida (umami spice found at many Indian grocers)
⅓ cup chopped fresh cilantro, for garnish
What you do:
In a large bowl, mix cabbage, cashews, coconut sugar, lemon juice, and salt until well combined. Set aside.
In a small pan over medium heat, warm oil. Add mustard seeds and let temper in hot oil for 15 to 30 seconds, until popping stops. Add serrano pepper, cumin seeds, and asafoetida and let temper in hot oil for 15 to 30 seconds, until fragrant. Remove from heat.
Pour contents of pan over cabbage slaw. Let sit for a couple of minutes until oil cools slightly.
Mix slaw until well combined. Serve garnished with cilantro.
Photo credit: Shivangi Rao