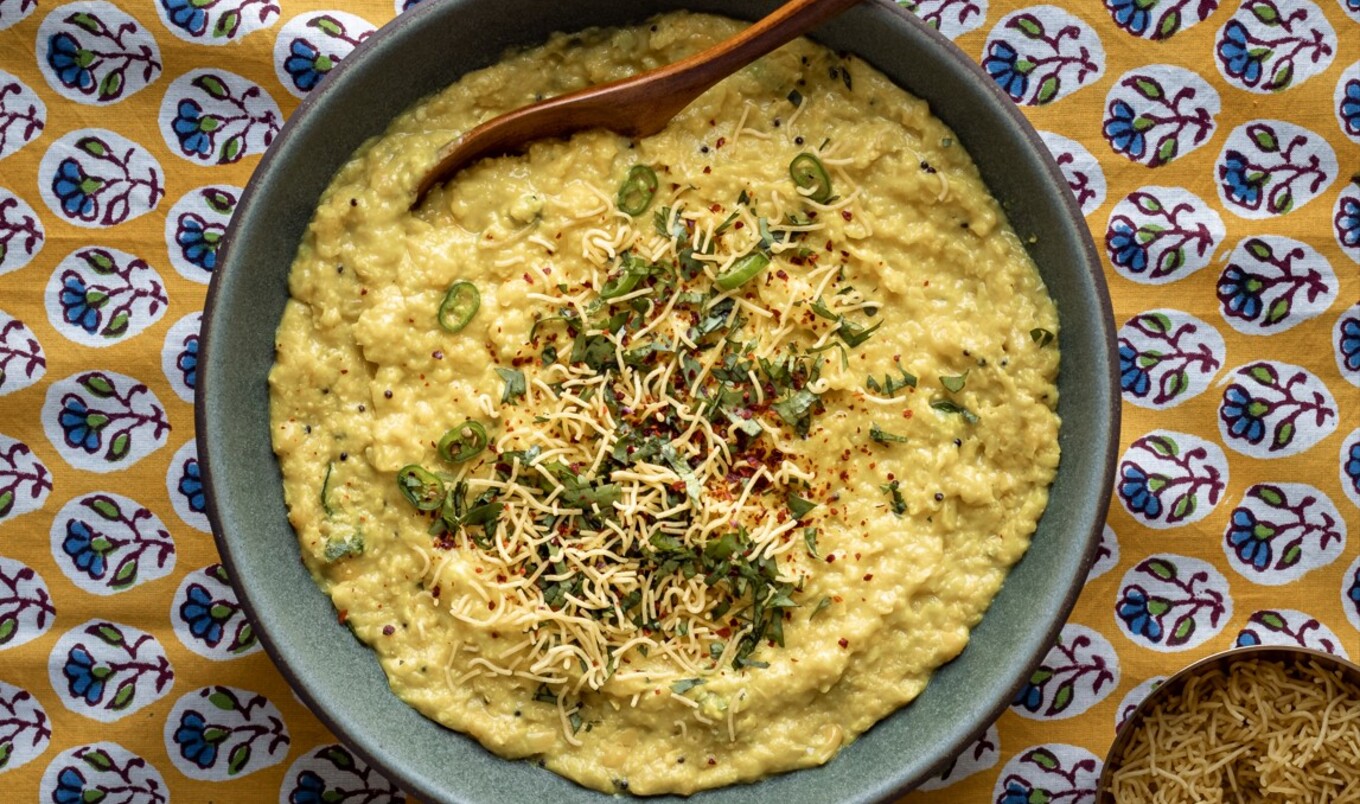 This creamy traditional Indian snack spiced with ginger, chili, and cinnamon is like comfort in a bowl.
August 10, 2022
This traditional Gujarati snack made from desi corn (makai) or sweet corn from the Plant-Based India cookbook is known for its creaminess, mild spice, sweetness, and tang.
What you need:
3 cups corn kernels
¼ cup unsalted cashews, soaked in ½ cup hot water for 15 minutes
1 tablespoon olive oil
1 small cinnamon stick
½ teaspoon black mustard seeds
¼ teaspoon asafetida (an Indian spice that can be found at most Indian markets)
2 garlic cloves, grated
1 teaspoon grated ginger
½ green chili, seeded and minced
8 fresh curry leaves, torn
¼ teaspoon ground coriander
¼ teaspoon ground cumin
¼ teaspoon ground turmeric
¼ teaspoon salt, plus more to taste
2 to 3 teaspoons lime juice
Freshly chopped cilantro, for garnish
What you do:
Into a blender, add corn and blend until broken down but not completely smooth. Transfer to a bowl and set aside.
Into a blender, add soaked cashews and blend until very smooth. Transfer to a bowl and set aside.
In a saucepan over medium-high heat, warm oil. Add cinnamon stick, mustard seeds, and asafetida, and heat until seeds begin to sputter, about 30 seconds. Add garlic, ginger, chili, and curry leaves, and stir constantly until fragrant, about 30 seconds. Cover, if needed.
Add corn kernels, coriander, cumin, turmeric, and salt, mix well and reduce heat to medium. Add ¼ cup water and cook for 10 minutes, until thickened, stirring frequently to prevent from sticking to bottom of pan.
Stir in blended cashews and cook until thoroughly incorporated, 2 minutes, stirring frequently. Add water as needed to maintain a porridge-like consistency.
Remove from heat, then add lime juice and salt to taste. Top with chopped cilantro and serve warm.