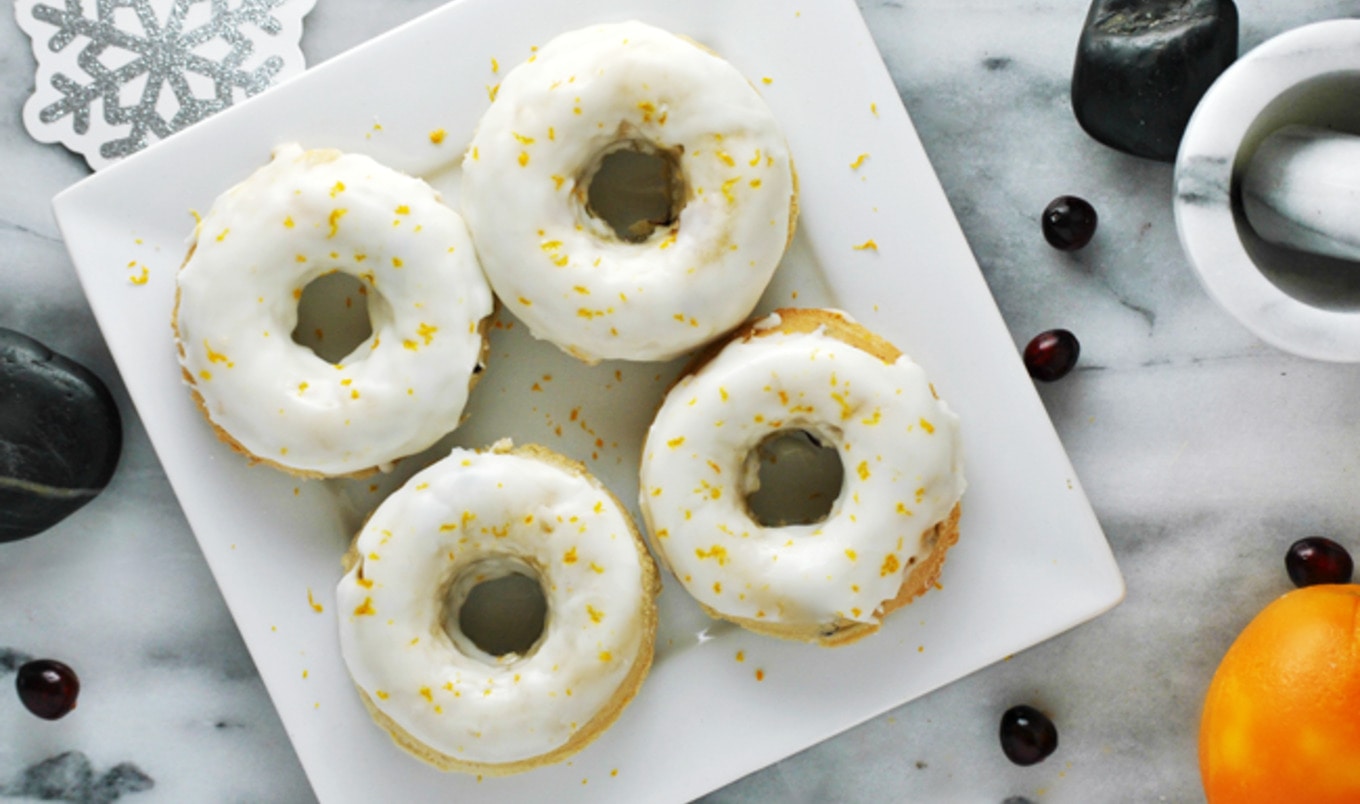 Perfectly baked doughnuts get a boost of festive cheer with the addition of orange zest and tart cranberries.
November 28, 2017
Holiday baking season means pies, pastries, cookies, cupcakes, bars, bundts, and now—doughnuts! These sweet, orange-glazed doughnuts, from Follow Your Heart's VeganEgg Cookbook, are the perfect addition to your lineup of goodies this year. And luckily, they're easier than ever to make.
Serves 12
What you need:
2 tablespoons VeganEgg powder
½ cup ice-cold water
½ cup unsweetened non-dairy milk
1 teaspoon apple cider vinegar
1 teaspoon almond extract
1½ cups unbleached all-purpose flour, sifted
½ teaspoon sea salt
½ cup coconut sugar
1½ teaspoon baking powder
1 tablespoon orange juice
2½ teaspoons orange zest
⅓ cup coconut oil, softened
½ cup dried cranberries
For the orange glaze
1 cup powdered sugar
2 tablespoons orange juice
1½ teaspoons orange zest
What you do:

1. Preheat oven to 350 degrees, grease doughnut pan, and set aside.
2. Into a mixing bowl, add VeganEgg powder and water. Whisk until smooth and slightly thickened, approximately 1 minute. Set aside.
3. Combine non-dairy milk with apple cider vinegar and whisk. Set aside a few minutes to curdle. Add almond extract, and set aside.
4. Into a separate bowl, whisk flour, sea salt, sugar, and baking powder.
5. Into a large bowl or stand mixer, add dry ingredients, then add cider-milk mixture, orange juice and zest, oil, and VeganEgg mixture. Continue to mix. Beat for 30 seconds and scrape down side of bowl as needed. Once combined, mix in dried cranberries.
6. Into greased pan, transfer batter, carefully filling each doughnut well approximately ¾ full. Bake 20 to 30 minutes, or until toothpick inserted comes out clean and doughnuts are golden brown. Remove from pan and allow to cool in pan on a wire rack for 10 minutes.
7. Invert doughnuts onto wire rack and let cool before glazing.
8. For the glaze, into a small bowl, whisk together powdered sugar and orange juice until smooth.
9. Place wax paper under wire rack to collect drippings for easy cleanup. Dip top of each doughnut into icing, transfer to wire rack, and lightly top with orange zest. Let set for 5 minutes. Serve immediately.