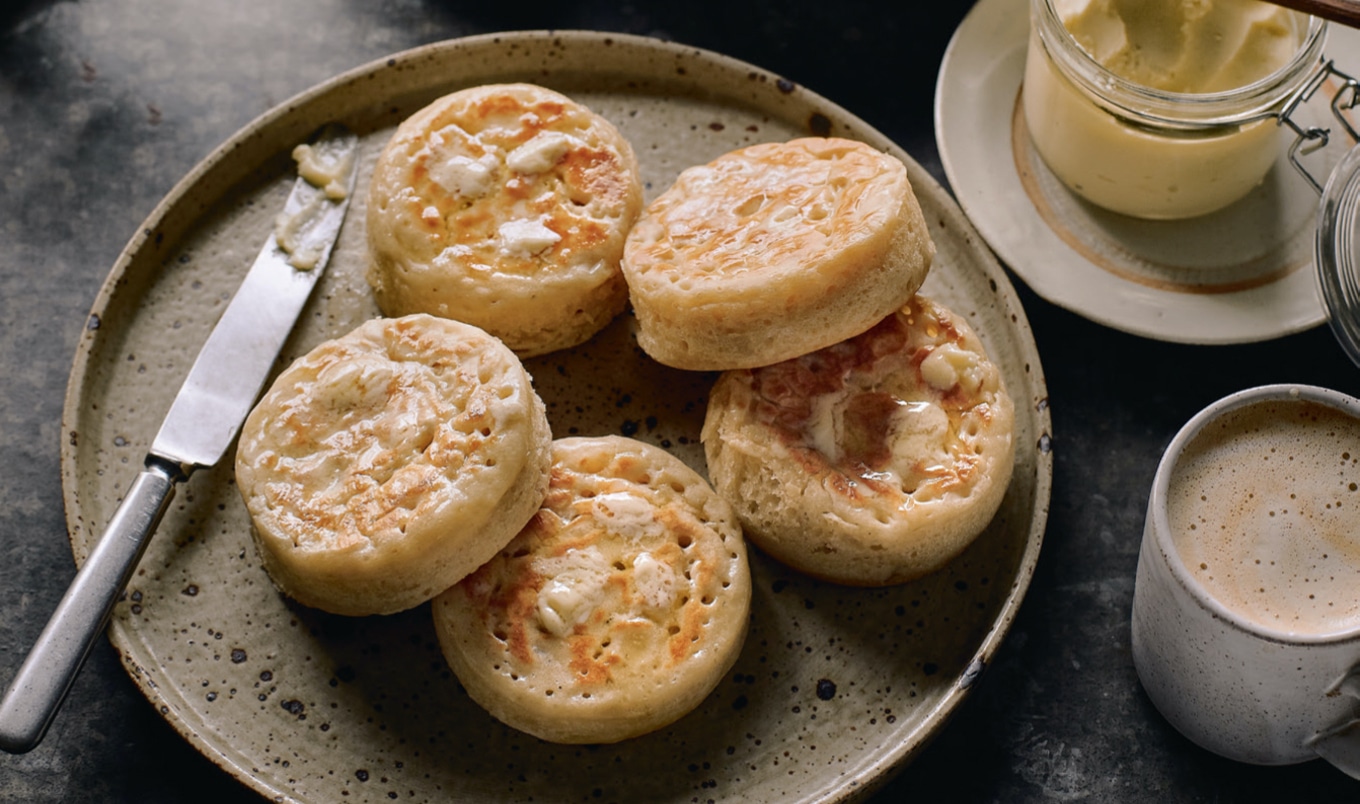 This homemade version of the classic, spongey, English treat offers a low-waste alternative to the packaged, storebought variety.
September 2, 2020
Pair your afternoon tea time with these delightful crumpets from the More Plants Less Waste cookbook. Be sure to swipe with a smear of vegan butter and jam for a perfectly British snack!
What you need:
1 cup unsweetened vegan milk
¼ cup water
1 teaspoon sugar
1 tablespoon dried active yeast
2 cups flour
1 teaspoon salt
Coconut oil, for greasing pan
Vegan butter, for serving
What you do:
In a saucepan over medium heat, warm milk and water until liquid comes to a light simmer (do not allow to boil). Pour Into a mixing bowl and whisk in sugar and yeast for 1 minute. It should start to foam and bubble slightly (if there isn't foam, the yeast is probably dead). Leave bowl in a warm place for 10 minutes, or until frothy on top.
Into a bowl, add flour and salt. Mix, make a well in center, and pour in yeast mixture. Stir until batter is smooth. Cover bowl with a towel and leave in a warm place for 45 minutes, or until batter is frothy.
Grease inside of 3 metal crumpet rings with coconut oil. In a frying pan over medium heat, add enough oil to cover bottom of pan. Place rings into pan and when pan is hot, pour batter slowly into each ring. Leave to cook slowly for 15 minutes, when tiny bubbles will start to appear. Continue to cook until bubbling slows down or stops. Remove rings by taking a knife and sliding in between crumpet and ring, flip crumpets onto other side, and cook for 1 minute. Remove from pan, regrease rings and frying pan, and cook remaining batches.
Serve crumpets warm with butter. Store in a bread tin for 5 days, or properly sealed in freezer for up to 2 weeks.
Photo credit: Andrew Burton