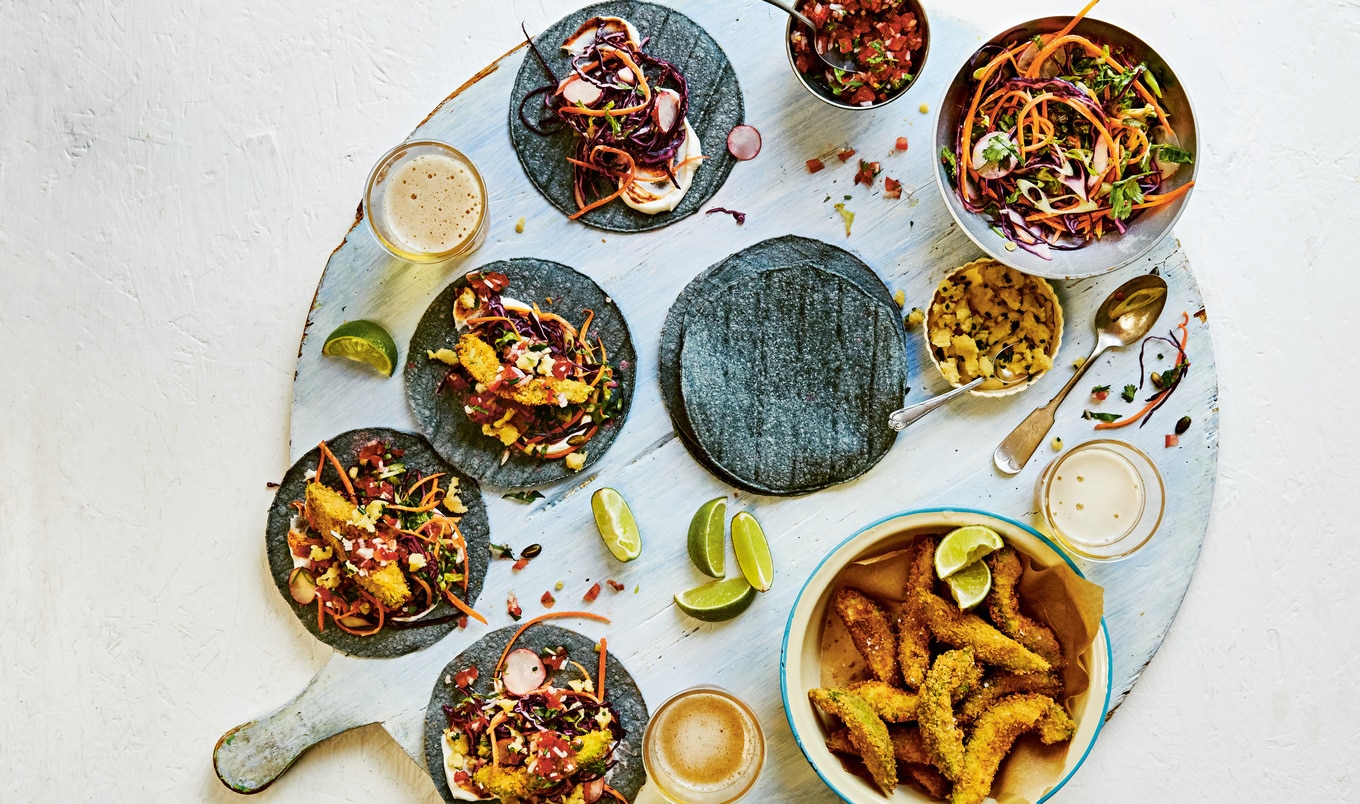 Cayenne, paprika, and cumin give golden-fried avocado wedges a touch of smoky heat that's complemented by dollops of cool vegan sour cream and a squeeze of bright lime juice.
May 31, 2020
These crispy, buttery, fried avocado wedges, from the Leon Fast Vegan cookbook, don't just work in tacos—use them as a stepped-up topping on nachos, served with vegan queso for dipping, or baked on top of a pizza.
What you need:
Canola oil, for frying
3 tablespoons flour
¼ teaspoon cayenne powder
¼ teaspoon chili powder
¼ teaspoon smoked paprika
¼ teaspoon ground cumin
¼ teaspoon salt
¼ teaspoon black pepper
3 tablespoons unsweetened vegan milk
⅔ cup panko breadcrumbs
2 ripe avocados
12 small corn tortillas
Pico de gallo, sour cream, hot sauce, and lime wedges, for topping
What you do:
In a deep, heavy saucepan over medium-high heat, warm 2 inches of oil to 350 degrees.
To a plate, add flour, cayenne, chili powder, smoked paprika, cumin, salt, and pepper and use a fork to combine. Into a shallow bowl, add milk. To another plate, add breadcrumbs.
Slice each avocado into 6 or 8 long wedges, depending on size and ripeness. Take one piece of avocado and roll in seasoned flour, then dip into milk, making sure wedge is thoroughly wet. Finally, roll gently in breadcrumbs. Repeat with remaining wedges.
Using a slotted spoon, carefully lower 2 or 3 wedges into hot oil. Cook for about 1 minute or until golden, then remove from oil using tongs, letting excess oil drain back into pan. Place on a paper towel-lined plate to drain while frying remaining slices.
In a hot, dry skillet, warm tortillas. Top each tortilla with two fried avocado slices, pico de gallo, sour cream, hot sauce, and a squeeze of lime.