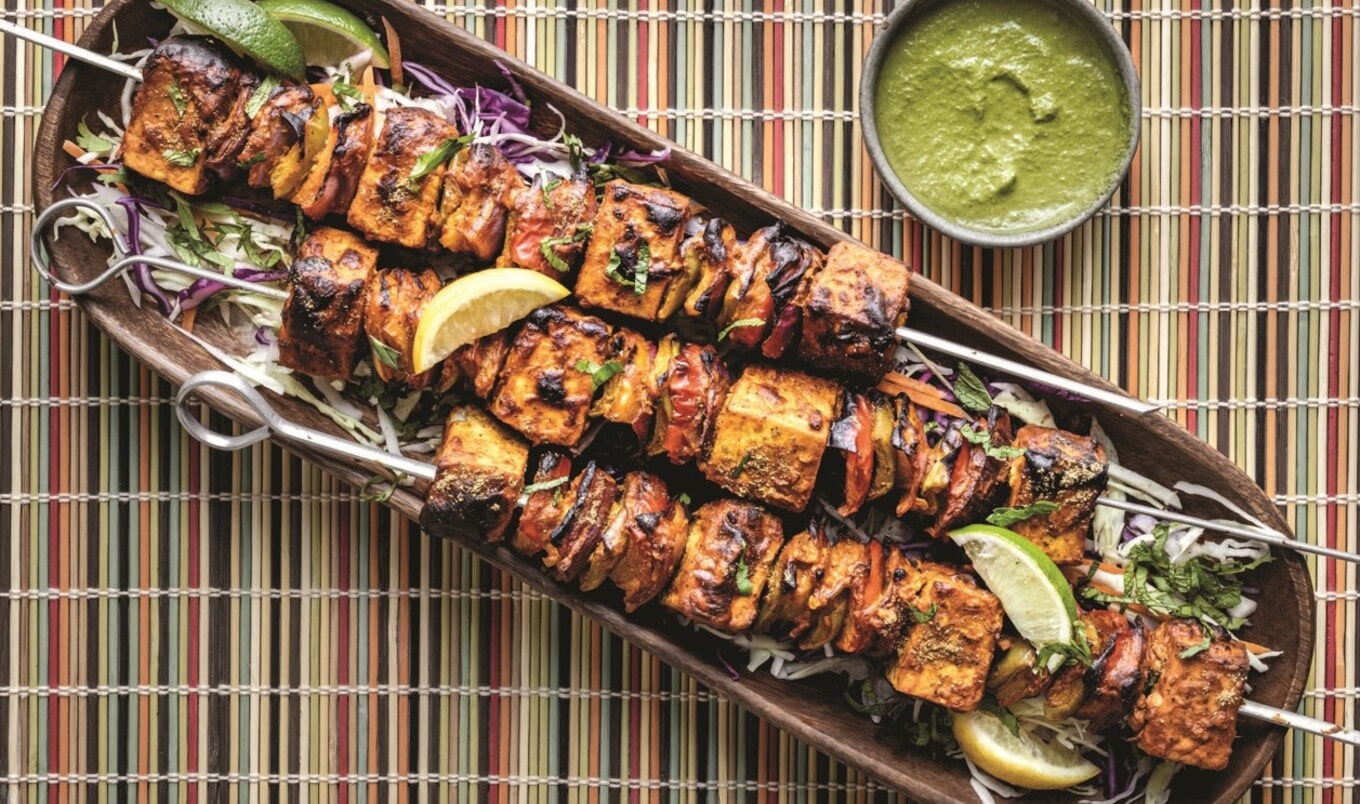 A biting, spicy, and tangy seasoning mix and an overnight marinade ensures each smoky tofu bite of this tandoori-style skewer is bursting with flavor.
June 24, 2023
Tikkā is a traditional northern Indian dish involving marinated protein or vegetables cooked in a tandoor, or clay oven, but no need for specialized cooking equipment in this plant-based take. This version from the Plant-Based India cookbook is made with marinated tofu baked on skewers in a conventional oven to mimic the traditional cooking vessel, which adds a char and smokiness to the dish.
What you need:
⅔ cup unsweetened plain vegan yogurt
3 tablespoons tomato paste
6 garlic cloves, grated
1 tablespoon grated ginger
2 teaspoons fresh lime juice
2 teaspoons garam masala
1 teaspoon smoked paprika
1 teaspoon salt
½ teaspoon ground turmeric
½ teaspoon ground red chili
½ teaspoon black salt
1 (14-ounce) block extra-firm tofu, drained and pressed, cut into 1-inch cubes
½ medium red onion, cut into 1-inch chunks
1 to 2 bell peppers, cut into 1-inch cubes
¼ teaspoon chat masala
¼ cup roughly chopped cilantro
Lemon or lime wedges, for garnish
What you do:
In a large mixing bowl, whisk yogurt, tomato paste, garlic, ginger, lime juice, garam masala, paprika, salt, turmeric, red chili, and black salt.
Toss in tofu, onion, and bell pepper and stir gently until each piece is well coated. Transfer to an airtight container and refrigerate overnight, or up to 24 hours.
Preheat oven to 450 degrees. Remove mixture from refrigerator and stir, then skewer onto 4 to 6 stainless-steel or bamboo skewers. If using bamboo skewers, they must first be soaked in water for 1 hour. Alternate tofu, pepper, and onion on skewers. Reserve any remaining marinade.
Line bottom of a 9 x 9-inch square baking dish with foil. Balance skewers on top of baking dish rims so tofu is touching neither bottom of pan or adjacent skewer.
Bake for 15 minutes, until starting to brown in spots. Remove from oven, brush with remaining marinade, rotate each skewer 180 degrees, then return to oven for an additional 10 minutes, until browning in spots again. If desired, broil for last minute or two to obtain a char reminiscent of tandoor cooking.
Remove from oven and sprinkle with chat masala and chopped cilantro. Serve hot with lemon wedges.
For more recipes like this, check out: