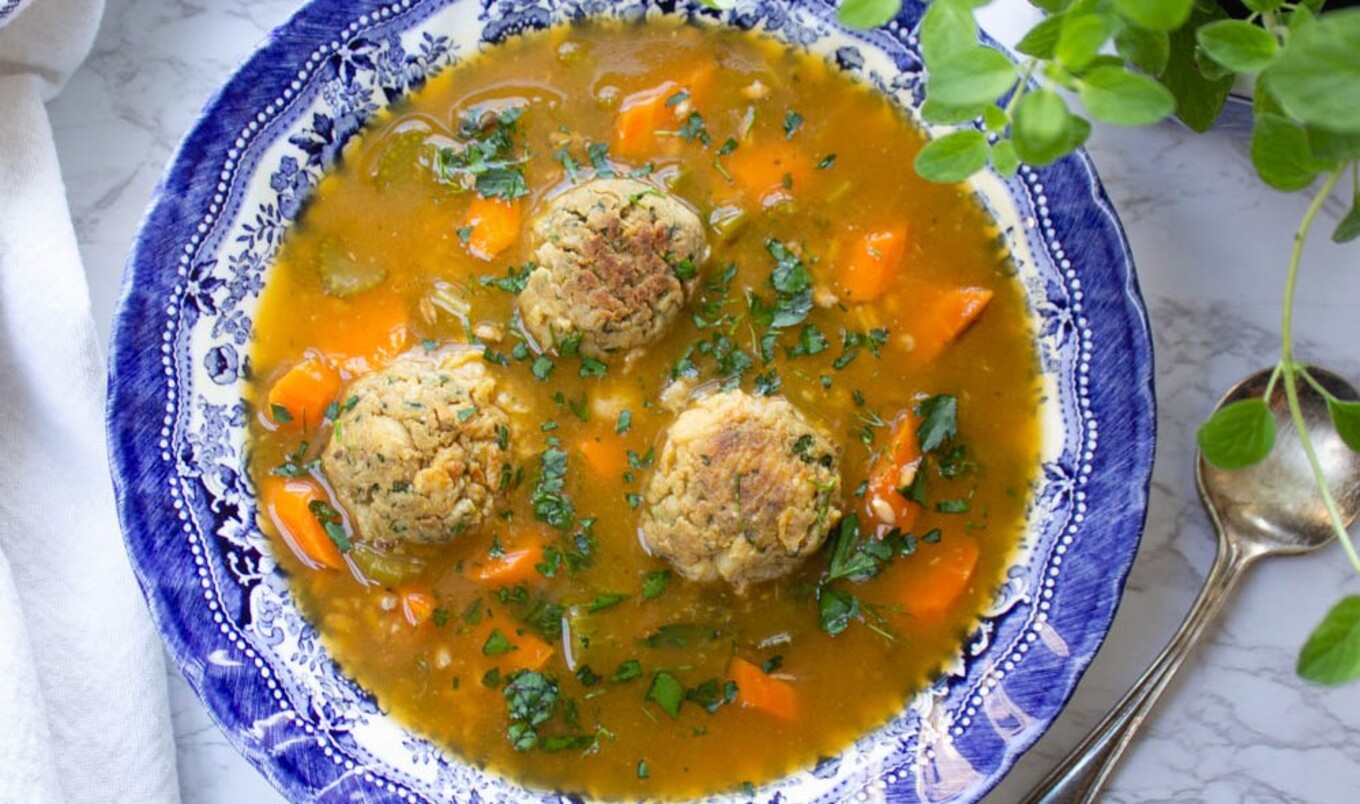 Herbed white bean meatballs act as a meaty stand-in in this reimagined version of this family-favorite soup.
October 12, 2023
This hearty, herb-infused plant-based soup from the Well-Fed Yogi blogger gets its name thanks to the marriage of vegetables and meat in a flavorful, slow-simmered broth. Traditional meatballs are swapped for hefty white bean-based vegan versions in this simple meal.
What you need:
For the meatballs:
1 (15-ounce) can cannellini beans, drained and rinsed
¼ cup nutritional yeast
1 teaspoon onion powder
1½ teaspoon garlic powder
1 teaspoon Herbes de Provence
½ teaspoon ground cumin
¼ teaspoon black pepper
⅓ cup wheat breadcrumbs
1 tablespoon tamari
Zest of 1 lemon
½ cup minced parsley
For the soup:
4 cups low-sodium vegetable broth
3 carrots, peeled and diced
3 stalks celery, diced
1 cup of farro, cooked according to package instructions
Juice of 1 lemon
1 tablespoon tamari
½ teaspoon miso
¼ cup finely chopped parsley, for topping
2 tablespoons finely chopped dill, for topping
What you do:
Preheat oven to 400 degrees. Line a baking sheet with parchment paper.
For the meatballs, in a large bowl, combine all ingredients well with a potato masher. Use a teaspoon to scoop mix and roll into a ball about 1¼ inches in size. Place on lined baking sheet. Repeat with remaining mixture.
Spray meatballs lightly with cooking spray and place in oven to cook for 15 minutes. Remove from oven, turn over, and cook for an additional 15 minutes or until golden.
For the soup, into a soup pot, pour vegetable broth. Add chopped carrots and celery, bring to a boil, reduce to a simmer, and partially cover pot until vegetables are just tender. Remove from heat.
Add farro, lemon juice, tamari, and miso, and stir well.
Ladle into serving bowls then add meatballs to each. Sprinkle with parsley and dill and serve.
For more recipes like this, check out: