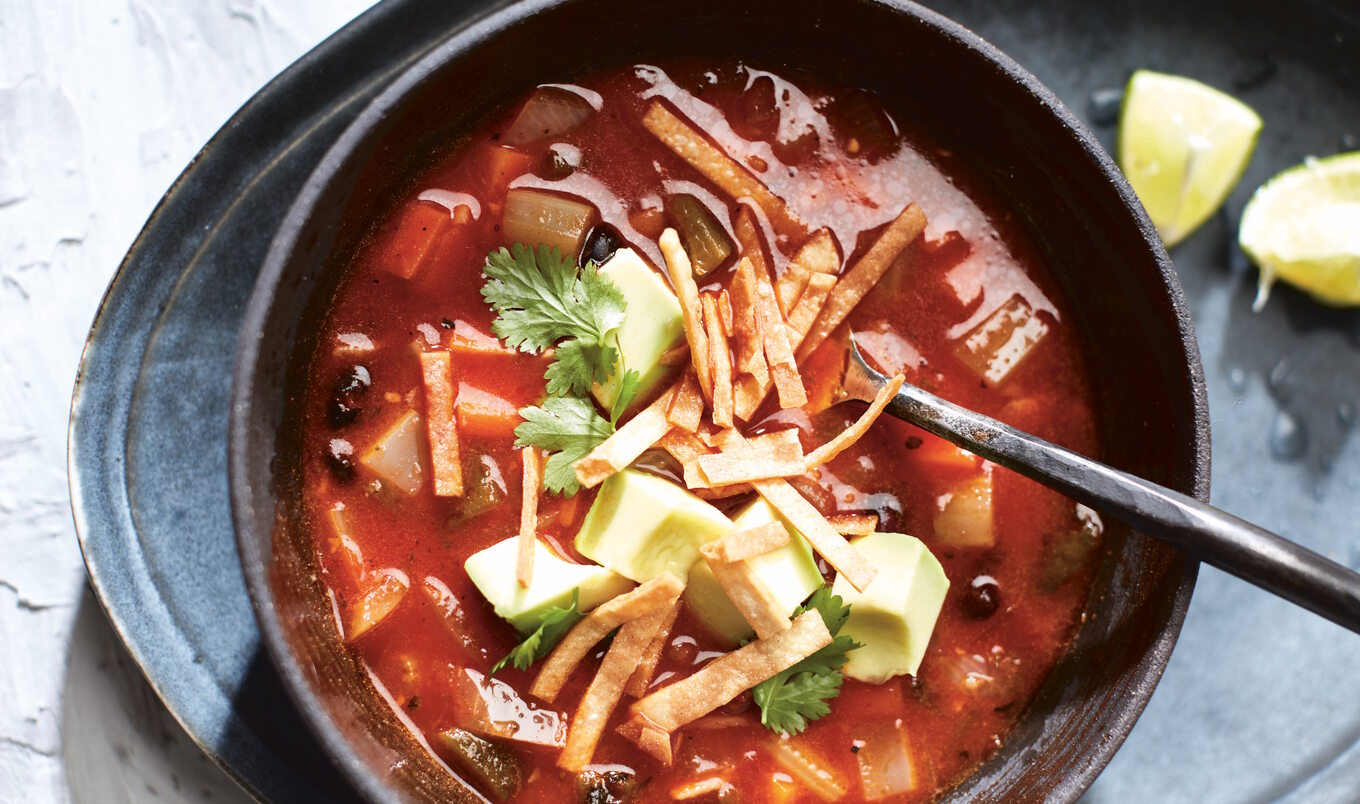 This brothy, warming traditional tortilla soup recipe is filled with flavor and will warm you from the inside out.
November 1, 2022
Ancho and poblano chiles bring gentle heat to this brothy tortilla soup from the Unbelievably Vegan Cookbook. While we love ours loaded with all the garnishes, customize to your desired taste.
What you need:
1 cup plus 2 tablespoons neutral oil, such as avocado or grapeseed, divided
6 (6-inch) corn tortillas, halved and cut into short ¼-inch strips, divided
Fine pink Himalayan salt for sprinkling
2 dried ancho chiles
1 (15-ounce) can diced tomatoes
1 yellow onion, chopped
1 large carrot, diced
2 celery stalks, chopped
1 poblano chile, roasted, seeded, peeled, and diced
3 garlic cloves, minced
1 teaspoon ground cumin
1 teaspoon dried oregano
½ teaspoon chili powder
5 cups vegetable broth
1 cup cooked black beans (rinsed and drained, if canned)
¼ teaspoon salt
1 teaspoon ground black pepper
For garnish:
¼ cup thinly sliced epazote
½ cup diced avocado
¼ cup vegan cheese shreds
¼ cup vegan sour cream
1 lime, cut into wedges
What you do:
In a large deep skillet over medium-high heat, warm 1 cup oil until 350 degrees. Line a sheet pan with paper towels. Fry half of the tortilla strips until golden brown, about 30 seconds to 1 minute. Drain on lined sheet pan. Sprinkle lightly with salt, and set aside.
In a small bowl, cover ancho chiles with boiling water. Let soak for 5 minutes, then strain and discard soaking water. Remove stems and seeds, and transfer to a high-speed blender. Add tomatoes and blend for 1 to 2 minutes, or until smooth. Set aside.
Heat a Dutch oven over medium-high heat, and add remaining 2 tablespoons oil. Once hot, add onion, carrot, celery, and poblano. Sauté until onion is translucent, 5 to 7 minutes. Add garlic, cumin, oregano, and chili powder and sauté for another 30 seconds, or until spices are fragrant. Add broth and tomato-chile mixture and bring to a simmer. Add uncooked tortilla strips and cook for 15 minutes to allow tortillas to break down and thicken soup. Add black beans, salt, and pepper, and stir.
Into four serving bowls, ladle soup and top with crispy tortilla strips, epazote, avocado, cheese, sour cream, and lime.