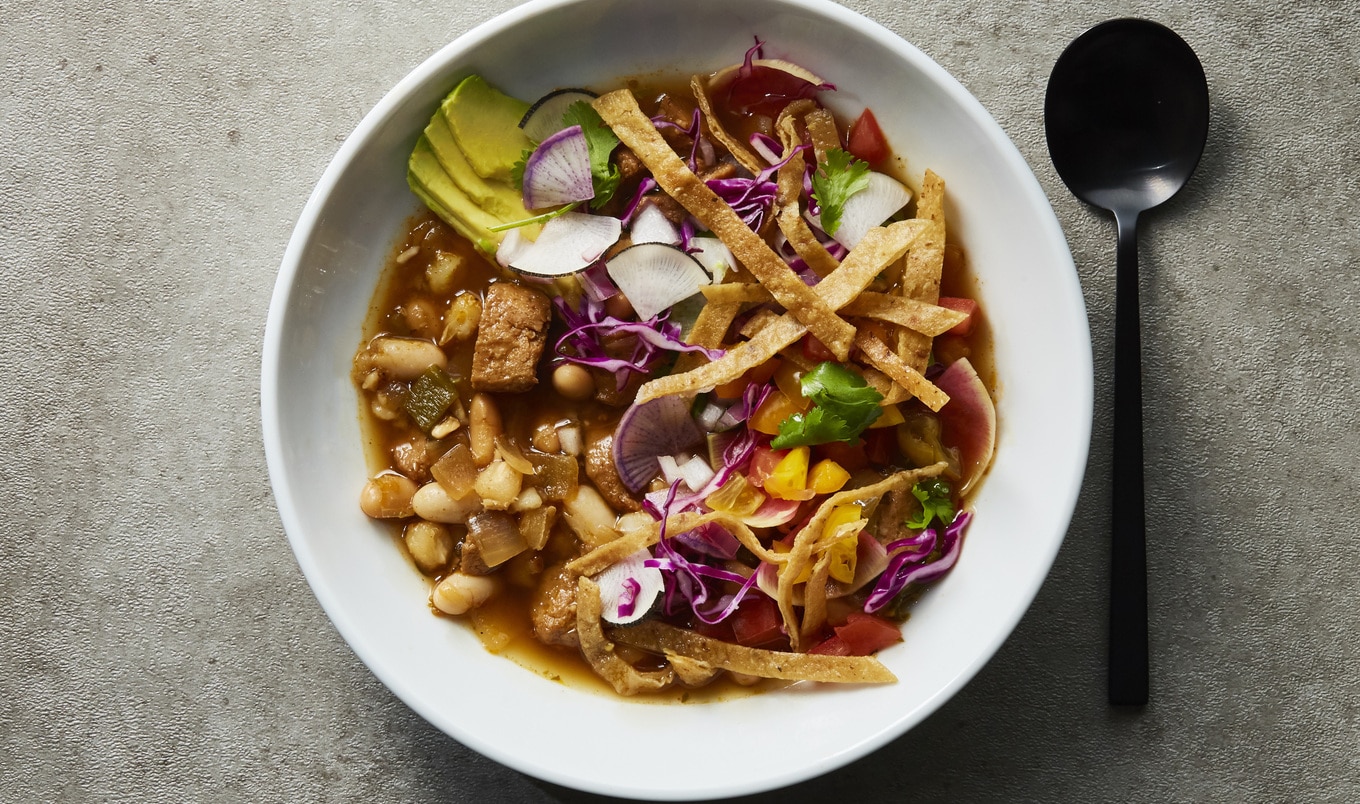 This brilliant contrast of steamy, brothy stew topped with crunchy vegetables and tortilla strips makes for a mouthwatering Mexican favorite.
September 12, 2021
This subtle green kale pozole from veteran cookbook author Terry Hope Romero's newest cookbook Show Up for Salad has a smoky edge, thanks to home-roasted poblano peppers, along with a creamy sweetness from white beans.
What you need:
For the seitan:
8 ounces seitan, sliced into thin strips
2 tablespoons lime juice
2 garlic cloves, crushed
1 teaspoon salt
2 tablespoons olive oil
For the pozole:
¼ cup olive oil
1 large yellow onion, peeled, quartered, and cut into ¼-inch slices
4 garlic cloves, peeled and chopped
2 large poblano peppers, roasted and diced
1 (14-ounce) can white beans
1 (14-ounce) can hominy corn, rinsed well
½ pound Yukon Gold potatoes, unpeeled and diced
2 teaspoons chili powder
1 teaspoon ground cumin
1 teaspoon dried oregano
1 teaspoon salt
4 cups vegetable broth
1 tablespoon lime juice
1 12-ounce bottle Mexican lager beer or 1⅓ cups vegetable broth
2 cups coarsely chopped kale
For the avocado radish salad:
4 red globe radishes, scrubbed and thinly diced, about 1 cup
1 cup shredded red cabbage
½ cup red onion, finely diced
½ cup roughly chopped cilantro
1 large tomato, diced
2 tablespoons lime juice
1 teaspoon salt
1 ripe Haas avocado, pitted and diced
For the toppings:
4 corn tortillas
1 tablespoon olive oil
Cilantro, for garnish


What you do:
For the seitan, in a glass container, whisk lime juice, garlic, salt, and olive oil. Add sliced seitan, cover, shake to coat with marinade, and marinate for one hour in refrigerator.
For the soup, in a 2-quart pot over medium heat, warm oil until shimmering and stir in onion and garlic. Fry until onion is soft and transparent, about 3 minutes, then stir in diced poblano peppers. Add marinated seitan and fry for 4 minutes, or until edges just start to get brown. Add beans, hominy, potato, chili powder, cumin, oregano, salt, broth, lime juice, and beer. Increase heat to medium-high and bring soup to a rapid simmer for 5 minutes, then reduce heat to low and partially cover.
Simmer soup for another 30 minutes, or until hominy and potato are very tender. Stir in greens and simmer for another 2 minutes to wilt. Turn off heat and keep covered until ready to serve.
Preheat oven to 350 degrees and brush corn tortillas on both sides with oil. Cut tortillas into 1-inch-wide strips and place them on a baking sheet in oven for 5 minutes until crisp and browned.
In a large mixing bowl, toss together radishes, cabbage, onion, cilantro, tomato, lime juice, and salt. Cover and allow to marinate for 10 minutes. Then fold in diced avocado.
Ladle soup into wide serving bowls. Top with tortilla strips, radish-avocado salad, cilantro, and serve with lime wedges.