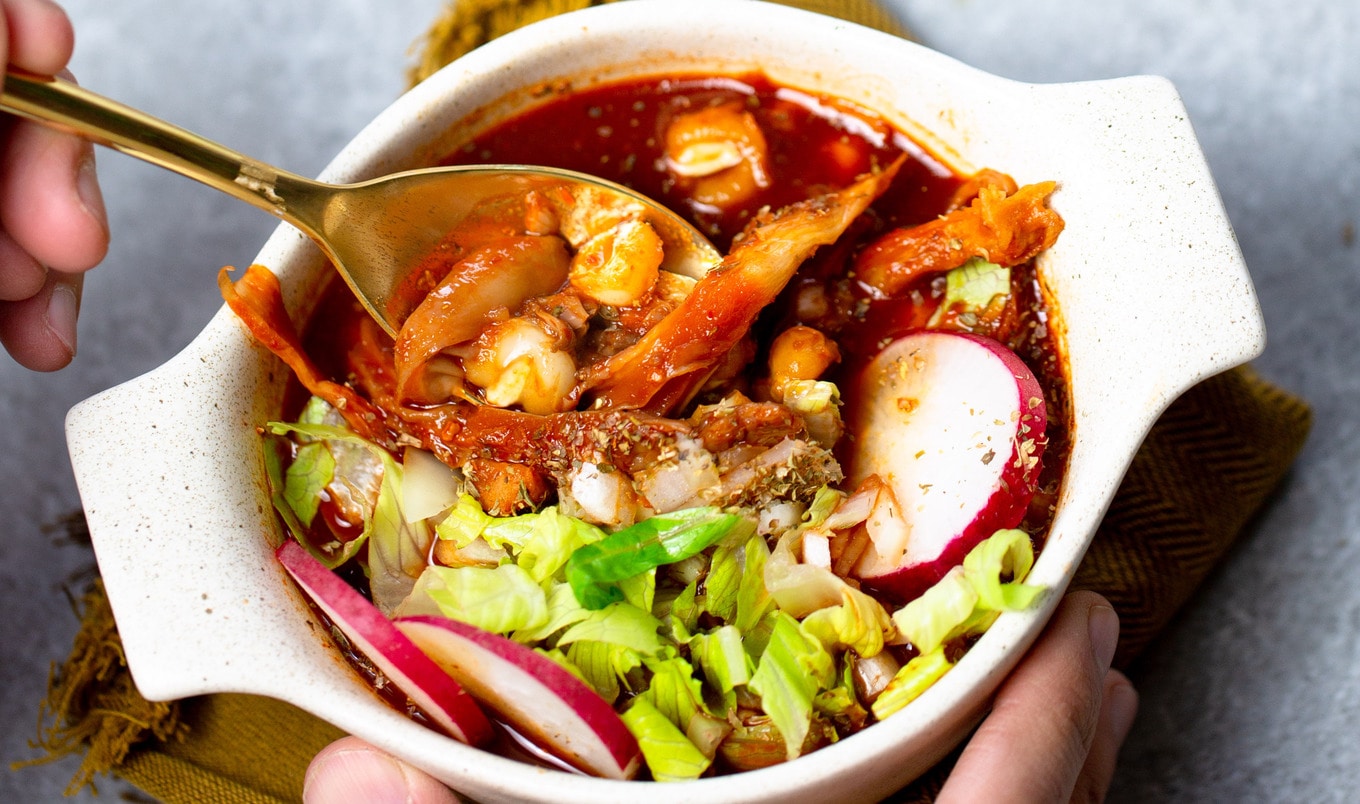 This traditional Mexican dish uses shredded oyster mushrooms in place of chicken and gets a fiery kick from fresh chiles for a vegan pozole you'll want to make again and again.
December 12, 2021
Pozole is served as both a daily meal and a festive dish, and during colder-weather months, its fiery broth with bursts of citrus is a surefire way to keep us warm. This plant-based take by BrownSugar & Vanilla blogger Alejandra Graf keeps the traditional ingredients and flavor with just a couple simple, plant-based swaps.
What you need:
2 ancho chiles
2 guajillo chiles
2 pasilla chiles
½ yellow onion, diced
2 tablespoons vegetable oil
4 cups water
1 teaspoon salt
2 (1 pound) cans of hominy corn
2 ¼ cups oyster mushrooms, shredded
For serving:
Sliced ​​lettuce
Sliced ​​radishes
Chopped onion
Dried oregano
Lime juice
Corn tostadas
What you do:
Remove stems from ancho and guajillo chiles and soak in hot water for 10 to 15 minutes.
Into a blender, add chiles and along with the soaking water, plus onion and blend well.
In a large pot over medium heat, warm oil and pour in chili paste, reserving blender without rinsing. Cook for three minutes or until color begins to change and peppers becoming aromatic.
Into blender, add water. Empty contents of pitcher into pot with rest of chile mixture. Add salt, hominy corn, and oyster mushrooms. Cover and cook for 15 minutes.
Ladle into large bowls topped with ​​lettuce, radishes, onion, oregano, and a couple squeezes of lime juice. Serve with corn tostadas.