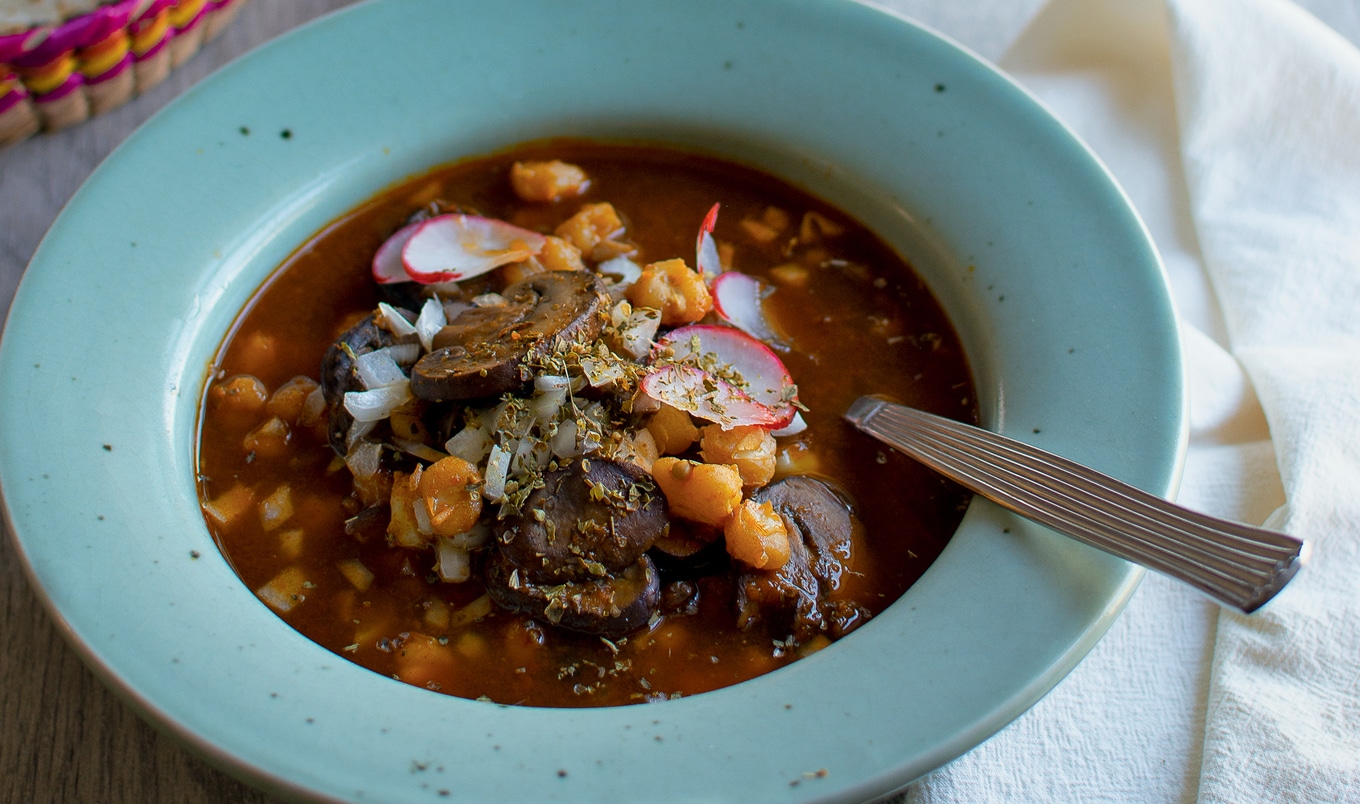 This rich, red brothy soup is swimming with chewy, puffy hominy and made flavorful and fragrant thanks to a medley of dried chiles and garlic.
January 17, 2023
This traditional Mexican recipe is known for its flavor-packed broth and chunks of meaty hominy. Meat is traded for hearty mushrooms in this plant-based take from the Plant Powered Mexican cookbook.
What you need:
For the pozole:
2 (24-ounce) cans hominy
2 dried ancho chiles, stemmed, seeded, and rinsed
2 dried guajillo chiles, stemmed, seeded, and rinsed
1 medium white onion, chopped
3 cloves garlic, peeled and chopped
1 teaspoon ground cumin
2 whole cloves
1 tablespoon salt, plus more to taste
¼ cup olive oil, divided
2 pounds cremini mushrooms, wiped clean, and sliced
6 cups water
For serving:
½ medium white onion, minced
2 tablespoons dried Mexican oregano
2 limes, cut into wedges
5 to 6 radishes, thinly sliced
What you do:
For the pozole, drain hominy and place in a large bowl. Cover with water and let soak for 10 minutes.
In a large bowl, cover dried chiles with hot water and let soak until soft and pliable, about 10 to 15 minutes.
Remove soaked chiles with tongs and save soaking liquid. Into a blender, add chiles, onion, garlic, cumin, cloves, salt, and ½ cup of soaking liquid. Blend on high until smooth.
Turn an instant pot to sauté on high. Add ⅛ cup oil and let warm for 1 to 2 minutes. Add half mushrooms, stir to coat in oil, then let cook, undisturbed, until lightly golden brown on bottom. Stir and let cook until beginning to soften. Remove and transfer to a plate, and repeat with remaining oil and mushrooms.
Return all mushrooms to pot and add blended chili mixture. Cook, stirring frequently, until sauce has changed color to dark red and is fragrant. Add water and turn instant pot off.
Drain hominy, rinse, and add to instant pot. Seal instant pot. Select pressure cook setting on high for 10 minutes. Once pressure cooking has finished, let pressure release naturally for at least 10 minutes. Carefully open lid. Taste and season with salt as needed.
For serving, ladle into bowls and top with onion, oregano, a squeeze of lime, and radishes.