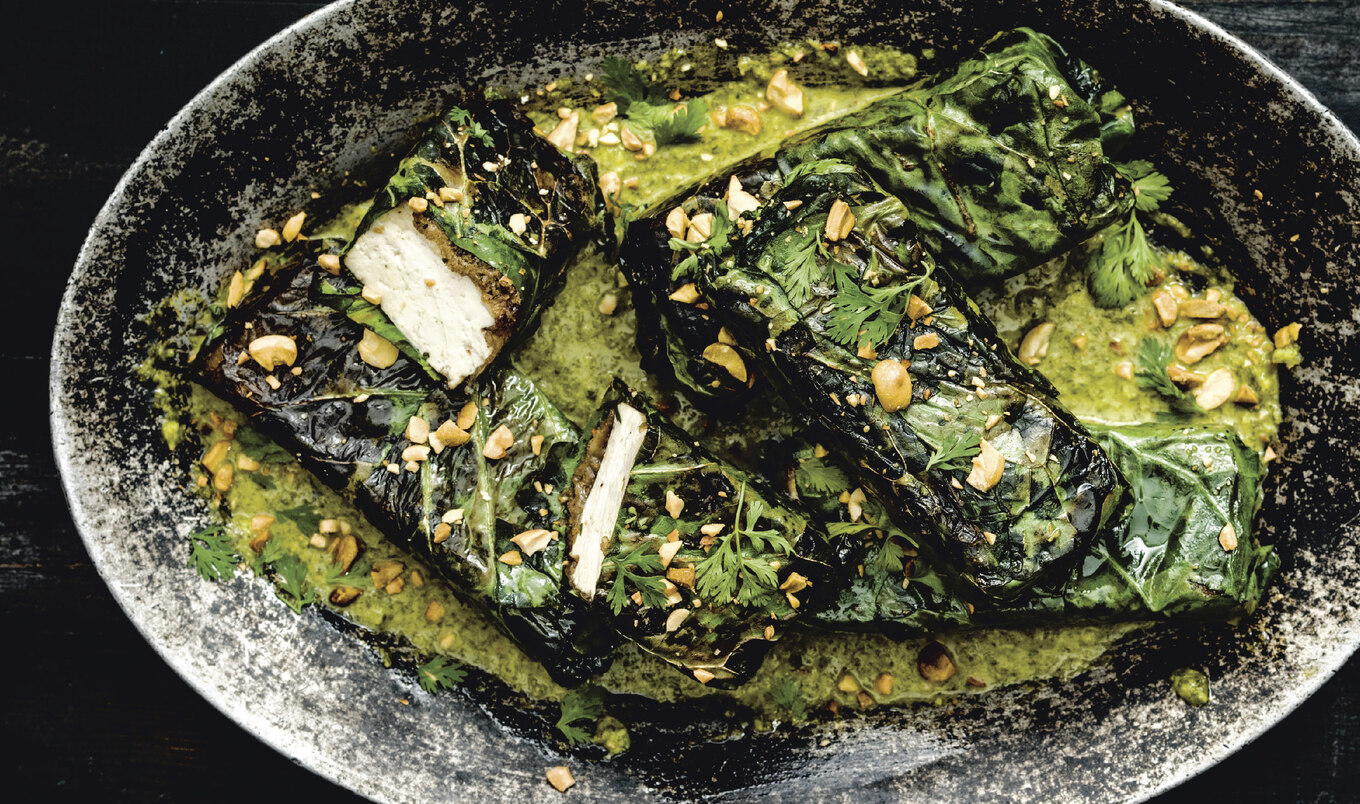 Seared tofu-stuffed collard pouches served with cilantro sauce and crushed peanuts make for an impressive dinner.
June 15, 2023
This recipe from the Vegetable Kingdom cookbook highlights the slightly bitter-earthy taste and chewy texture of collard leaves, along with the tofu soaked in a peppery Jamaican-inspired marinade.
What you need:
For the jerk marinade:
1 cup diced yellow onion
3 scallions, thinly sliced
1 tablespoon minced fresh ginger
1 tablespoon minced garlic
2 tablespoons sugar
1 tablespoon ground allspice
1 teaspoon nutmeg
1 tablespoon black pepper
¼ teaspoon cayenne pepper
2 habanero chiles, stemmed, seeded, and minced
2 tablespoons lime juice
2 tablespoons apple cider vinegar
6 tablespoons shoyu
¼ cup coconut oil
2 tablespoons minced fresh thyme
¼ teaspoon salt
For the garlic chips:
¾ cup olive oil
16 large garlic cloves, thinly sliced
For the cilantro sauce:
2 garlic cloves, minced
3 tablespoons olive oil
¼ teaspoon ground coriander
¼ teaspoon salt, plus more as needed
1 cup tightly packed fresh cilantro leaves
2 tablespoons fresh lemon juice
½ jalapeño
For the tofu:
2 (16-ounce) blocks extra-firm tofu, pressed and patted dry
2 cups Jerk marinade
1 tablespoon plus 2 teaspoons salt, plus more as needed
16 large collard leaves, tough part of the stem removed
1 cup arrowroot powder
Peanut oil, for frying
For serving:
¼ cup garlic chips
Cilantro sauce
¼ cup cilantro leaves, for garnish
¼ cup crushed peanuts, for garnish
What you do:
For the jerk marinade, combine all ingredients in a food processor, add ¼ cup water, and purée until combined. Store in an airtight container in refrigerator until ready to use, up to 1 week.
For the garlic chips, in a medium skillet over low heat, warm oil. Add garlic and cook, stirring occasionally, until crispy and golden brown, 8 to 10 minutes. Strain oil through fine-mesh sieve into a bowl, reserving garlic chips. Use immediately or store in separate airtight containers in refrigerator for up to 1 week.
For the cilantro sauce, in a small skillet over medium heat, add garlic, oil, coriander, and salt. Bring to a simmer and cook just until garlic is fragrant, about 1½ minutes. Remove from heat and let cool. Transfer to blender. Add cilantro, lemon juice, jalapeño, and ¼ cup water and blend until smooth. Use immediately or store in airtight container in refrigerator for up to 1 week.
For the tofu, on a cutting board, place one block. Cut in half horizontally, then cut vertically down center to yield four pieces. Repeat with second block of tofu. Into a large baking dish, pour jerk marinade, adding just enough water to ensure that it is runny, if necessary. Place tofu in marinade in one even layer. Cover and refrigerate for 8 hours or overnight, flipping tofu every 30 minutes for first 2 hours. Remove tofu from marinade, removing any excess, and transfer to a large plate. Strain marinade through a fine-mesh sieve and set aside.
In a large pot over high heat, bring 2 quarts water to a boil. Add 1 tablespoon salt. Blanch collard leaves, one at a time, for 30 seconds each, then lay flat on clean kitchen towels to dry.
On a large plate, combine arrowroot powder and remaining 2 teaspoons salt. Mix well. Coat each side of tofu pieces with arrowroot, shaking off any excess arrowroot, and transfer to a second large plate.
Lightly coat the bottom of a large cast-iron skillet with peanut oil and heat over medium-high heat until shimmering. Add half of tofu and fry until golden brown, 2 to 3 minutes. Gently flip each piece and fry until golden-brown on second side. Lightly sprinkle both sides of tofu with salt and transfer to a rack. Repeat to fry remaining tofu. Wipe skillet clean for next step.
On a clean work surface, arrange two collard leaves lengthwise, overlapping each other by an inch, and place one piece of tofu in center of leaves. Smear 2 heaping tablespoons of reserved marinade on top of tofu, sprinkle a heaping teaspoon of garlic chips on top of tofu, then fold leaves around tofu to create a packet. Repeat with remaining collard leaves and tofu.
In the same skillet over medium-high heat, warm 2 tablespoons peanut oil, tilting pan to coat evenly. Place packets in skillet, folded-side up, and cook for about 1 minute. Gently flip each packet, cover skillet with a lid, and cook for 5 minutes to warm through.
To serve, spread 2 tablespoons cilantro sauce each onto four plates and place two tofu packets on each plate. Garnish with cilantro leaves and peanuts and serve.
For more recipes like this, check out: