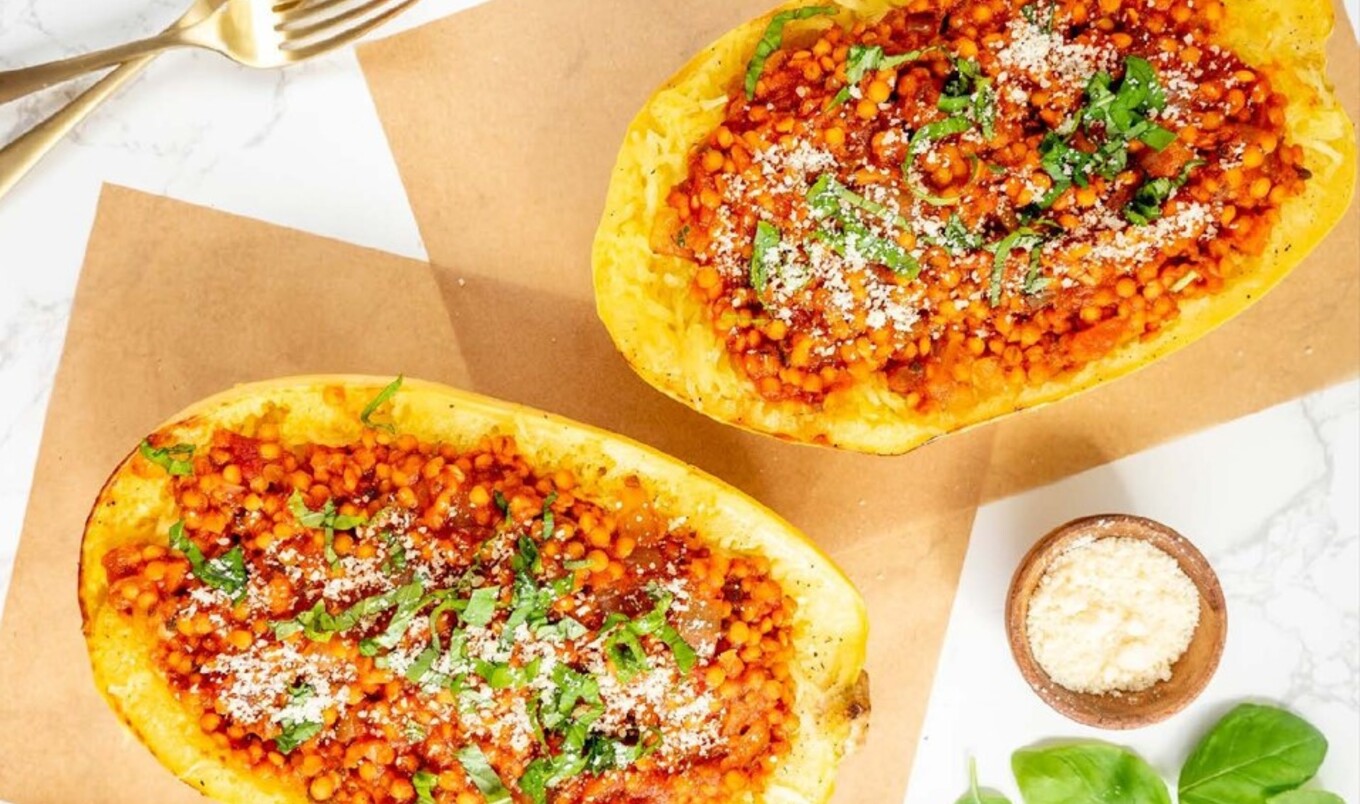 Made with a hearty lentil mushroom Bolognese sauce and spaghetti squash, this dish is a lightened up version of the traditional Italian dish.
July 29, 2023
If you are looking for an easy comfort food dish with a plant-based twist, these Bolognese boats from the Mostly Plant-Based cookbook are the answer.
What you need:
For the boats:
1 medium spaghetti squash
1 tablespoon olive oil
¼ teaspoon salt
⅛ teaspoon black pepper
For the quick bolognese sauce:
1 tablespoon olive oil
½ medium yellow onion, chopped
2 cloves garlic, minced
1 (28-ounce) can crushed tomatoes
¼ cup tomato paste
2 cups low-sodium vegetable broth
1 cup red lentils
2 teaspoons ground dried oregano
¼ teaspoon salt
¼ teaspoon black pepper
¼ cup grated vegan parmesan cheese, for topping
2 tablespoons chopped fresh basil, for garnish
What you do:
For the boats, preheat oven to 400 degrees and grease a sheet pan with cooking spray. Slice squash in half lengthwise and scoop out and discard seeds.
In a small bowl, whisk oil, salt, and pepper. Brush mixture onto cut sides of squash. Place squash cut side down on prepared pan. Roast 30 to 40 minutes, until skin is lightly browned and squash is fork-tender. Remove from oven and let cool, then flip over and use a fork to scrape and fluff strands.
For the bolognese sauce, into a large saucepan over medium heat, warm oil. Add onion and sauté until fragrant and translucent, 3 to 4 minutes. Add garlic and sauté for 30 seconds.
Increase heat to high and add crushed tomatoes, tomato paste, broth, lentils, oregano, salt, and pepper. Cook over medium heat, stirring occasionally, until thickened and lentils are tender, 30 to 40 minutes. Serve over spaghetti squash boats. Top with vegan parmesan and basil.
For more recipes like this, check out: