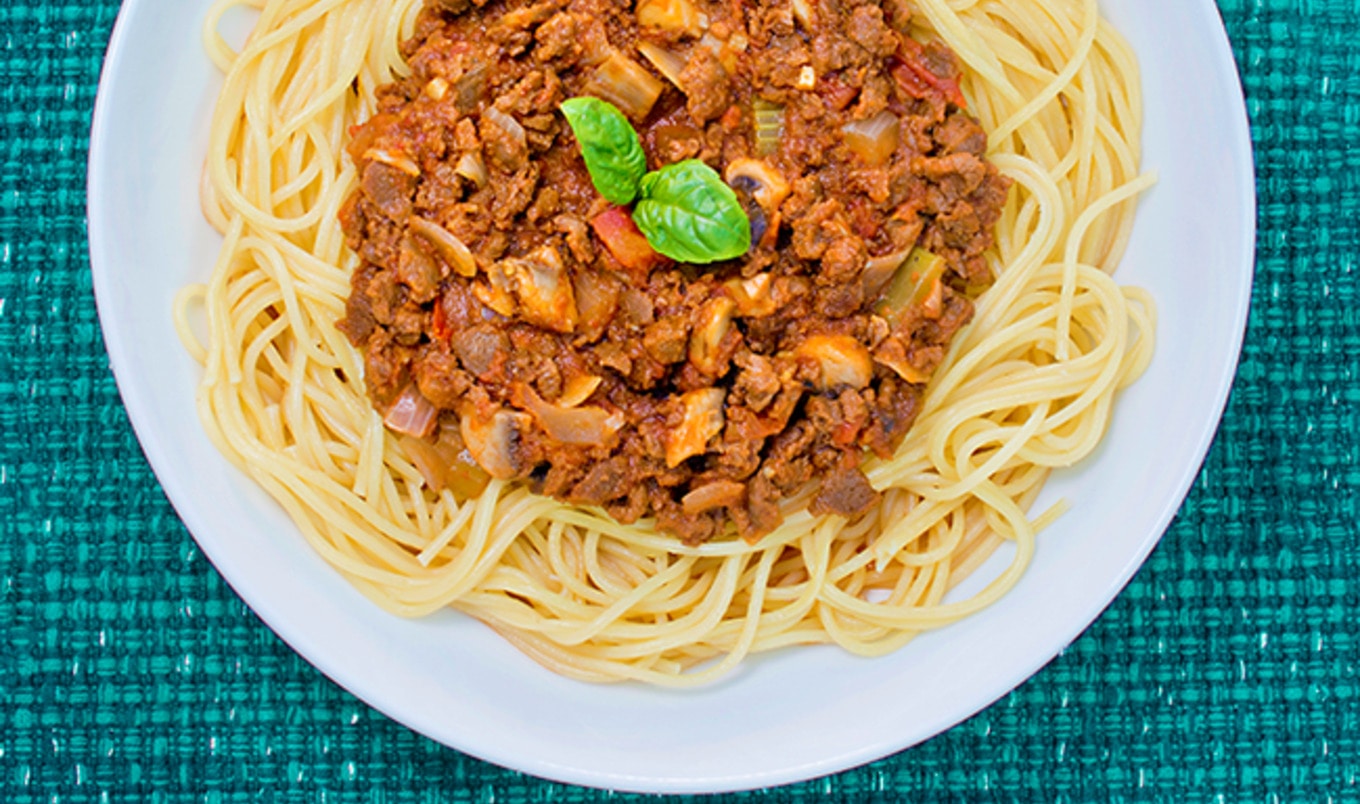 Our vegan take of this Italian classic will have everyone saying "mangia!"
September 1, 2023
Leona Lewis is a compassionate and talented singer who has been vegetarian since she was 12 years old. More recently, she has transitioned to a vegan lifestyle after learning of the health risks associated with dairy and eggs. Here, we present a cruelty-free version of spaghetti Bolognese, which just so happens to be Lewis' favorite meal. This quick and easy dish makes for a great mid-week meal and pairs excellently with a fresh green salad.
What you need:
2⅓ cups spaghetti noodles
2 tablespoons olive oil
1 onion, finely chopped
1 celery stick, finely chopped
1⅓ cups mushrooms, finely chopped
2 garlic cloves, crushed
2½ cups frozen soy crumble
3 cups chopped, canned tomatoes
1 tablespoon tomato purée
½ cup red wine
1 tablespoon tomato ketchup
1 teaspoon dried oregano
1 teaspoon dried marjoram
1 teaspoon fresh basil leaves, torn, for garnish
1 vegetable stock cube dissolved in 1 cup boiling water
¼ teaspoon salt
¼ teaspoon pepper
What you do:
1. Cook spaghetti according to package directions. While spaghetti is cooking, into a pan, add oil and warm, then add onion and celery and fry for five minutes. Add mushrooms and garlic, and fry for 3 more minutes.
2. Stir in soy crumble, and add tomatoes, tomato purée, red wine, tomato ketchup, herbs, and stock. Cover and simmer gently for approximately 10 minutes. Stir in salt and pepper.
3. Divide spaghetti between serving plates, top genorously with bolognese and garnish with basil to serve.
For more recipes like this, check out: