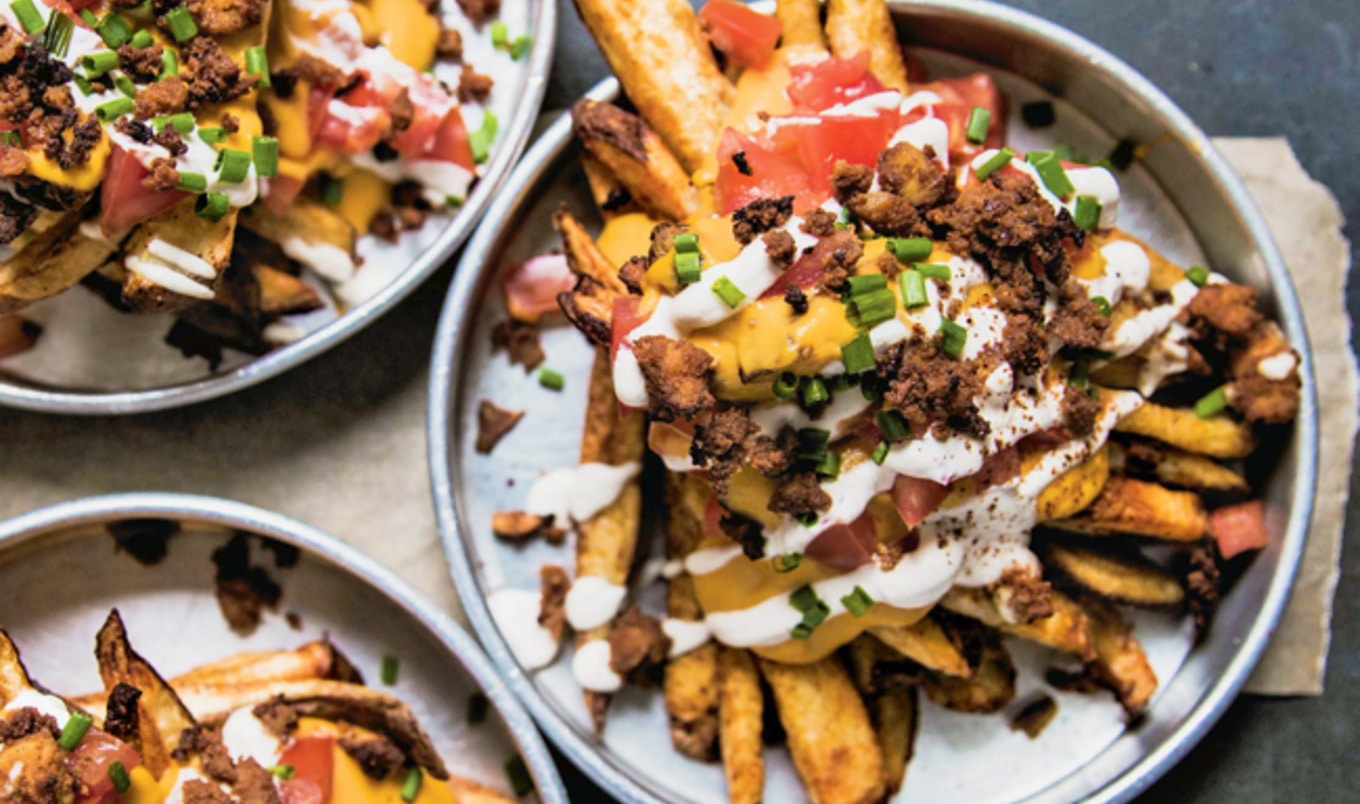 With bacon, nacho cheese sauce, and sour cream, these may be the most indulgent vegan fries ever.
September 2, 2023
French fries are usually a safe bet for the average vegan dining out. Now, we're taking what was once just "safe" and pushing them to a bombastic, bodacious, must-have meal, thanks to Lauren Toyota's cookbook, Hot for Food Vegan Comfort Classics: 101 Recipes to Feed Your Face.
What you need:
For the tofu bacon crumbles:
1 (14-ounce) package extra-firm tofu, drained and crumbled
¼ cup low-sodium tamari
2 tablespoons maple syrup
1 tablespoon liquid smoke
1 teaspoon smoked paprika
For the nacho cheese:
1 cup peeled, cubed white potato (about 1 small potato)
½ cup peeled, diced carrot (about 1 carrot)
¼ cup vegetable oil
¼ cup vegan milk or water
1 tablespoon nutritional yeast
1½ teaspoons arrowroot flour
1 teaspoon garlic powder
1 teaspoon onion powder
½ teaspoon sea salt
2 teaspoons freshly squeezed lemon juice
6 pickled jalapeño slices or to taste, plus 3 tablespoons brine
1 tablespoon tomato paste
For the French fries:
4 russet potatoes
¼ cup vegetable oil
1 teaspoon paprika
1 teaspoon sea salt
½ teaspoon ground pepper
½ cup vegan sour cream
2 vine tomatoes, seeds removed and diced
1 tablespoon finely chopped chives
What you do:
1. For the tofu bacon crumbles, preheat oven to 425 degrees. Into a medium bowl, place crumbled tofu. In a separate small bowl, whisk together tamari, maple syrup, liquid smoke, and paprika. Pour tamari mixture over tofu, toss to combine, and marinate for 15 minutes. Onto a parchment-lined baking sheet, spread crumbles in an even layer. Bake for 25 to 30 minutes, tossing halfway through. Remove from oven, place on plate, and set aside.
2. For the nacho cheese, bring a pot of water to a boil. Add potato and carrots and cook until fork-tender, 6 to 8 minutes. Drain and transfer vegetables to a high-powdered blender along with remaining ingredients, and blend on high until smooth. Set aside.
3. For the French fries, wash potatoes and cut into ½-inch matchsticks, leaving skins intact. Into a large pot of cold water, add potatoes, bring to a boil, and cook until surface is just able to be pierced with a fork, about 6 to 8 minutes. Potatoes shouldn't be too tender or soft.
4. Line 2 baking sheets with parchment paper. Toss potatoes with oil, paprika, salt, and pepper until evenly coated. Lay out on baking sheets spaced ¼-inch apart, being careful not to overcrowd. Bake for 45 to 50 minutes, flipping halfway through, until golden brown and crisp.
5. To assemble, divide fries among serving plates, layering them with nacho cheese and sour cream. Top with bacon crumbles, tomatoes, and chives, and serve immediately.
For more recipes like this, check out:
Here at VegNews, we live and breathe the vegan lifestyle, and only recommend products we feel make our lives amazing. Occasionally, articles may include shopping links where we might earn a small commission. In no way does this effect the editorial integrity of VegNews.