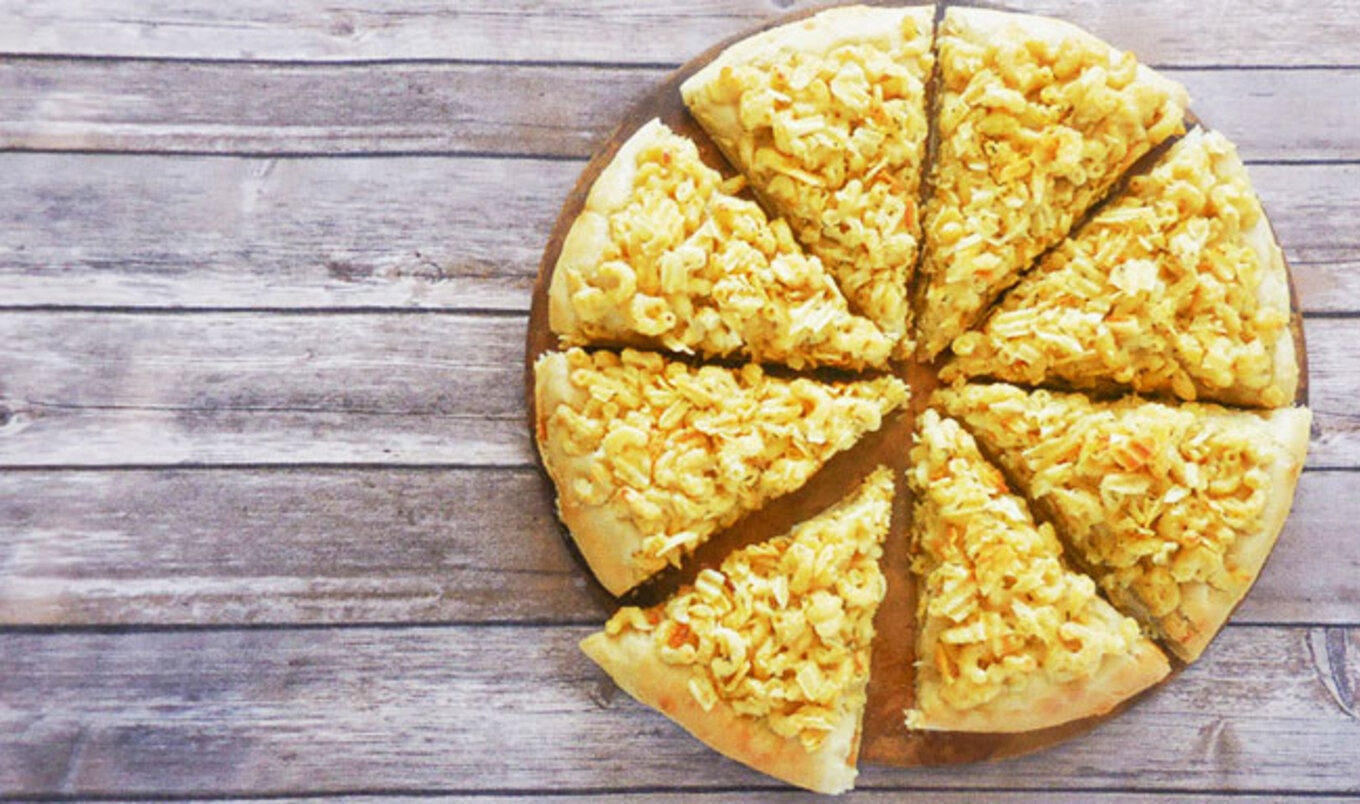 Three of your favorite comfort food classics in one!
July 20, 2017
Mac and cheese pizza with a crisp layer of thyme-infused potato chips? Cheesy, crunchy, and completely indulgent? You might want to break out your stretch pants for this one.
What you need:
For the crust:
½ teaspoon light brown sugar
2¼ teaspoons active dry yeast
1½ cups warm water
1 teaspoon sea salt
2 tablespoons + 1 teaspoon olive oil, divided
4⅔ cups all-purpose flour, divided
For the macaroni and cheese:
1½ cups dry elbow macaroni
1½ cup + 2 tablespoons water, divided
½ cup raw cashews
1 cup vegan chicken broth
6 ounces shredded vegan mozzarella
For the potato chip topping:
1 cup crumbled potato chips
½ teaspoon olive oil
½ teaspoon dried thyme
What you do:
1. For the crust, into a large mixing bowl, add sugar, yeast, and water. Stand for 10 minutes, or until yeast is producing small bubbles.
2. Stir in sea salt, 2 tablespoons olive oil, and ⅔ cup all-purpose flour. Continue adding the remaining flour 1 cup at a time, mixing after each addition until the flour has been incorporated. Knead dough for 3 minutes, or until dough forms a smooth and elastic ball.
3. Coat a medium mixing bowl with remaining 1 teaspoon olive oil. Into bowl, place dough, cover, and set aside to rise for 1 hour. Punch down dough and allow to rest for 5 minutes, then spread evenly over a pizza stone or baking pan.
4. For the macaroni and cheese, prepare elbow macaroni according to package directions. Drain and set aside. Into a small pot, add 1 cup water and cashews. Bring to a boil and cook 8 minutes. Remove from heat and drain. Into a food processor or blender, add remaining ½ cup + 2 tablespoons water. Blend on high until consistency is smooth.
5. Into a medium pot, add cashew mixture, broth, and cheese. Heat over medium heat until cheese is melted. Fold in cooked elbow macaroni.
6. For the potato chip topping, into a small bowl, add crumbled potato chips. Drizzle with olive oil and sprinkle with dried thyme. Toss to coat. To prepare, preheat oven to 425 degree. Spread macaroni and cheese in an even layer across dough. Sprinkle with potato chip topping. Bake 20 minutes and serve warm.