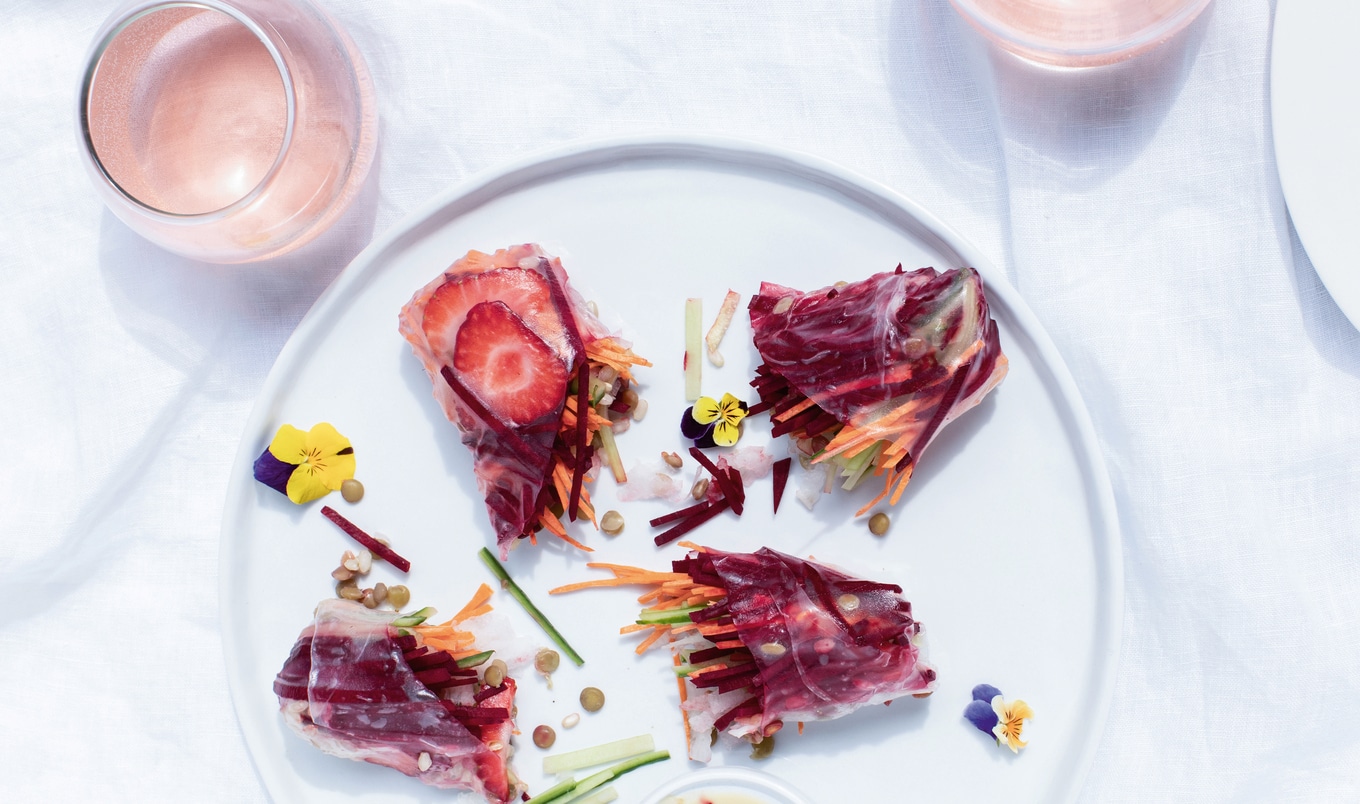 These fruit- and vegetable-filled spring rolls are the ultimate fresh meal.
June 16, 2023
Eating the rainbow has never been easier then with this recipe from wellness brand Sakara Life founder's Danielle Duboise and Whitney Tingle's Eat Clean, Play Dirty cookbook.
What you need:
For the vinaigrette:
1½ tablespoons ume plum vinegar
2½ tablespoons brown rice vinegar
⅓ cup peeled, chopped ginger
¼ cup plus 1 tablespoon lime juice
1½ tablespoons soy sauce
½ cup olive oil
2 tablespoons plus 1 teaspoon toasted sesame oil
For the wraps:
¼ cup brown rice
¼ cup plus 2 tablespoons toasted sesame oil
¼ cup green lentils
4 rice paper wrappers
½ cup fresh cilantro, chopped
1 avocado, pitted and sliced
1 cup red beets, grated
1 cup carrots, grated
1 cup daikon, grated
½ cup strawberries, sliced
What you do:
For the vinaigrette, into a blender, add plum vinegar, rice vinegar, ginger, lime juice, and soy sauce, and blend. With blender still running, slowly drizzle in olive oil and sesame oil to emulsify. Set aside.
For the filling, in a medium pot, add rice and ½ cup of water and bring to a boil. Reduce heat to low, cover, and cook for 45 minutes. Remove pot from heat and let rice sit for 15 minutes, covered, before transferring to a bowl and tossing with sesame oil. Allow rice to cool.
In a medium pot, bring lentils and ¾ cup water to a boil and cook for 30 minutes, or until lentils are slightly tender. Drain any excess water.
To assemble the wraps, fill a large, wide bowl with water. Dip a rice paper wrapper in water for 2 to 3 seconds and transfer to a plate. Arrange rice, lentils, cilantro, avocado, beets, carrots, daikon, and strawberries down center of wrapper lengthwise. To roll, carefully fold up one of the short ends of wrapper over filling. Then fold one of longer sides over toppings and carefully roll wrap toward other edge of wrapper to seal. Repeat with remaining ingredients. Slice each wrap in half and serve with vinaigrette for dipping.
For more recipes like this, check out:
Here at VegNews, we live and breathe the vegan lifestyle, and only recommend products we feel make our lives amazing. Occasionally, articles may include shopping links where we might earn a small commission. In no way does this effect the editorial integrity of VegNews.