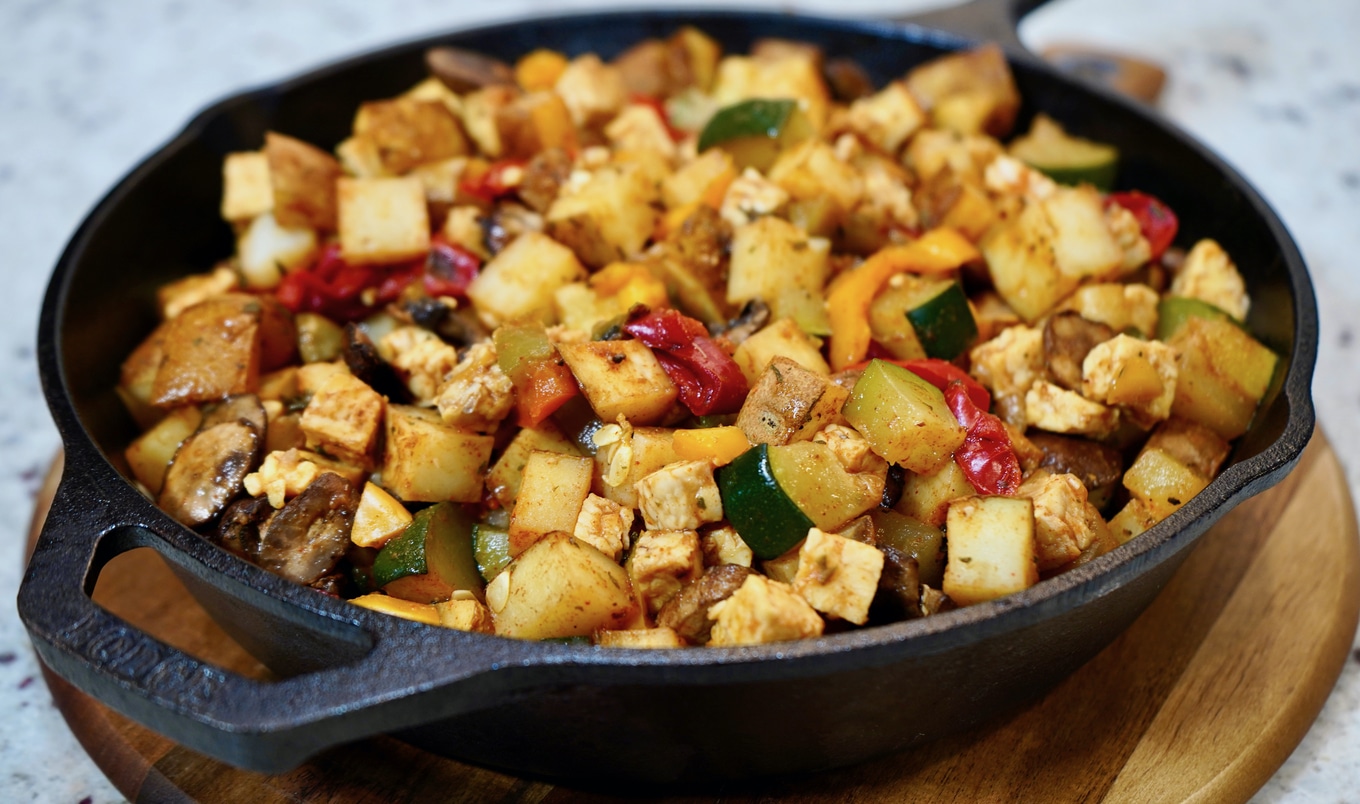 Loaded with vegetables, roasted potatoes, and vegan tempeh, this plant-based breakfast will keep you full and satisfied all morning long.
November 26, 2022
Serve this delicious and hearty breakfast skillet from the Plant Based Cooking Made Easy cookbook with seedy toast, buttery avocado, and your favorite hot sauce for a complete plant-based start to the day.
What you need:
1½ cups low-sodium vegetable broth, divided
1 teaspoon cumin
2 teaspoons smoked paprika, divided
1 teaspoon parsley flakes
1 teaspoon black pepper, divided
½ teaspoon thyme
4 Russet potatoes, cubed
1 (8-ounce) package mushrooms, chopped
2 bell peppers, thinly sliced
2 small zucchinis, sliced into half moons
1 (6-ounce) package tempeh, cubed
1 teaspoon onion powder
1 tablespoon low-sodium soy sauce
What you do:
Preheat oven to 400 degrees. Line 2 baking sheets with parchment paper.
Into a large bowl, mix ½ cup broth, cumin, 1 teaspoon smoked paprika, parsley, ½ teaspoon black pepper, and thyme. Add potatoes and stir until well coated.
Onto 1 prepared baking sheet, scoop potatoes, leaving liquid in bowl, and spread into an even layer.
Into bowl with remaining liquid, add mushrooms, peppers, and zucchini, and stir. Pour vegetable mixture onto second baking sheet and spread into an even layer. Place both sheets in oven and roast for 30 minutes.
Into a large frying pan, add tempeh, remaining vegetable broth, black pepper, smoked paprika, onion powder, soy sauce, and cook on medium high for 5 minutes.
Remove baking sheets from oven, add roasted vegetables to tempeh mixture, and cook for 5 minutes.
Divide among 4 serving plates and enjoy.