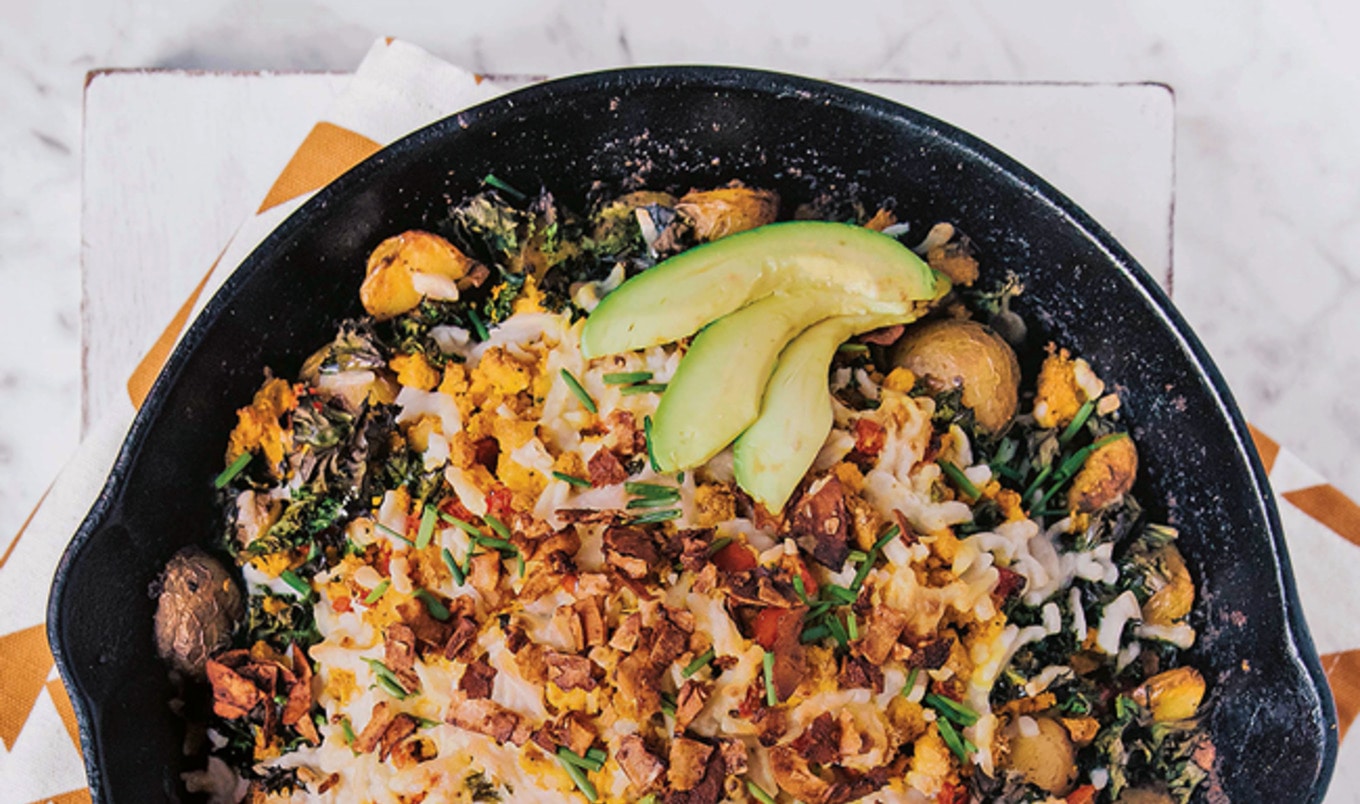 Roasty potatoes, a mountain of tofu scramble, hot sauce, and avocado all served crisp in a skillet? Brunch is served.
May 4, 2021
What you need:
For the potato hash:
2 pounds baby white potatoes, quartered
2 tablespoons vegetable oil
1 teaspoon paprika
1 teaspoon sea salt
½ teaspoon ground pepper
2 garlic cloves, minced
For the tofu scramble:
1 block medium-firm tofu, crumbled
1 tablespoon vegetable oil
2 shallots, minced
2 green onions, white and green parts, finely chopped
1 cup finely chopped red bell pepper
2 tablespoons nutritional yeast
1 teaspoon ground turmeric
1 teaspoon sea salt
¼ teaspoon ground pepper
¼ cup unsweetened non-dairy milk
For the toppings:
½ cup packed, stemmed, and finely chopped kale leaves
½ cup vegan cheese shreds
1 avocado, pitted, peeled, and sliced
½ cup coconut bacon
1 tablespoon finely chopped chives
Hot sauce
What you do:
1. Preheat the oven to 450°F. For the potato hash, place the quartered potatoes in a pot of cold water and bring to a boil. Cook until fork-tender, approximately 8 minutes. Drain and set aside.
2. For the tofu scramble, heat a large cast-iron skillet over medium heat and add oil. Add crumbled tofu, shallots, green onions, and red pepper and sauté for 3 to 4 minutes or until vegetables are softened and about half cooked.
3. Add nutritional yeast, turmeric, salt, and pepper. Stir to combine and cook for another 2 minutes. Add milk if mixture looks too dry, and cook for another minute. Remove scramble from pan and set aside.
4. For the potato hash, wipe out any excess scramble from skillet and heat over medium heat. Add oil, potatoes, paprika, salt, and pepper, and toss to coat.
5. Cook for 12 to 14 minutes, stirring only a few times, allowing the bottoms of potatoes to crisp. Add garlic and cook for 2 more minutes, reducing the heat slightly to prevent burning.
6. Add the scramble on top of potatoes in the skillet or transfer to an oven-safe casserole dish. Surround the scramble with the chopped kale and top with cheese.
7. Bake for approximately 15 minutes or until kale is crisp and the cheese is completely melted and slightly browned. Top with avocado slices, coconut bacon, chives, and hot sauce, and serve immediately.