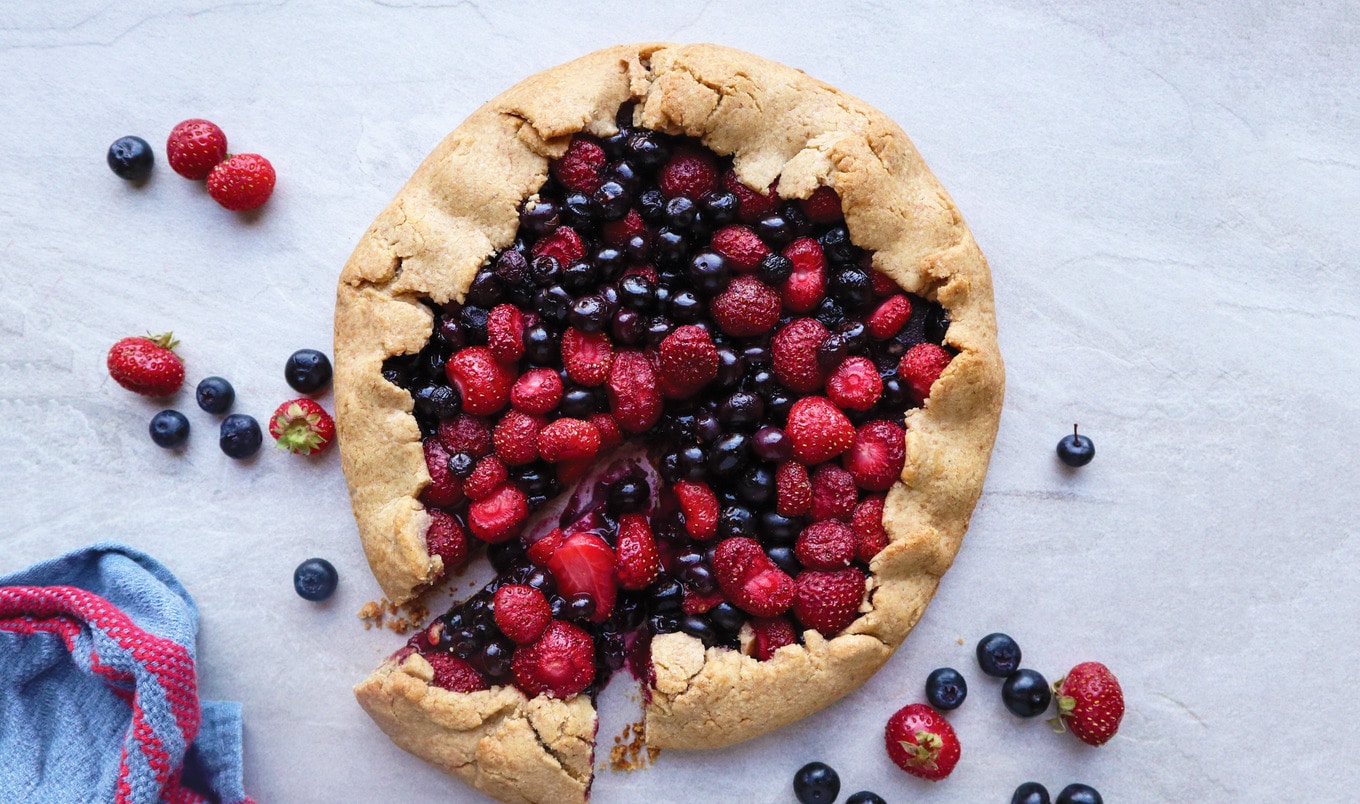 This beautiful, seasonal dessert celebrates the fresh bounty of the summer.
July 4, 2022
This rustic galette from Christine Wong's Plantiful Plate cookbook is sure to steal the scene at your next summertime gathering with its beautiful jewel-toned hues, luscious cashew cream, and buttery crust.
What you need:
For the pastry:
1 cup spelt flour, plus more for rolling
½ cup chickpea flour
2 tablespoons sugar
¼ teaspoon salt
8 tablespoons cold vegan butter, cut into ¼-inch cubes
3 tablespoons ice cold water
For the sweet cashew cream:
1 cup cashews, soaked for 3 hours, drained, and rinsed
½ cup filtered water
2 tablespoons maple syrup
For the filling:
2 cups strawberries
1 cup blueberries
2 tablespoons coconut sugar
1 tablespoon lemon juice
1 tablespoon brown rice flour
1 cup sweet cashew cream (see recipe)
What you do:
For the pastry, preheat oven to 375 degrees. Line a baking sheet with parchment paper. In a large bowl, sift together spelt flour, chickpea flour, sugar, and salt. Grate butter into flour mixture, stirring often. Using your fingertips, break any large lumps so mixture becomes grainy, like coarse sand. Using a fork, mix in water, 1 tablespoon at a time, until mixture just comes together. Form dough into one large ball.
Onto a floured surface, roll out dough into a circle, about ¼-inch thick. Place dough circle on prepared baking sheet.
For the cashew cream, in a food processor fitted with an S blade, combine all ingredients and blend until smooth.
For the filling, in a large bowl, add strawberries, blueberries, coconut sugar, lemon juice, and brown rice flour, and toss to combine. Spread cashew cream in a large circle in the center of rolled-out dough, leaving a 2-inch space around edges. Place berry filling on top of cashew cream and fold pastry edges over, overlapping outer edges and framing so the juices do not run out during baking. Pinch each fold together.
Bake for 30 to 35 minutes. Remove from oven and serve warm.
Photo credit: Christine Wong