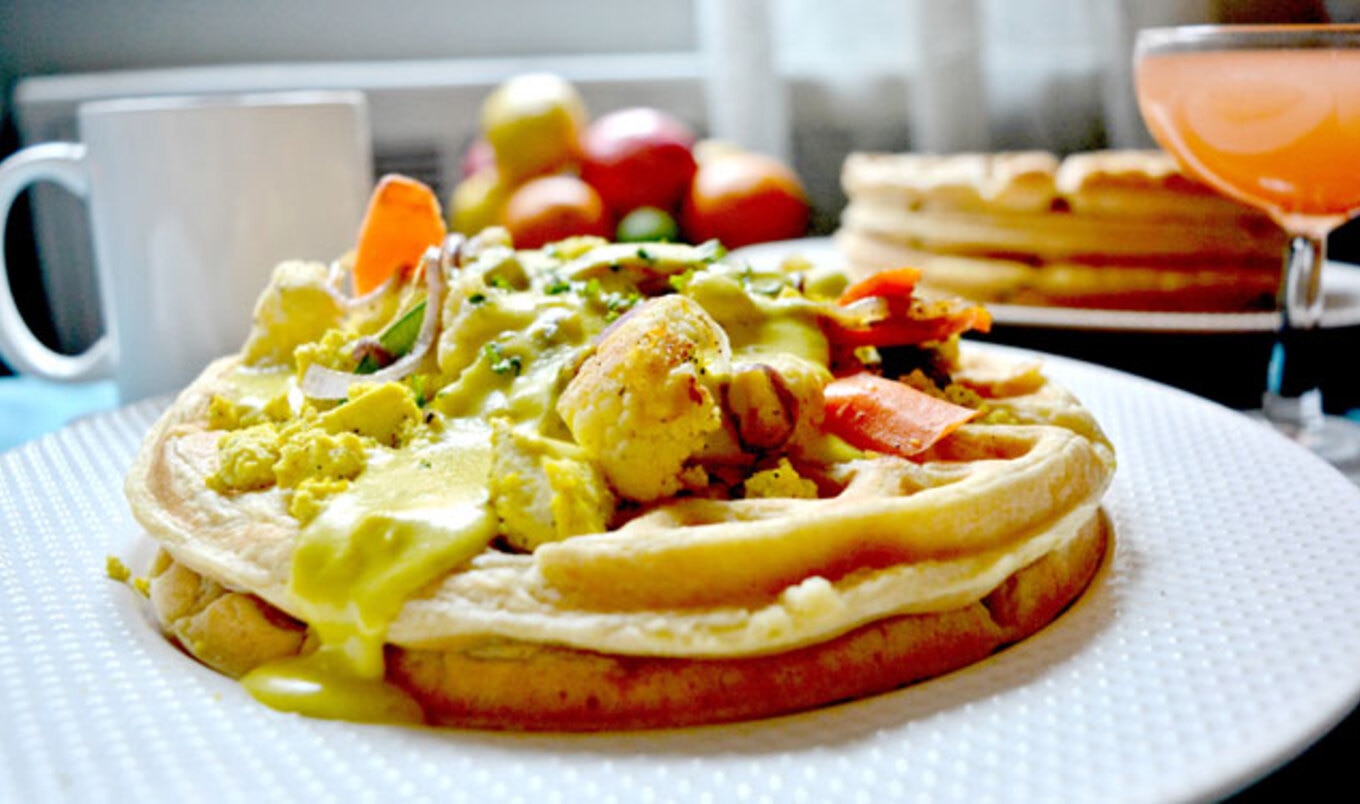 Up your brunch game with this bright and colorful waffle.
May 10, 2021
Brunch is the best meal of the week, and there's no better time for brunch than spring. Because of these reasons, we're bringing you a hearty waffle paired with a decadent cheddar fondue atop fresh vegetables and egg-like tofu ragout. Each bite melts in your mouth while you wait for that next round of mimosas. Is it Sunday yet?

What you need:
For the waffles:
3 cups unbleached flour
2 tablespoons baking powder
2 tablespoons sugar
½ teaspoon salt
3 cups soy milk
⅓ cup orange juice
⅓ cup canola oil
1 teaspoon vanilla extract
For the cheddar fondue:
¼ cup nutritional yeast
½ teaspoon garlic powder
¼ teaspoon turmeric
¼ teaspoon onion powder
½ teaspoon salt
1 tablespoon miso
1 can full-fat coconut milk, ¼ cup liquid set aside
1 tablespoon arrowroot
For the ragout:
1 block (14-ounces) extra-firm tofu, drained and crumbled
2 tablespoons olive oil
¼ teaspoon pepper
¼ teaspoon salt
½ teaspoon garlic powder
½ teaspoon onion powder
½ teaspoon turmeric
¾ teaspoon Himalayan black salt (Kala Namak)
½ head cauliflower
1 cup snow peas, trimmed halved
2 medium carrots, thinly sliced on a bias
For the garnish:
Chopped parsley
What you do:
1. For the waffles, preheat waffle maker. In a medium bowl, combine all waffle ingredients until smooth, being careful not to over-mix. Prepare waffles according to manufacturer's instructions.
2. For the cheddar fondue, in a saucepan, combine all ingredients except coconut milk and arrowroot. Once smooth, create a slurry with reserved coconut milk and arrowroot, and stir into the mixture. Keep stirring until mixture thickens slightly.
3. For the tofu, press and drain tofu for 25 minutes. Heat one tablespoon of oil in a medium pan, add tofu and spices, and stir until well combined and cooked through.
4. For the vegetables, in a separate pan, heat remaining tablespoon of oil, add cauliflower, snow peas, and carrots and sauté until tender but still crunchy.
5. Top with heaping ¼ cup tofu mixture followed by ¼ cup vegetable mixture, finished with ¼ cup cheddar fondue. Sprinkle with parsley. Serve immediately.