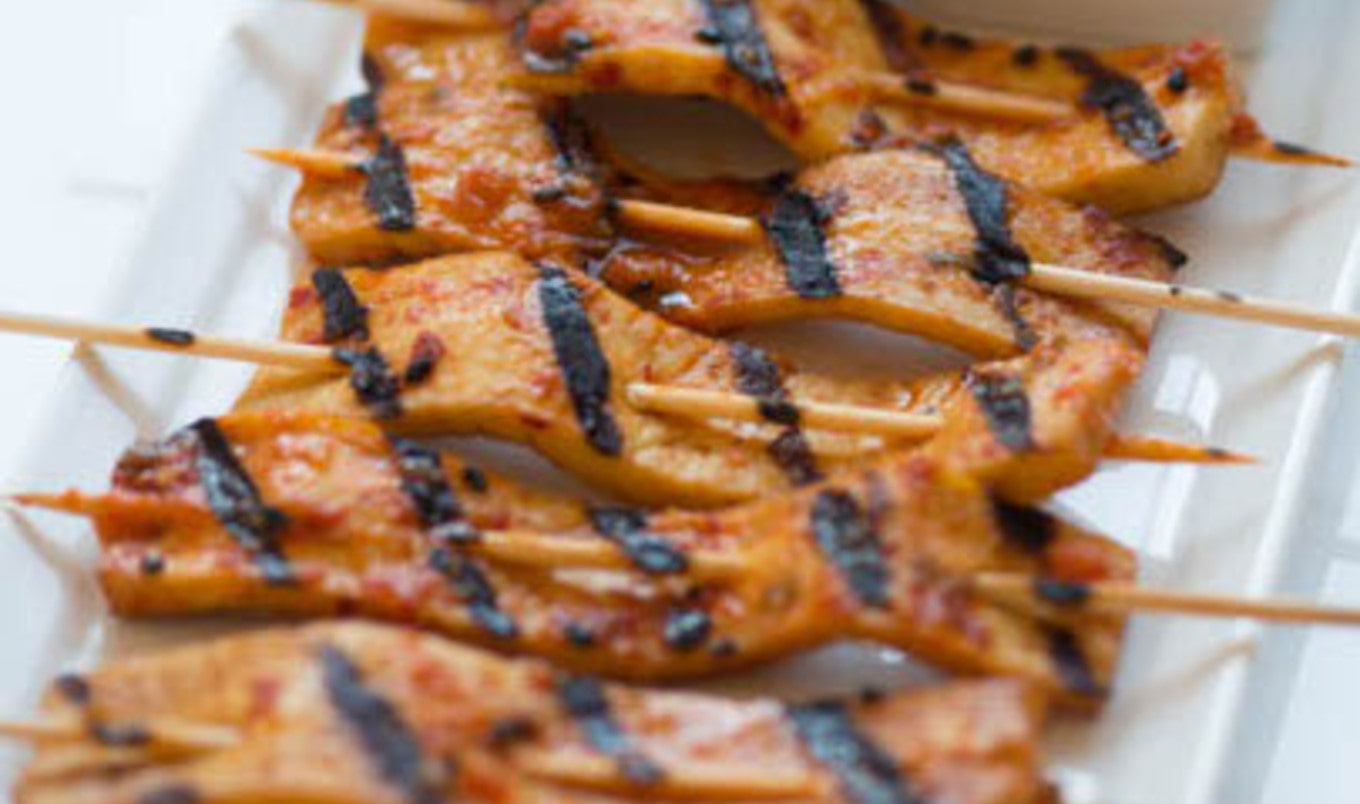 Satay is a popular Indonesian street food, usually made up of marinated, grilled chicken and served with sauce for dipping. This plant-based version gets a smoky-sweet Korean twist.
July 22, 2020
These skewers from the Fusion Food in the Vegan Kitchen cookbook are super easy to make and great as an appetizer on game day. Serve over a rice bowl with kimchi, green onion, and vegan fried egg for a full meal.
What you need:
For the Spicy Korean BBQ Sauce:
3 tablespoons soy sauce
2 tablespoons sesame oil
2 tablespoons rice vinegar
2 tablespoons agave nectar
½ teaspoon ginger powder
1 tablespoon minced garlic
10 ounces roasted red peppers
1 cup water
1 tablespoon red pepper flakes
2 teaspoons black sesame seeds
3 tablespoons finely chopped green onion

For the satay:
1 (1-pound) block extra-firm tofu, drained and pressed
1 cup Spicy Korean Barbecue Sauce
What you do:
For the Spicy Korean BBQ Sauce, into a blender, add soy sauce, oil, rice vinegar, agave, ginger powder, garlic, roasted red peppers, and water and blend until smooth. Stir in red pepper flakes, sesame seeds, and scallion. Pour into an airtight container and store in refrigerator.
For the satay, cut block of tofu into thin strips about 1 inch wide and 1/4 inch in thickness and length. Place tofu strips in a shallow dish, and cover with Spicy Korean BBQ Sauce. Marinate overnight in refrigerator.
Preheat a grill pan to medium-high heat. When ready to cook, thread each strip lengthwise onto 18 to 24 skewers. Grill for 5 minutes per side, or until there is no resistance when flipping. Tofu will stick to grill until it is ready to be flipped. Remove from heat and enjoy.
Photo credit: Wade Hammond