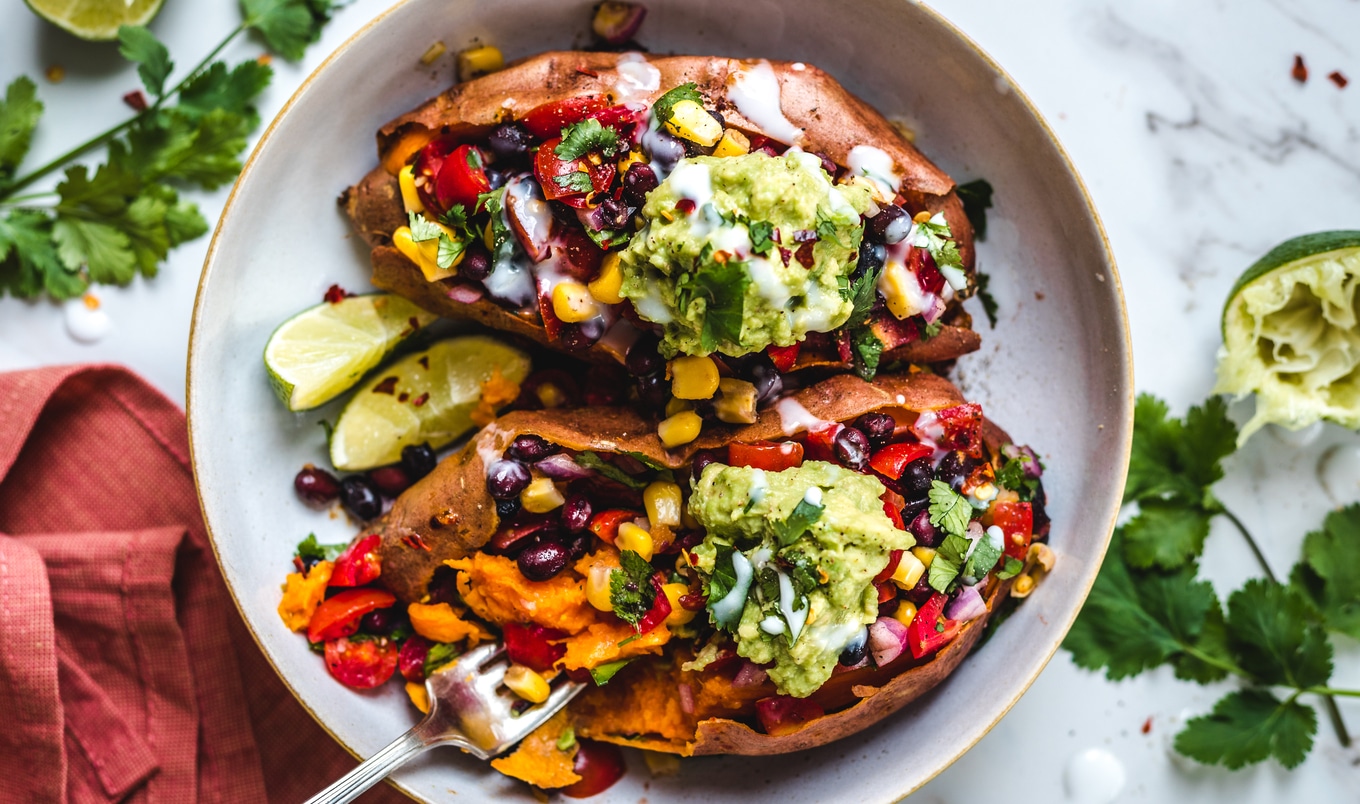 These loaded-up sweet potato boats make a great meal prep option or an easy, nutrient-rich weeknight meal.
September 3, 2023
A savory, zesty black-bean-tomato-corn mixture tops hot-from-the-oven sweet potatoes in this recipe from Two Spoons food blogger Hannah Sunderani. Drizzle with your favorite hot sauce or salsa, and top with plenty of avocado for the perfect meal.
What you need:
For the potatoes:
4 sweet potatoes
1 tablespoon plus 2 teaspoons olive oil, divided
1½ cups black beans
1 cup cherry tomatoes, chopped
½ cup corn kernels
½ cup cilantro, chopped
¼ cup diced red onion
1 clove garlic, diced
½ lime, juiced
¼ teaspoon salt
¼ teaspoon black pepper
⅛ teaspoon red chili flakes
For the guacamole:
1 avocado
2 teaspoons lime juice
¼ teaspoon salt
For the sour cream:
⅓ cup coconut yogurt
½ teaspoon lime juice
¼ teaspoon salt
What you do:
Preheat oven to 400 degrees. Using a fork, poke small holes in sweet potatoes all the way round, about 1-inch apart. Line a baking tray with parchment paper, and lightly coat sweet potatoes with 1 tablespoon oil. Place in oven and bake for 40 minutes to 1 hour, or until fork tender.
In a bowl combine black beans, tomato, corn, cilantro, red onion, and garlic. Drizzle with lime juice and remaining oil. Sprinkle with salt, pepper, and chili flakes. Mix to combine.
For the guacamole, in a small bowl, mash avocado, lime juice, and salt until well combined.
For the sour cream, in a separate bowl mix coconut yogurt, lime juice, and salt.
Cut sweet potatoes in half and top with black bean mixture. Top with guacamole and drizzle with vegan sour cream. Serve warm.
For more recipes like this, check out: