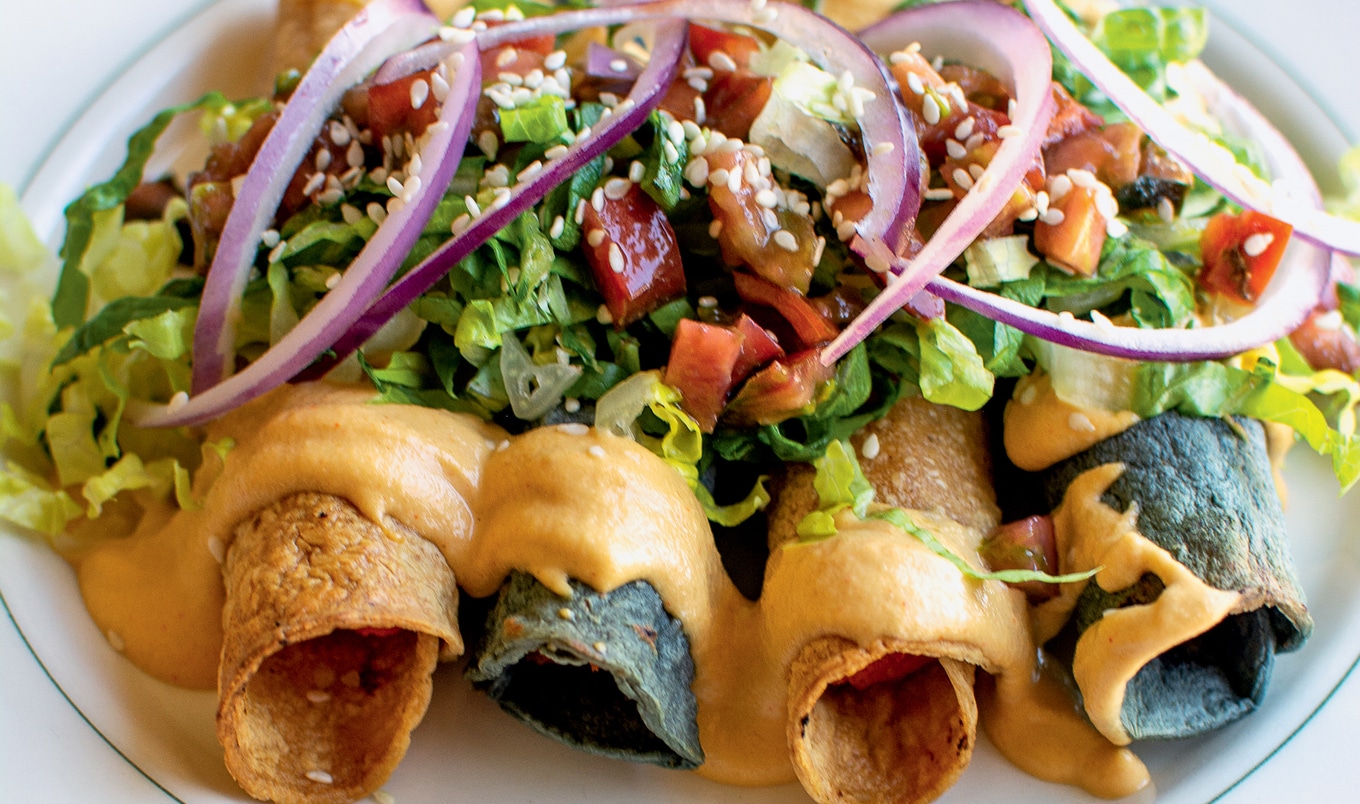 Fried cashews lend a deep umami flavor to this simple queso, making it the perfect accompaniment to flaky, sweet potato-filled baked flautas.
November 27, 2021
The key to getting crispy flautas in this recipe from the Plant Powered Mexican cookbook is to warm the tortillas before filling, a preheated oven, and a generous brushing of oil.
What you need:
For the flautas:
1½ pounds sweet potato (1 large or 2 small), peeled and cut into ½-inch thick pieces
1 tablespoon plus ½ teaspoon salt, divided
1 tablespoon lime juice
12 (6-inch) corn tortillas
2 tablespoons avocado oil
For the cashew queso:
2 tablespoons avocado oil
¾ cup raw cashews
¾ cup hot water
2 tablespoons lime juice
1 (4-ounce) can diced green chiles, with juice
¼ cup nutritional yeast
½ teaspoon smoked paprika
2½ teaspoons salt
What you do:
For the flautas, preheat oven to 450 degrees. Place an oven rack in top of oven.
In a saucepan, filled about three-quarters of way with water, add a tablespoon of salt. Bring to a boil over medium-high heat. Reduce heat to a simmer and cook until sweet potatoes are tender, but not falling apart. Drain and let sit in colander for a few minutes to dry.
Return to saucepan with remaining salt and lime juice. Mash with a potato masher until smooth.
In a cast-iron skillet over medium heat, warm pan for at least 3 minutes, or until hot but not smoking. Warm tortillas one at a time on until soft and pliable, but not toasted. Keep warm in a clean kitchen towel or in a tortilla warmer.
Place about 2 tablespoons of sweet potato filling on one edge of each tortilla and roll up to close. Repeat with remaining ingredients.
Grease a baking sheet with cooking spray. Lay flautas, seam-side down, on baking sheet and generously brush tops with avocado oil. Bake until crispy and toasted, about 20 minutes.
For the queso, in a large frying pan over medium heat, warm oil. Add cashews and fry, stirring occasionally, until nuts are really toasted. Transfer to a blender with remaining ingredients and blend until smooth. Return to frying pan and heat until just warm.
Serve flautas warm with queso.