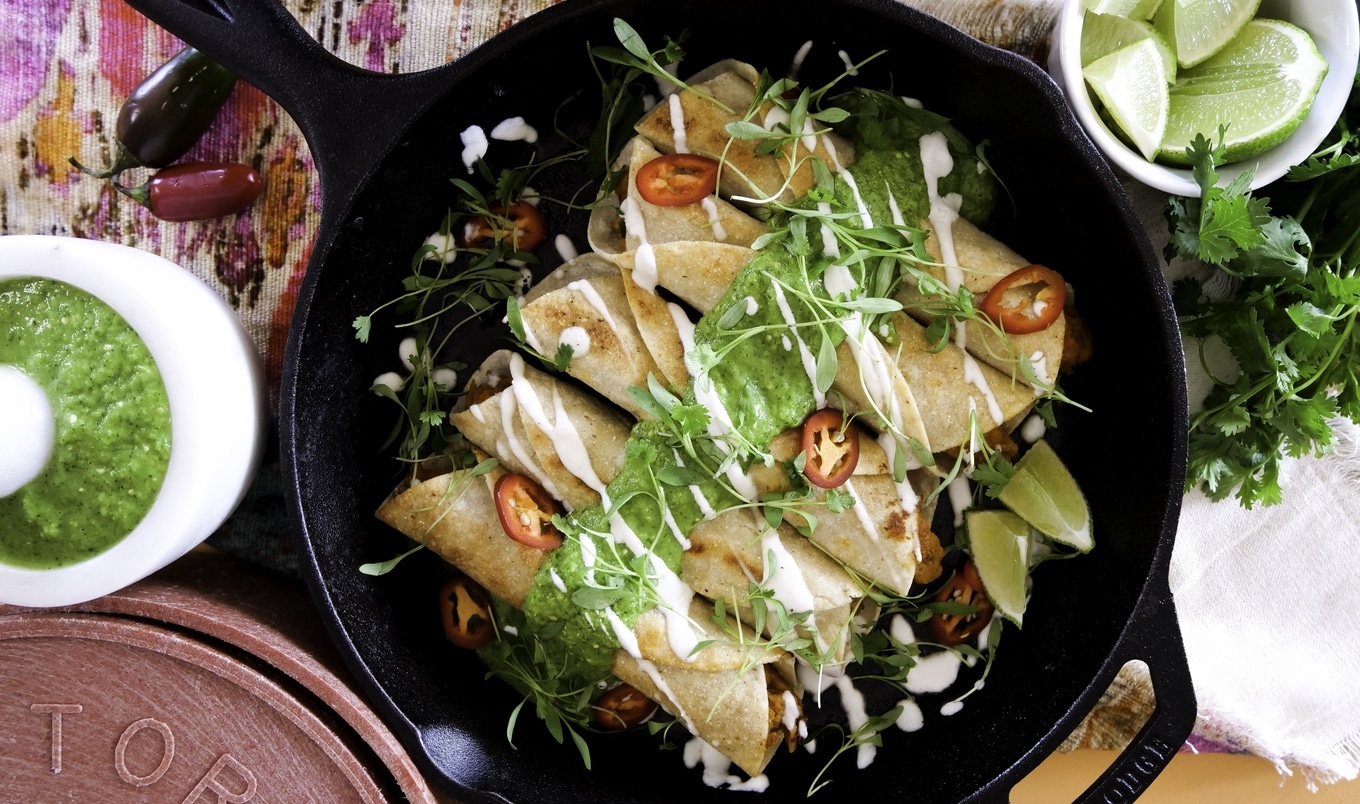 Raw, ground walnuts add a meaty texture and pair perfectly with the spices and sweet potatoes in these flautas.
May 24, 2023
These tasty rolled tacos from the Cook. Heal. Go Vegan! cookbook make a quick-yet-impressive weeknight dinner. Serve with guacamole, your favorite hot sauce, and a side of rice and beans for a delicious Mexican-inspired meal.
What you need:
For the avocado salsa verde:
8 medium tomatillos, peeled and cut in half
1 cup fresh cilantro leaves and stems
2 scallions, coarsely chopped
1 medium jalapeño, deseeded
3 cloves garlic, peeled
3 tablespoons fresh lime juice
1 medium avocado, peeled
1 teaspoon salt
For the flautas:
3 cups coarsely chopped sweet potatoes
1 (15-ounce) can pinto beans, drained and rinsed
½ cup ground walnuts
1 teaspoon salt
¼ teaspoon black pepper
½ teaspoon granulated garlic
½ teaspoon ground coriander
½ teaspoon smoked paprika
¼ teaspoon chipotle powder
10 corn tortillas
2 tablespoons avocado oil
Vegan sour cream, for garnish
Finely chopped fresh cilantro, for garnish
Thinly sliced jalapeño, for garnish
Lime wedges, for garnish
What you do:
For the salsa verde, into a blender, add tomatillos, cilantro, scallions, jalapeño, garlic, lime juice, avocado, and salt. Pulse 10 to 15 times until smooth, then transfer to a bowl and set aside.
For the flautas, into a medium pot, add 1-inch of water and insert a steamer basket. Place sweet potatoes in basket. Set pot over medium-low heat, cover, and bring to a boil. Steam potatoes for about 10 minutes, or until fork-tender. Drain and transfer to a large bowl. Add beans, walnuts, salt, pepper, garlic, coriander, smoked paprika, and chipotle powder. Mash with a fork until well combined and all spices are evenly incorporated. Set aside.
In a dry small sauté pan, warm tortillas for 30 seconds on each side. Transfer each warmed tortilla to a tortilla warmer or bowl covered with a kitchen towel, to steam and soften before rolling.
Into center of a tortilla, scoop ½ cup of filling. Roll tortilla over mixture. Repeat with remaining filling and tortillas. In a large sauté pan over medium-high heat, warm oil. Add flautas to pan with seam side down. Cook 3 to 5 minutes, turning as needed to ensure cooked evenly and golden brown and crispy on all sides.
Garnish with sour cream, cilantro, jalapeños, and lime wedges, and serve with avocado salsa verde.
For more recipes like this, check out: