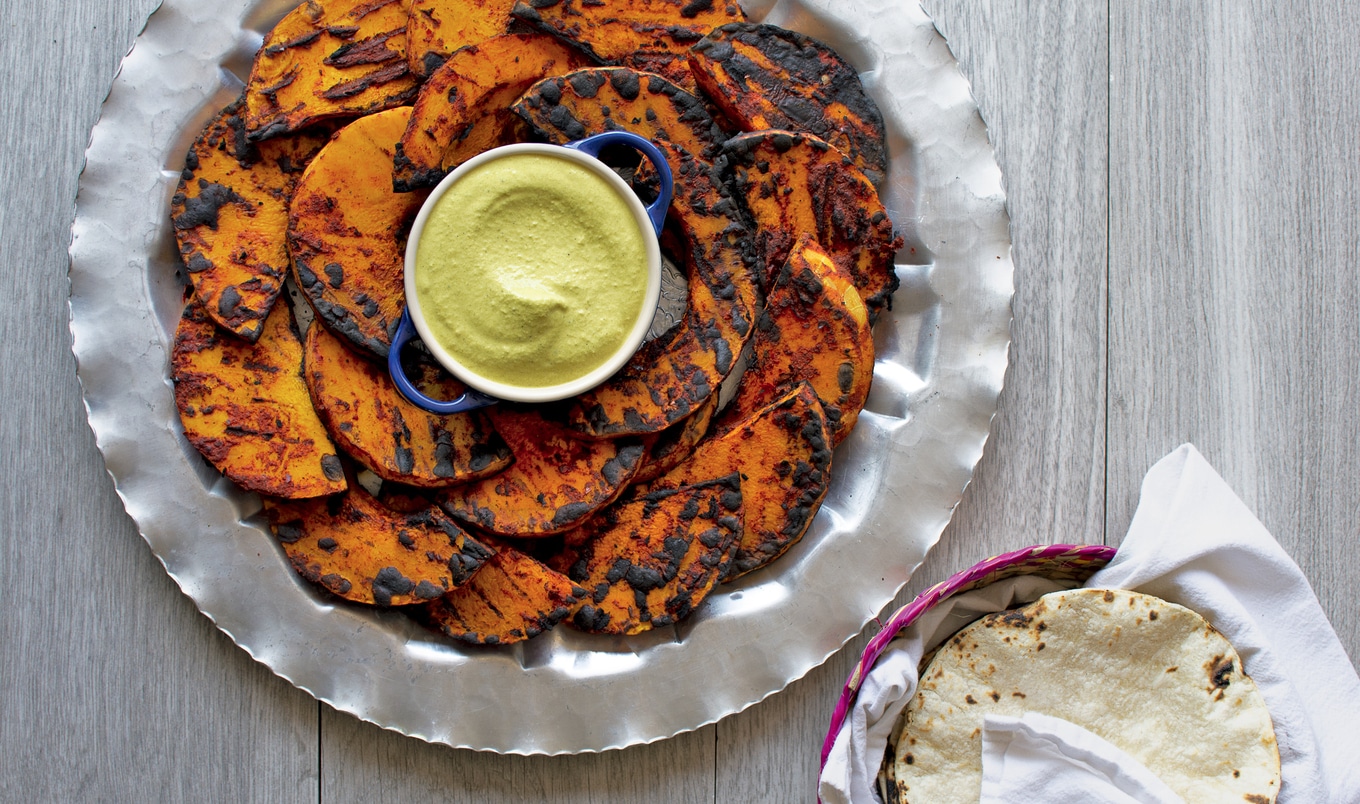 A complex al pastor marinade of achiote, dried chiles, and garlic, is used to flavor hefty slices of winter squash that's chargrilled to perfection.
November 26, 2021
In this plant-based recipe from the Plant Powered Mexican cookbook, pork is replaced with subtly sweet and earthy butternut squash that's bathed in a ruby-red sauce spiked with chilies, herbs, vinegar, and cinnamon. After grilling (use a grill pan indoors during colder weather), the squash is tender, caramelized, and finished with a dollop of smoky, poblano-infused cashew crema.
What you need:
For the cashew cream:
2 large poblano peppers
1 cup raw, unsalted cashews, soaked and drained
¾ cups water, divided
½ teaspoon salt
For the squash:
1 large butternut squash, peeled and cut into ½-inch thick slices
2 dried guajillo chiles, stemmed, seeded, and rinsed
1¾ ounces achiote paste
½ cup chopped white onion
8 cloves garlic, chopped
3 tablespoons apple cider vinegar
1 teaspoon ground black pepper
1 teaspoon dried Mexican oregano
1 teaspoon salt
½ teaspoon ground allspice
½ teaspoon ground cumin
½ teaspoon ground cinnamon
8 to 10 warm corn tortillas
What you do:
For the cashew cream, over a gas flame or under a broiler set to high, char poblano peppers until skin is blackened all over. Move to a heatproof bowl and cover with plastic wrap. Let sit until cool enough to handle.
Peel blackened skin off by rubbing with fingers, then remove stem and seeds. Rinse under cold water to get any last bits of skin and seeds off, and chop.
Into a blender, add cashews, water, poblanos, and salt. Blend on high until very smooth.
For the squash, bring a large pot of salted water to a boil. Add squash and cook for 8 to 10 minutes, or until barely tender when poked with a sharp paring knife. Drain, rinse with cold water, and drain again. Place in a large baking dish.
In a cast-iron skillet over medium heat, toast guajillo chiles, rotating frequently with tongs for 2 to 3 minutes. Remove from heat as soon as they start to smell nutty, but before they burn or blister.
Bring a small saucepan full of water to a boil over high heat. Place toasted chiles in boiling water, pushing down to submerge. Remove from heat and let soak until very tender, about 15 to 20 minutes. Remove soaked chiles with tongs and save soaking liquid.
To a blender, add chiles, achiote paste, onion, garlic, vinegar, black pepper, oregano, salt, allspice, cumin, cinnamon, and ½ cup of soaking liquid. Blend on high until very smooth.
Pour over squash, tossing to coat well. Cover, refrigerate, and marinate for at least 2 hours or up to 12.
Heat a grill to medium heat (350 degrees to 450 degrees). Clean grates and brush with oil. Grill marinated squash, flipping when grill marks appear and squash has softened slightly, 7 to 8 minutes per side. Remove from heat and arrange in a shallow serving dish. Cover tightly with aluminum foil to keep warm and let steam, covered, for 10 minutes. Serve with warm tortillas and poblano cashew cream.