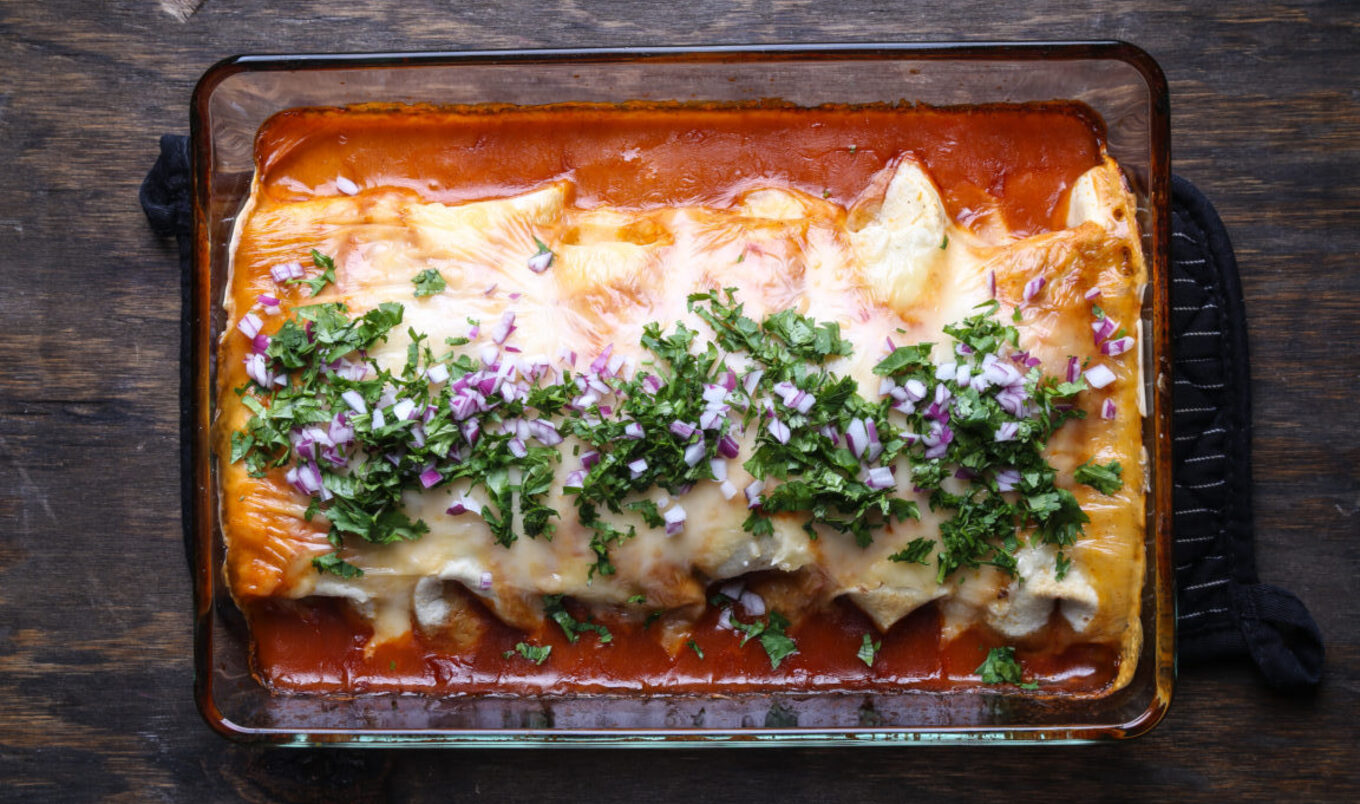 Baked sweet potatoes, smoky-spicy Mexican-style vegan sausages, and hearty kidney beans make this an easy, weeknight, family favorite meal.
November 26, 2022
With shorter days and colder weather comes less energy. Make this easy meal prep dish from the Olives for Dinner blog on a Sunday and enjoy leftovers all week long. Pair it with meaty avocado, chopped cilantro, and some squeezes of fresh lime juice to brighten it all up.
What you need:
For the filling:
5 cups sweet potato, cut into small cubes (about 2 medium-sized sweet potatoes)
¼ cup olive oil plus 2 tablespoons, divided
½ teaspoon salt
¼ teaspoon black pepper
1 teaspoon dried chili powder
1 teaspoon dried ground coriander
1 teaspoon cumin
1 large red onion, sliced on a mandoline
8 ounces Mexican chipotle vegan sausage links, finely chopped
1 (19-ounce) can kidney beans, rinsed and drained
8 cloves garlic, finely minced

For the burritos:
10 large flour tortillas
1 (19-ounce) can enchilada sauce
1 cup mozzarella vegan cheese shreds
What you do:
For the filling, preheat oven to 450 degrees. In a large bowl, toss sweet potato in ¼ cup oil to coat, and season with salt and pepper. Transfer to a baking sheet and bake for 30 minutes, stirring occasionally during baking.
Once sweet potatoes are done, place back into large bowl and season with chili, coriander, and cumin. Set aside.
To caramelize onions, preheat a large cast iron over medium-high heat. Add 1 tablespoon oil and onions. Allow to cook down for about 10 minutes, stirring occasionally. Reduce heat to low, and allow to cook down and deepen in color, about 10 minutes more. Add to bowl with sweet potatoes.
In same pan, add vegan sausage and cook for two minutes, then add to bowl. Add rinsed kidney beans to bowl.
In a cast-iron pan, warm remaining oil and cook garlic until super soft and slightly golden. Transfer to bowl. Mix everything gently. Set aside and allow to cool.
For the burritos, preheat oven to 400 degrees. Add about ⅔ cup of filling to center of a flour tortilla. Fold in ends, then roll tortilla tightly. Add to a greased baking dish. Repeat with remaining tortillas.
Cover tortillas with enchilada sauce and top with cheese. Cover dish with foil and bake for 30 minutes. Remove foil and bake for 15 minutes more. Allow to cool for a few minutes, then serve.