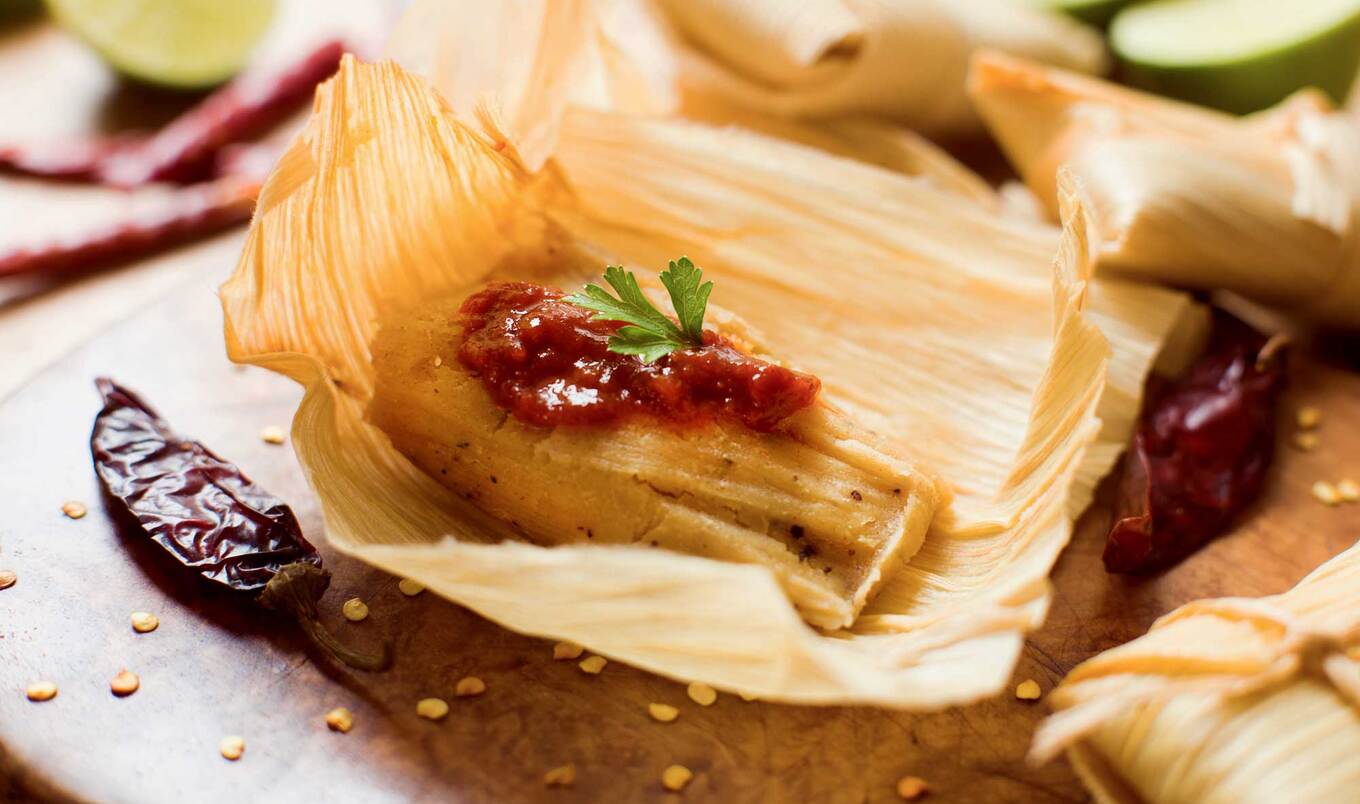 Meaty mushrooms stand in for the sometimes-elusive huitlacoche, or corn truffles, in these savory Mexico City-style tamales.
December 27, 2022
Huitlacoche (pronounced weet-lah-koh-che) is a rare Mexican delicacy known as "corn truffle" or "corn mushroom" that grows naturally on the ears of corn and adds a wonderfully smoky flavor to soups, quesadillas, and tamales. We use the savory, earthy, nutty ingredient in our recipe for Mexico City-Style Huitlacoche Tamales in the 2022 Holiday Food Issue, but here, portabello mushrooms are quick-cured to take on the look and mouthfeel of huitlacoche for a quick and easy swap.
What you need:
1 (8-ounce) package of dried corn husks
For the filling:
2 medium portabello mushrooms, stems removed, diced small (with the gills)
1¼ teaspoons salt, divided
2 tablespoons vegetable oil
1 small yellow onion, finely diced
1 small Poblano pepper, seeded and finely diced
½ cup white corn kernels, frozen or fresh
1 cup fresh epazote leaves, chopped
1 cup water
For the batter:
3 cups corn masa flour
1 teaspoon baking powder
1 teaspoon salt
5 tablespoons vegetable shortening
3 cups warm water
What you do:
To prepare the corn husks, submerge in hot water for 45 to 60 minutes to make pliable. Select the 12 largest husks and rinse well. Pat dry husks and place in a sealed container to retain moisture. Set aside.
For the filling, in a medium bowl, place diced mushrooms and toss with 1 teaspoon salt. Let sit for 30 minutes. Transfer to a colander and rinse under cold water. Pat dry mushrooms with a tea towel or paper towels. Set aside.
In a nonstick skillet, warm oil over medium-high heat and sauté onion for 5 to 7 minutes or until translucent. Add Poblano pepper and sauté for 1 to 2 more minutes or until pepper is bright green. Add corn kernels, epazote, cured mushrooms, and water. Reduce heat to medium-low and simmer for 15 to 20 minutes or until water has nearly evaporated. Add remaining ¼ teaspoon salt. Remove from heat and reserve.
For the batter, in a large bowl or stand mixer, combine corn masa flour, baking powder, and salt. Mix well. Add vegetable shortening and incorporate. Add water and continue mixing until the batter is uniform in texture.
To form the tamales, using the back of a large spoon or spatula, place about 3 to 4 tablespoons of batter in center of corn husk. Spread batter evenly across the wide end of the husk. Place about 2½ tablespoons of filling in the center. Gently roll husk over to surround the filling. Fold the bottom under to finish forming tamal. Repeat until all 12 tamales are formed. In groups of 3, gently tie tamales together using kitchen twine or bound strips of surplus corn husks.
To cook tamales, into a large steamer pot, place tamales upright on their folded ends. Fill empty space with a heat-resistant cup or mug to ensure tamales stay firmly in place. Add at least 2 inches of water to the bottom of the pot, making sure the water line is below the steamer basket. Cover and steam for 35 to 40 minutes, adding more water to the bottom of the pot as needed. Remove from heat and uncover. Let tamales rest in pot for at least 15 minutes before serving.