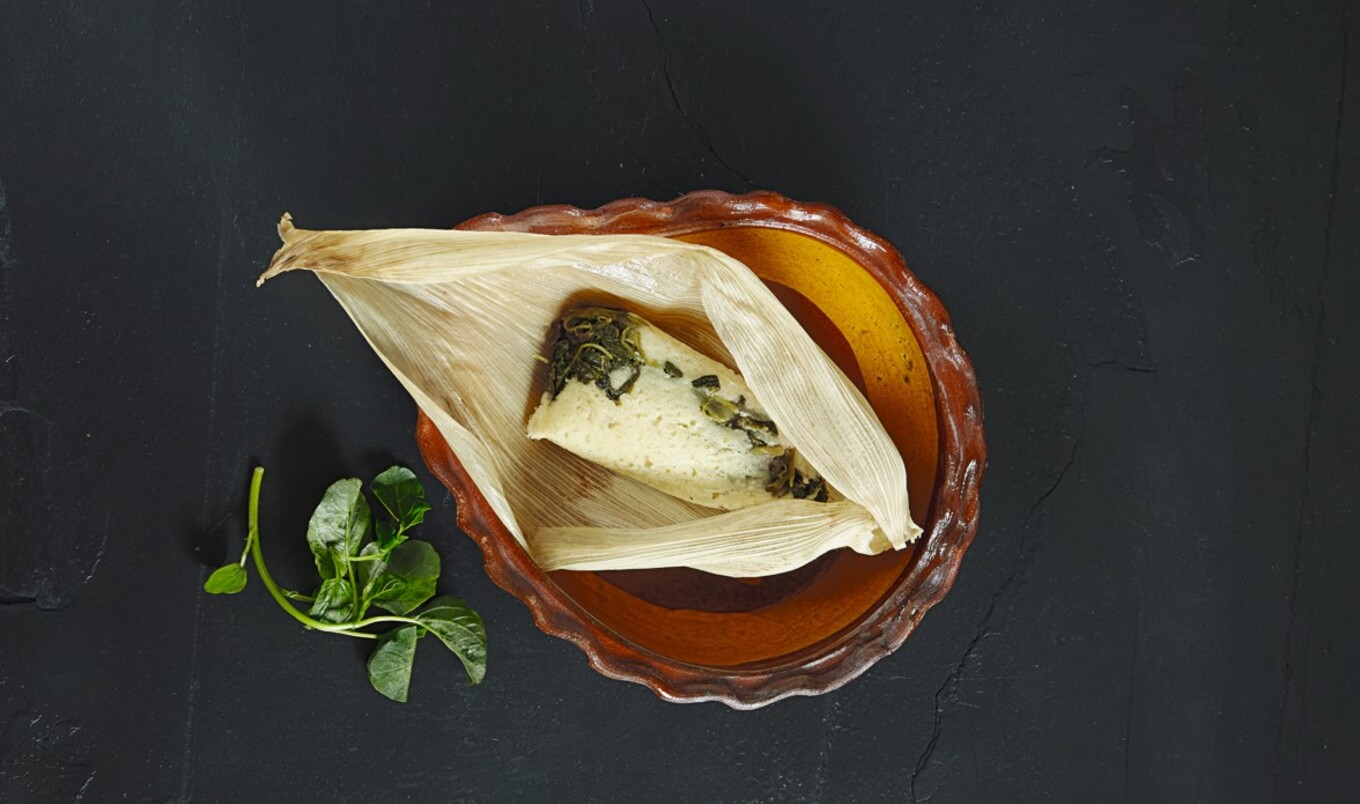 These tamales are simple to make and packed with flavor from home-cooked beans and greens.
October 26, 2022
Epazote, a Central American herb with a pungent taste and notes of oregano, anise, and mint, adds wonderful flavor to black beans in this traditional recipe from The Mexican Vegetarian Cookbook.
What you need:
1 cup sliced onion
2 tablespoons corn oil, divided
10 cups quelites (wild greens), or spinach, rinsed and roughly chopped
½ teaspoon salt
2 cups cooked black beans
3 large sprigs epazote, leaves finely chopped
1 cup vegetable stock
1⅓ cups vegetable shortening
1 tablespoon baking powder
1 tablespoon fine salt
8¾ cups masa harina
2 bunches of dried corn husks, soaked in hot water until soft, then drained
What you do:
In a medium pan over medium heat, warm 1 tablespoon of oil, add onion and cook until translucent. Add chopped quelites and cook until juices are released. Stir in ¼ teaspoon of salt and then strain through a sieve. Using back of a spoon, press leaves against strainer to remove all excess liquid. Set aside.
In another pan over medium heat, warm remaining 1 tablespoon of oil. Cook black beans until most of liquid is dried up. Smash with a potato masher. Add chopped epazote leaves and remaining ¼ teaspoon salt. Set aside.
Into a large bowl, add stock, shortening, baking powder, fine salt, and masa harina. Beat to combine.
In a corn husk, spread a generous spoonful of masa evenly. Add a tablespoon of beans at center of husk and a tablespoon of quelites. Close by folding sides of husk inwards and bottom tip back over to enclose end.
Into a steamer with basket, pour water, not exceeding level of basket. Line basket with corn husks and place tamales standing upright, with open ends up, just tightly enough to keep standing. Lay three soaked corn husks or a damp tea towel over top of tamales before covering, to prevent steam from escaping.
Cook over high heat for 1 hour or until dough comes off husk easily when tamale is unwrapped. Let rest, covered, for 20 minutes before serving.