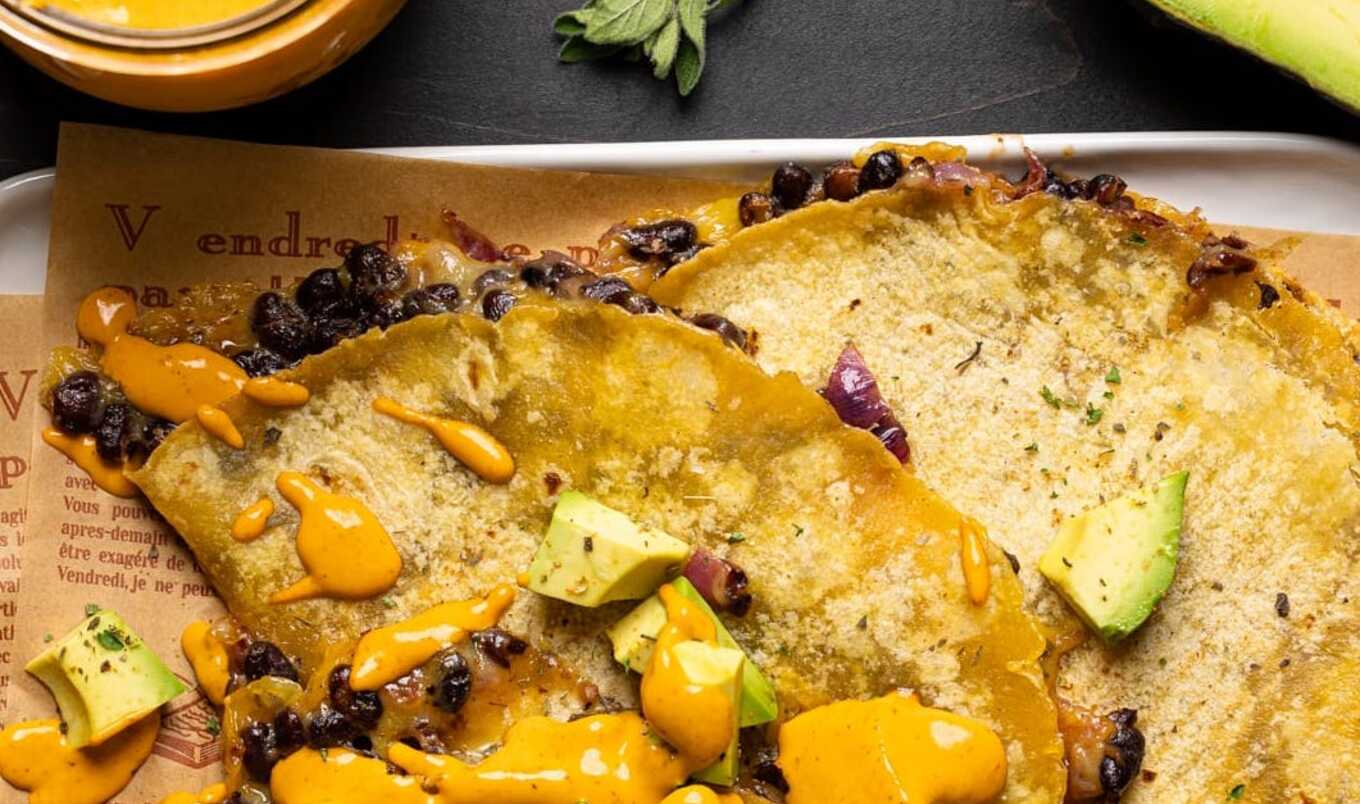 These easy, baked bean tacos are a treat for Taco Tuesday or any weeknight and come filled with bold, delicious flavors.
August 30, 2023
You can make a delicious and filling dinner for a group in no time with this simple, slightly spicy bean filling and your favorite taco toppings, stuffed into these baked tacos. This easy weeknight recipe from the Orchids + Sweet Tea blog will quickly become a household staple.
What you need:
For tacos:
4 corn flour tortillas, warmed
2 cups vegan mozzarella cheese shreds
½ red onion, chopped
1 (15-ounce) can organic black beans, drained and rinsed
1 tablespoon olive oil
1 teaspoon salt
1 teaspoon black pepper
1 teaspoon ground cumin
1 teaspoon smoked paprika
1 teaspoon garlic powder
1 teaspoon onion powder
1 teaspoon dried parsley
1 teaspoon dried oregano
1 teaspoon dried thyme
For the chipotle sauce:
1 cup vegan mayonnaise
2 garlic cloves, minced
3 chipotle peppers
3 tablespoons almond milk, unsweetened
2 tablespoons Adobo sauce
1 tablespoon lime juice
½ teaspoon salt
½ teaspoon black pepper
½ teaspoon smoked paprika
½ teaspoon dried parsley
½ teaspoon cilantro, fresh or dried
½ teaspoon red pepper flakes
For topping:
Sliced avocados
Guacamole
Tomato salsa
2 cups Roasted herb tomatoes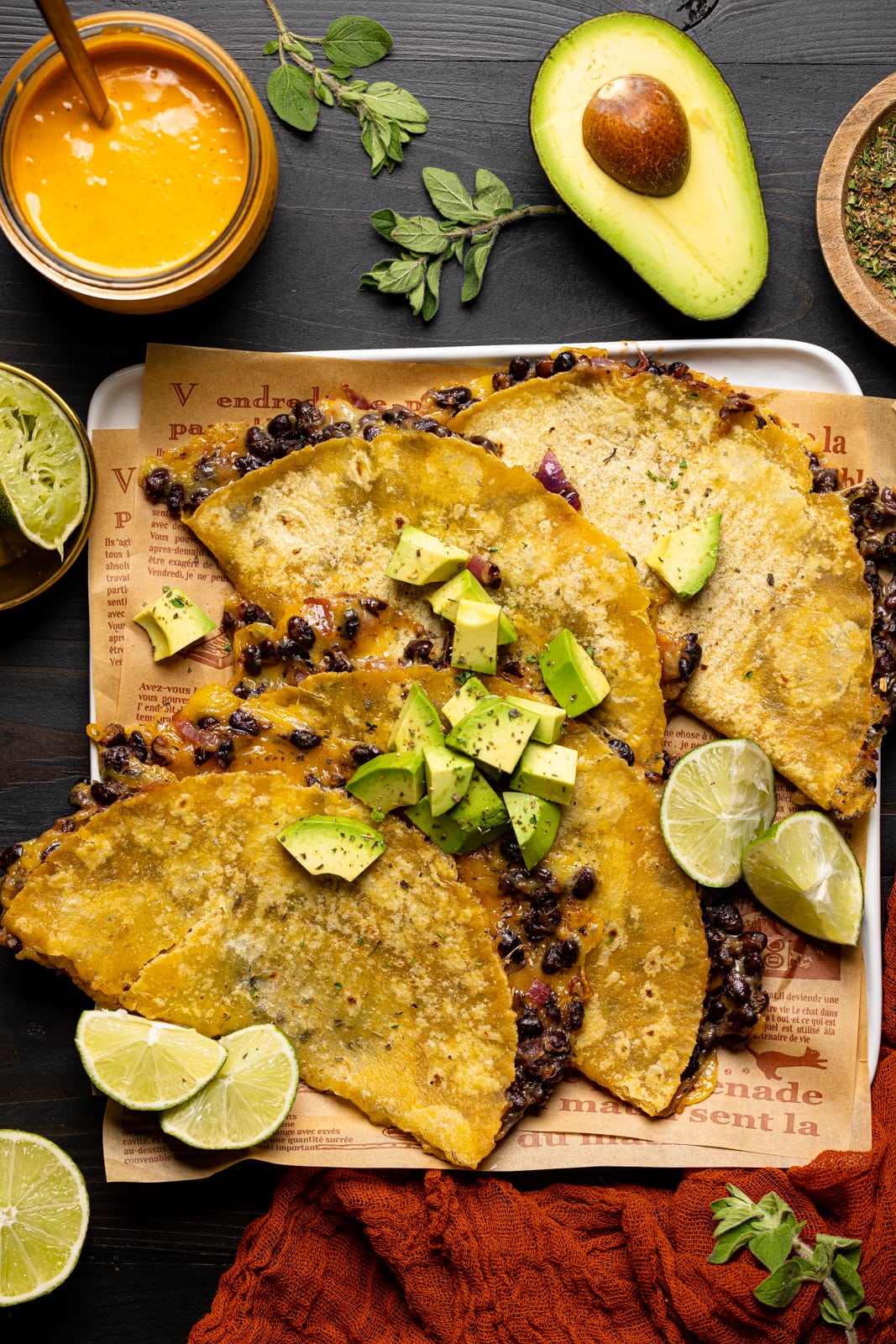 Orchids + Sweet Tea
What you do:
1. For the tacos, in a medium skillet over medium-high heat, add olive oil. Once warm, add black beans, salt, pepper, garlic powder, onion powder, oregano, smoked paprika, parsley, and cumin mixing together, stirring occasionally, about 5 minutes. Remove from heat and let cool slightly.
2. For the chipotle sauce, to a high-powered blender, add all ingredients and blend until sauce becomes creamy. Pour into tightly sealed container and refrigerate until ready to use.
3. Preheat oven to 400 degrees and place tortillas directly on rack. Turn off oven once heated and let tortillas warm for 2 minutes. Remove from oven.
4. Keep oven at 400 degrees and prepare a baking sheet by lining with parchment paper. To assemble tacos, add 2 spoonfuls of cooked black beans atop one side of warm tortilla followed by one spoonful chopped onions and vegan cheese shreds. Fold one side atop other (overlapping) into a half moon shape. Press down slightly and add to prepared baking sheet. Repeat with remaining ingredients, spreading out a bit, about 1 inch apart.
Gently place another baking sheet atop tacos to ensure they remain flat while baking.
5. Bake for 15-20 minutes or until tortillas become crispy and cheese shreds have melted.
6. To serve, cut each taco in half and placed unto a serving platter, lining up next to each other. Spoon on sliced avocado, guacamole, salsa, roasted tomatoes, and drizzle with chipotle sauce. Serve warm.
For more recipes like this, check out: