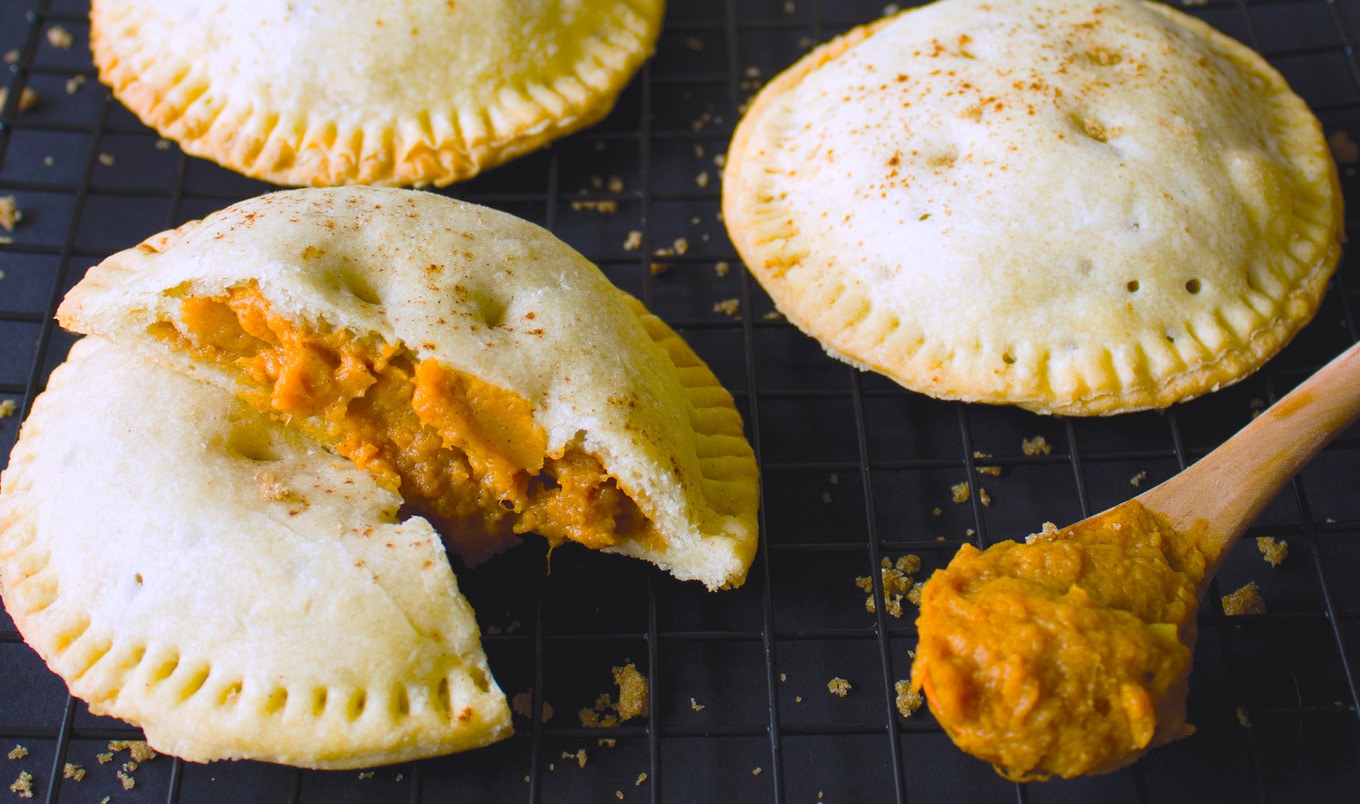 Get all the goodness of holiday pies with these simple, hand-held baked treats.
November 20, 2022
Our take on the classic Southern Sweet Potato Pie is made even better in a hand-held pie. With a homemade dough and the addition of vanilla, cinnamon, and nutmeg, these mini pastries make a great meal anytime of day.
What you need:
For the crust:
1 cups all-purpose flour, plus more for sprinkling
½ teaspoon salt
1 tablespoon sugar
½ cup cold vegetable shortening or vegan butter, cut into ½-inch cubes
¼ cup ice-cold water
For the filling:
1 cup sweet potato purée
2 tablespoons maple syrup
1 teaspoon vanilla extract
¼ teaspoon salt
¼ teaspoon ground cloves
1 teaspoon ground cinnamon
¼ teaspoon ground nutmeg
What you do:
1. For the crust, in a mixing bowl, whisk together flour, salt, and sugar. Add shortening, and use a pastry cutter to incorporate into our. Continue to mix with pastry cutter until mixture resembles coarse meal, almost pea-sized.
2. Slowly add water, 2 tablespoons at a time, and stir with a wooden spoon or mix with your hands. Once dough begins to hold together, form into a tight ball. Flatten a bit, and wrap in plastic wrap or parchment paper. Chill in refrigerator for 1 hour.
3. For the filling, in a food processor, add all ingredients and pulse until mixed well and creamy. Set aside until ready to assemble hand pies.
4. Remove dough from refrigerator and let sit at room temperature for 10 minutes to soften. Preheat oven to 350 degrees. Line a baking sheet with parchment paper or silicone baking mat.
5. Flour a clean, smooth stone surface or parchment paper, and use a floured rolling pin to roll dough at to inch, about 8 x 15-inches in diameter. Using a 3-inch, circle-shaped cookie cutter, cut out 6 rounds of dough and place onto parchment-lined baking sheet.
6. Fill each dough circle with 3 tablespoons sweet potato filling. From remaining dough, cut 6 more rounds and cover filling. Use a fork to seal edges, and bake for 20 minutes. Allow pies to cool for about 10 minutes before serving.