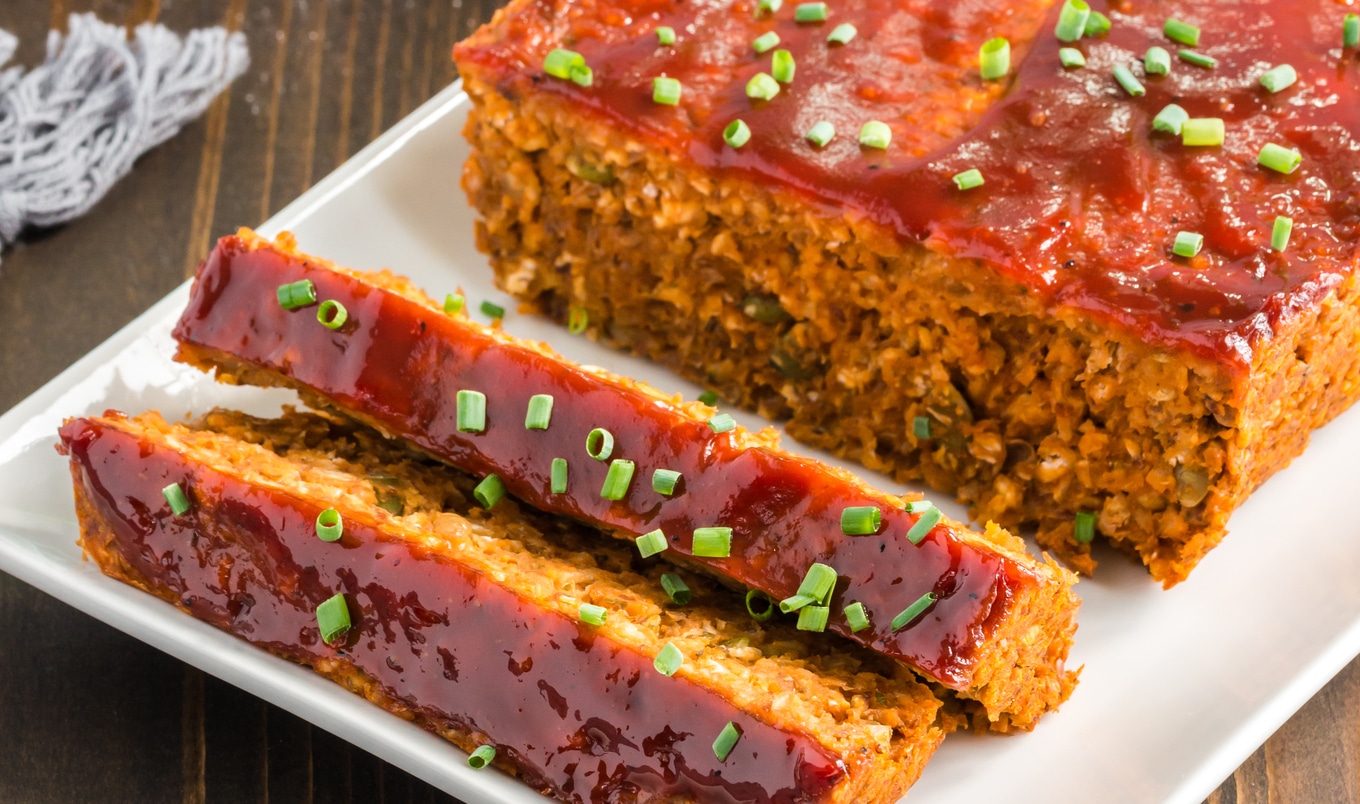 This loaf brings traditional savory flavors together with a hint of sweetness from sweet potatoes.
October 30, 2022
This nutrient-packed comforting meal from the Dreena's Kind Kitchen cookbook offers plenty of Italian-style herbs and an infusion of flavors from balsamic vinegar, tahini, and tamari sauce. Serve with fluffy mashed potatoes and garlicky green beans for a complete meal.
What you need:
2 cups cooked brown lentils, divided
1 cup cooked sweet potato flesh, cooled
½ cup cooked red or Yukon Gold potato flesh, cooled
1 clove garlic, peeled
¼ cup tomato paste
3 tablespoons tamari
3 tablespoons dried onion flakes
2 tablespoons flax meal
1 tablespoon balsamic vinegar
1 tablespoon tahini
1 teaspoon dried oregano
½ teaspoon dried thyme
½ teaspoon celery seed
¼ teaspoon black pepper
2 cups rolled oats
¼ cup pumpkin seeds
4 tablespoons ketchup or barbecue sauce, for topping
What you do:
Preheat oven to 375 degrees. Lightly grease a loaf pan and line with parchment paper, letting paper overhang sides of dish.
In a food processor, combine 1 cup of lentils, potatoes, garlic, tomato paste, tamari, onion flakes, flax meal, balsamic, tahini, oregano, thyme, celery seed, and black pepper. Pulse until well combined but not blended. Add remaining 1 cup lentils, oats, and pumpkin seeds and pulse a couple of times, scraping down bowl as needed, until mixture is fairly well combined but still has texture—take care not to overprocess. Remove blade and use a silicone spatula to mix once more by hand.
Transfer mixture to prepared loaf pan. Smooth out with a spatula to evenly distribute in dish. Using the same spatula, spread ketchup or barbecue sauce on top.
Cover with aluminum foil. Bake for 30 minutes, then remove foil and bake for another 6 to 7 minutes, until topping is set. Remove from oven and let cool in pan for 10 minutes. Lift loaf out of dish using parchment. Slice and serve.