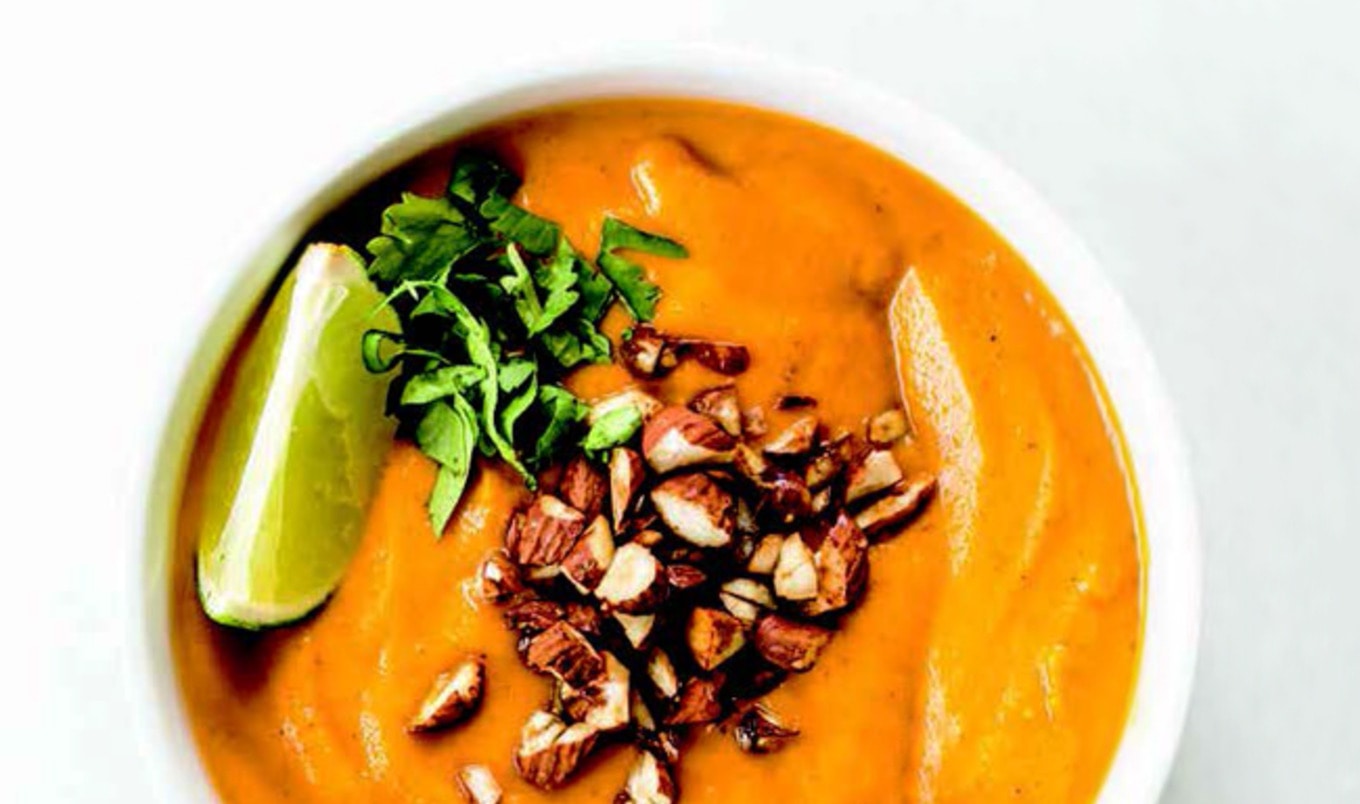 Flavors of red curry, ginger, sweet potato, and cayenne dazzle in this luscious, ultra-flavorful soup.
November 11, 2023
Fall is in the air, and thanks to this tantalizing soup from Angela Liddon's cookbook Oh She Glows Every Day: Quick and Simply Satisfying Plant-Based Recipes, we're ready to take it head-on.
What you need:
For the soup:
1 tablespoon virgin coconut oil
2 cups sweet onion, diced
2 cloves garlic, minced
1 tablespoon fresh ginger, minced
2 tablespoons red curry paste
4 cups low-sodium vegetable broth, plus more if needed
¼ cup raw almond butter
3 cups peeled and diced carrots
3 cups peeled and diced sweet potatoes
½ teaspoon fine sea salt
¼ teaspoon cayenne pepper (optional)
Freshly ground black pepper, to taste
Fresh cilantro, minced, for garnish
Fresh lime juice, for garnish
For the tamari-roasted almonds:
½ cup raw almonds, finely chopped
1 tablespoon plus 1 teaspoon low-sodium tamari or coconut aminos
What you do:
For the soup, into a large pot over medium heat, melt coconut oil. Add onion, garlic, and ginger, and sauté for approximately 5 minutes. Stir in curry paste.
Into a small bowl, whisk 1 cup broth with almond butter until smooth. Add mixture to pot, and add remaining broth, carrots, sweet potatoes, salt, and cayenne (if desired). Stir until combined.
Bring soup to a low boil over medium-high heat, then reduce heat to medium-low. Cover and simmer for approximately 20 minutes.
Transfer soup to blender and process until smooth. Return soup to pot and season with salt and black pepper. Reheat if necessary.
For the tamari-roasted almonds, preheat oven to 325 degrees. Line a large baking sheet with parchment paper. Into a medium bowl, toss almonds with tamari until coated, spread onto baking sheet, and roast approximately 12 minutes, or until lightly golden. Let cool.
To serve, ladle into a bowl and top with cilantro, lime juice, and tamari-roasted almonds.
For more vegan Thai recipes, read: