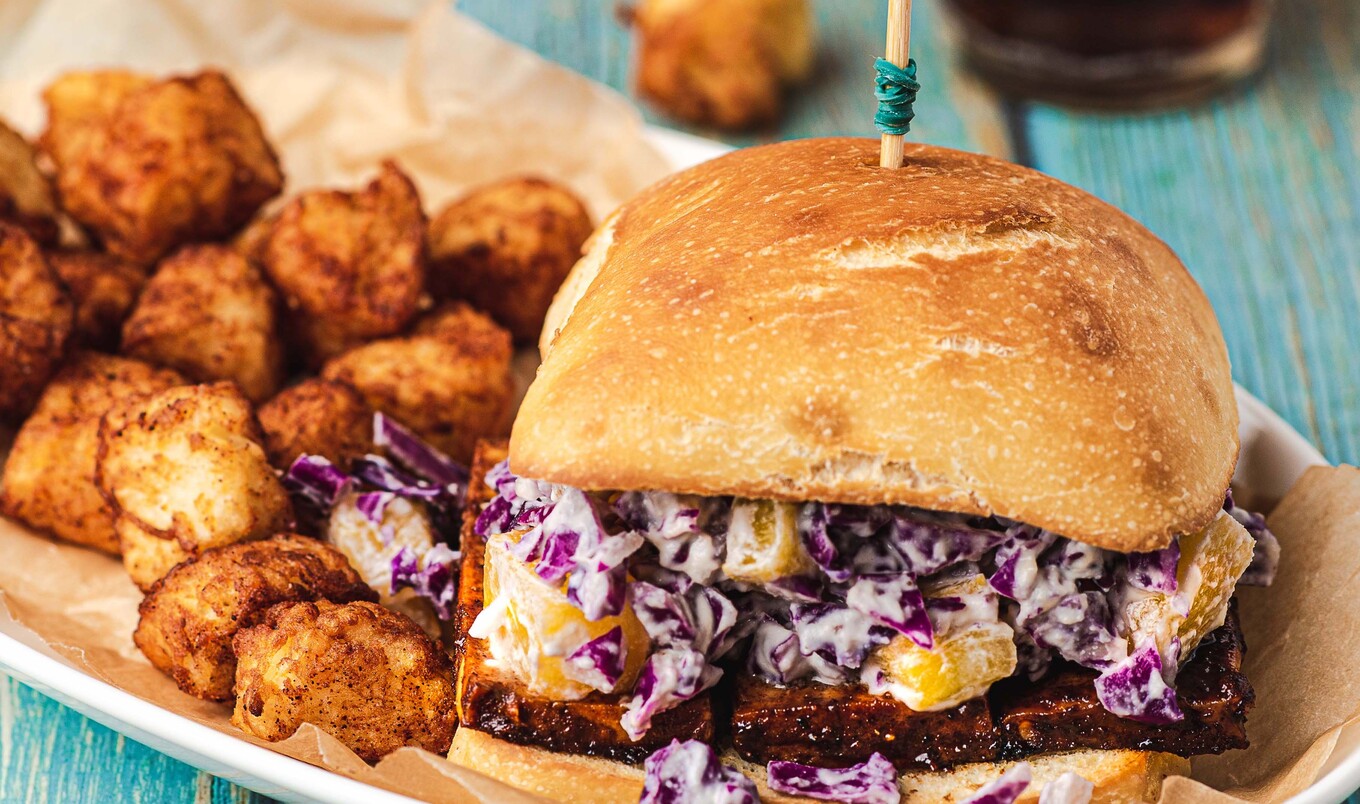 Colorful, flavorful, and easy to pull together, this is a great sandwich any day of the week.
July 22, 2023
The tofu in this recipe from the Epic Vegan: Quick & Easy cookbook has a succulent balance of smoky and sweet. It's topped with a super-simple, tangy-sweet slaw for the perfect flavor and texture.
What you need:
For the tofu:
2 tablespoons olive oil
2 tablespoons tamari
1 tablespoon Dijon mustard
¼ cup dark brown sugar
1 teaspoon smoked paprika
2 teaspoons garlic powder
2 teaspoons onion powder
½ teaspoon salt
¼ teaspoon black pepper
1 (14-ounce) block extra-firm tofu, cut into 12 slices
4 vegan ciabatta rolls
For the pineapple slaw:
½ cup fresh or canned pineapple chunks, drained
1 cup shredded red cabbage
¼ cup vegan mayonnaise
½ teaspoon apple cider vinegar
¾ teaspoon salt
What you do:
Preheat oven to 425 degrees. Line a sheet pan with parchment paper and set aside.
For the tofu, in a medium bowl, combine olive oil, tamari, mustard, brown sugar, paprika, garlic powder, onion powder, salt, and pepper. Onto prepared sheet pan, lay tofu slices in one layer and brush each slice of tofu with half of marinade mixture. Bake for 15 minutes. Remove from oven, flip, and brush other side with remaining oil mixture. Bake for 15 minutes, or until darker brown.
For the pineapple slaw, in a small bowl, add all ingredients and combine well.
Remove tofu from sheet pan. Slice each ciabatta roll in half horizontally. On bottom half of roll, add 3 tofu slices and top with one-quarter of slaw mixture. Repeat with remaining ciabatta rolls.
For more recipes like this, check out: