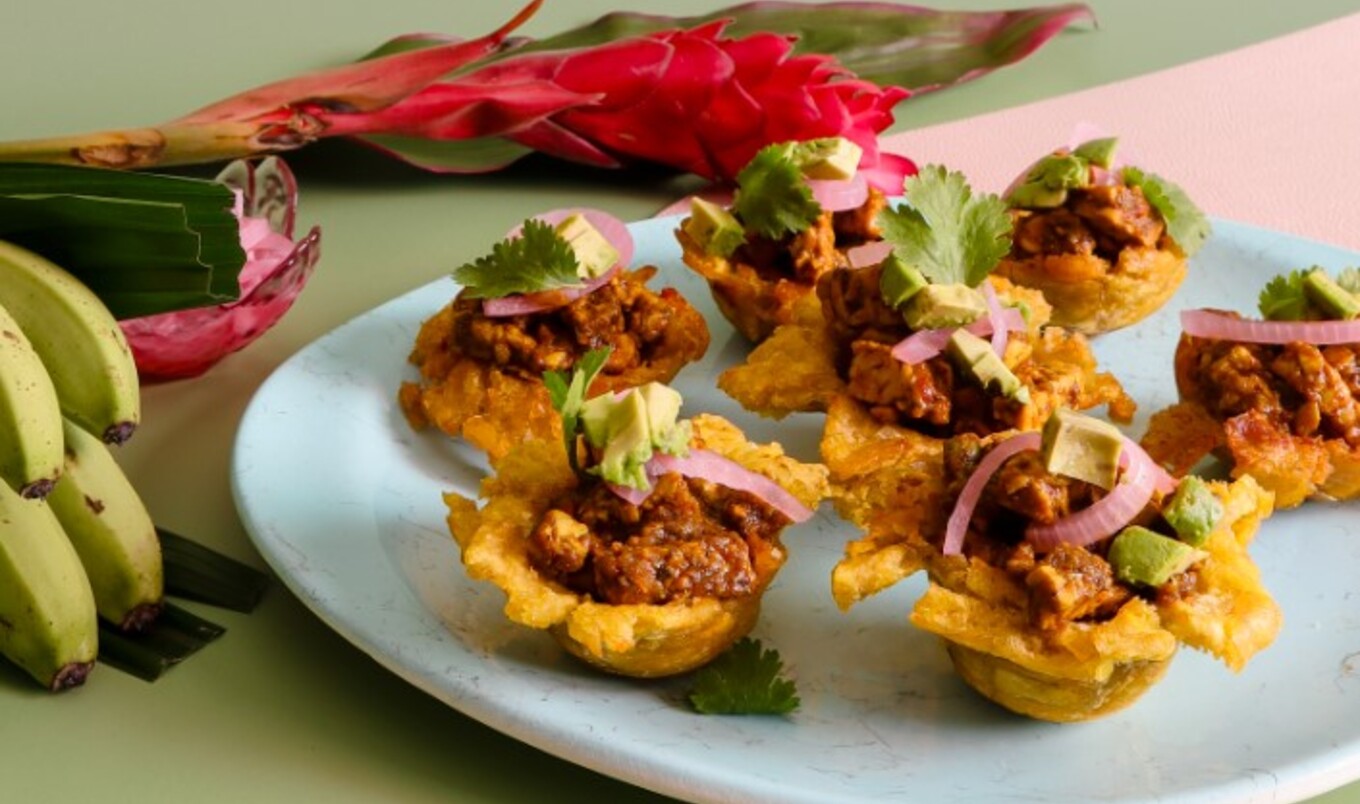 To make these flavor-rich Tostones Rellenos, well-seasoned tempeh is the star ingredient.
July 4, 2023
Tostones are a Caribbean staple that can be filled with anything, but most often they're filled with ground beef or chicken. Tempeh is an amazing substitute for ground beef, especially when you season it heavily with aromatic spices, such as in this recipe from the Abuela's Plant-Based Kitchen cookbook.
What you need:
For the filling:
1 tablespoon olive oil
2 tablespoons Sofrito
2 tablespoons tomato paste
1 tablespoon Adobo seasoning
½ tablespoon Sazón
½ teaspoon dried oregano
1 (8-ounce) block tempeh, cut into 1-inch cubes
½ cup water
2 teaspoons capers
¼ teaspoon salt
¼ teaspoon black pepper
For the plantain cups:
3 cups olive oil, for frying
2 green plantains, peeled and cut into 3-inch rounds
To Serve:
Avocado chunks
Pickled red onion
Fresh cilantro
What you do:
For the filling, in a pan over medium heat, warm oil. Add sofrito and tomato paste and sauté for 1 to 2 minutes. Add adobo, sazón, and oregano and continue to cook for 1 to 2 more minutes. Add tempeh, water, capers, salt, and pepper and combine.
Bring tempeh mixture to a boil. Once boiling, reduce heat to simmer, cover, and let cook for 12 to 15 minutes or until tempeh has absorbed all flavors from sauce. Once ready, remove from heat and set aside.
For the plantain cups, in a large skillet over high heat, warm oil. Fry plantains for 1 to 2 minutes, or until lightly browned. Once browned, remove from oil and place on a paper towel-lined plate.
Carefully press down on each plantain to form small cups. Place back in hot oil to fry for about 3 to 4 more minutes, or until golden brown. Remove from oil and place back on plate.
Stuff each plantain cup with tempeh filling and top with avocado chunks, pickled red onion, and fresh cilantro.
For more recipes like this, check out: